Discover more from Productive Flourishing
A newsletter and community for driven possibilitarians who are seeking full-spectrum thriving, hosted by award-winning, best-selling author of Start Finishing, Charlie Gilkey.
Over 33,000 subscribers
Momentum Planner vs. Panda Planner: What's Best?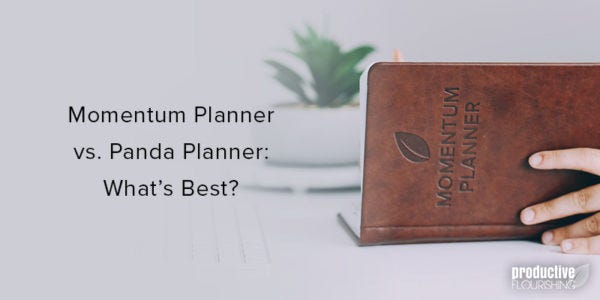 There's an almost infinite variety of planners, including thick book-style planners, printable planners, decorative and customizable planners, and more. Older, more traditional planners like Franklin Covey follow very rigid planning systems, essentially functioning as blank receptacles for your ideas. Modern planners like Panda Planner or Passion Planner have a broader focus on being a planning system and include mental health awareness with daily gratitude practices.
How do all of these planners compare to Productive Flourishing's Momentum Planner?
One of the most popular planner brands on the market today is Panda Planner. Our community frequently tells us that Panda Planner is the planner most similar to Momentum Planner in methodology.
For instance, both Panda Planner and Momentum Planner are simple, without stickers or decoration. Some planners come with highlighters, crayons, or stickers. We think those kinds of things are fun, but a distraction, and would rather focus on the satisfaction that comes from getting our most important projects done.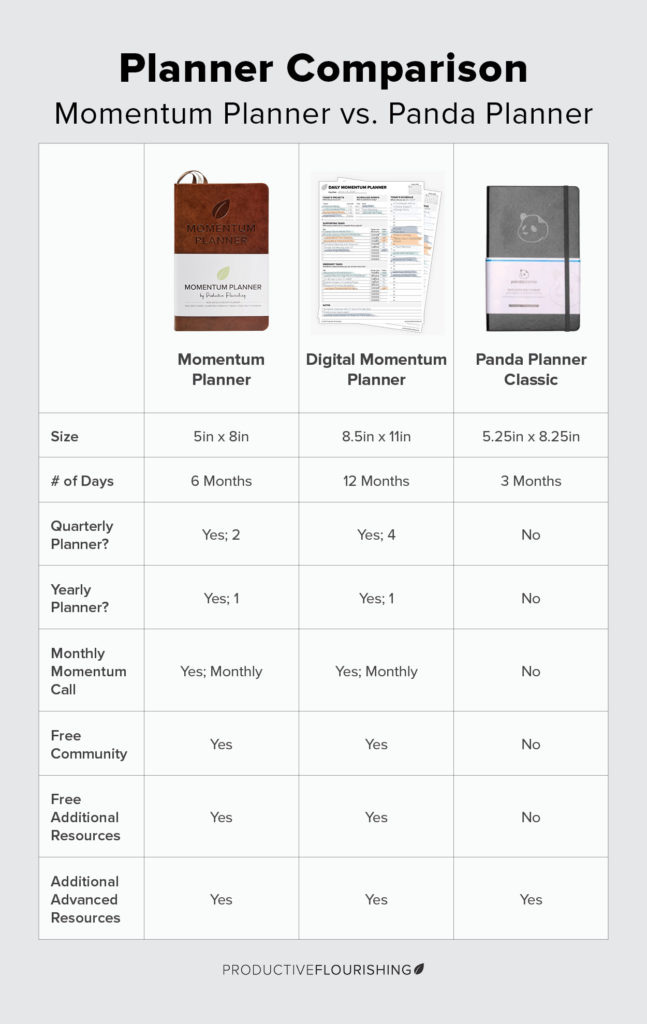 Momentum Planner vs. Panda Planner
It's very difficult to differentiate planners on their features. All planners hold space for tasks, events, schedules, and maybe some notes. Many of them have time-based views like monthly, weekly, or daily. You can see our side-by-side feature chart above, but we want to call out a few key differences that we think make Momentum Planner an ideal planner for those who want to finish their projects.
Time-Based Views
Momentum Planner's Monthly, Weekly, and Daily views are tightly focused to help you understand how your projects break down from your Quarterly and Yearly goal views. Panda Planner does not have any higher time horizons than Monthly.
Usually, our most important work needs to happen over quarters. Linking quarters together is where the magic of Momentum Planner happens. Note, too, that in the business world, many goal setting methods (like OKRs) share this view.
Panda Planner requires you to have to think about how your bigger goals flow into months. Momentum Planner guides you to do that in one place.
Monthly View
Panda Planner's views are heavily focused on schedules. Notice that Momentum Planner's Monthly view has space for each week's top priorities, not just times to schedule them.
One of the worst traps planner enthusiasts fall into is trying to do too many things, filling up their planner and trying to fill in even more in the margins. If this is you, Momentum Planner will help you remember that in any given time period you only have so much time and you need to focus on what matters most.
Weekly View
Momentum Planner's weekly view guides you to take your monthly projects and break them down into smaller chunks of 5 projects for the week – another reminder that our brains only have limited space for focusing on active projects.
Panda Planner really shines when it comes to incorporating weekly wins and improvement points. The 4 quadrant square in the Planning Upcoming Week element prompts people to focus on their whole life
Daily View
Panda Planner has a prompt for gratitudes and wins, a positive psychology practice that can be done in the Momentum Planner but is not specifically called out.
Panda Planner handles the bookends of days and weeks in a way that helps people stay positive. When you get to higher-level planning, over months, quarters, and years – what Momentum Planners are designed for – that's where we really differentiate ourselves. Panda Planner's positive psychology focus is great, and we love it. We believe that helping people finish their projects helps people achieve the same emotional outcome.
Digital = Adaptable Integration
Many of our customers who buy the digital versions of the Momentum Planner tell us that they love the digital version because they can use them alongside other company's resources or with the detailed worksheets and planning resources we offer that aren't strictly part of the Momentum Planner. For instance, the Action Item Catcher often rides along with the Daily Momentum Planner. The Individual Project Planner is a great companion to the Weekly Momentum Planner for folks like freelancers and contractors who are heavily project-driven.
With the digital version of the Momentum Planner, you can add to or remove additional sheets based on your preferences. Sure, you can do this with Panda Planner, as long as you're cool with sandwiching a bunch of folded paper throughout your planner. It's a cumbersome experience we've tried and would not recommend.
Features Are Important, but Not the Main Thing
After the time-based views, planner feature differences become very minor, and those minor differences are where planner enthusiasts can become focused, sometimes to the detriment of their overall performance.
The point of a planner is to help you get things done. A daily gratitude practice is good – there are all kinds of good things you could include in a planner if you wanted to do so. But the whole point of Momentum Planner is to help you finish the things that matter.
So if planner features are all so similar, why pick Momentum Planner?
Let's talk about values.
Experienced planner users have their set preferences and practices. They know how to plan and what works for them. They understand that planning is deeply personal for each person. From the busy stay-at-home parent to the busy executive, everyone's lives look just a bit different, and that's before we even get to the challenges of neurodiversity like ADHD and anxiety disorders.
But for those who are not experienced planners, or those who need to make a change, a planner alone is just a piece of paper. Its power to transform your life is limited. A planner won't help you thrive without some additional help.
Panda Planner acknowledges this by including a single ebook and some videos to help you know how to use their planner. They call their planner a planning system, but the explanation of that system, and how to adapt it to your life's personal situation, is limited.
Helping people thrive is the entire reason Productive Flourishing exists. Our mission is to help people finish what matters most. We've been doing this for over 14 years, and there's a reason the digital Momentum Planner has been downloaded over a million times: the education we offer, and the community we've created.
Education and Community
Our educational resources and community are second to none, and that's why you should buy Momentum Planner.
Charlie Gilkey and Angela Wheeler, the founders of Productive Flourishing and creators of the Momentum Planner, have an extensive background in productivity. Angela has a PhD in sociology, specializing in mental health and Charlie did PhD studies in philosophy. They each have more than a decade of experience helping people complete their most important projects. Productive Flourishing brings the experience and knowledge of helping business owners, team leaders, and creators complete projects that have a positive impact on the world.
Education
You can purchase and download Momentum Planner and use it as a standalone product. If you do that, that's great.
If you're looking for help taking your planning, and life, to a level of flow and thriving, then downloading Momentum Planner is just the first step. In addition to the one-pager planner orientation that comes with the download, we offer the following resources.
Free Education Resources
How to Use Momentum Planner
How to Plan (lifelong learning)
So you can see that by buying the Momentum Planner and joining the Productive Flourishing world, you get access to a world-class education on how to plan and finish your most important projects.
In comparison, Panda Planner's blog hasn't been updated since late 2019.
Community
We all have questions and need support in our journey to becoming the person we want to be. We can reach some goals alone, but doing the things that really matter require rallying people around us. We call those success packs, and Productive Flourishing has done the work to help you start building your own success pack.
The Monthly Momentum Call: Each month we host a live call with Charlie and Angela where members of the PF community can ask questions about the planners, or anything else that comes up around the planning process. Since our team has a wide range of experience around mental health, business building, and other areas, the calls frequently help people understand how other aspects of life influence how they plan their lives.
"Charlie has this unique ability to turn, what can be, creative chaos into a calm and concrete strategic plan. I can attest a proportion of my own success directly to the ideas, models and resources shared in his Monthly Momentum Calls. He is proof that a visionary can take their own ideas, act upon them, and deliver consistent, outstanding value to a community of interested creative business people." – Rob Lawrence
The Productive Flourishing Community: Looking to associate with more people who are hoping to thrive and finish their most important projects? We have a free social community you can join here. Inside the community, we share resources and support you in making connections with others in the community. Join the PF Community here.
"This is EXACTLY the kind of planner I've been looking (and looking and looking and...) for. Actually it has even more than I ever thought possible! I'm absolutely amazed by it and I can't even believe the price I got it for! I'm so excited and unbelievably happy that I can now stop shopping for a planner for 2020 (and hopefully beyond)!
I just wanted to, and felt compelled to, say thank you thank you thank you! It's perfect!" - Arlene Baratta
Summary: Why Buy Momentum Planner instead of Panda Planner
Planner features are the same across most planners. If a minor feature is important to you and Momentum Planner doesn't have it, that's OK – we're not here to hard-sell you. If you want a great planner at a great price, you won't beat Momentum Planner. And if you're looking for education and community to help you succeed, then you'll want the Momentum Planner and the Productive Flourishing resources.