Free Planners and Worksheets by Productive Flourishing
Have a graveyard of free planners that didn't work for you? It's not you, it's them.
You've got more going on than the same old free planners can handle. You're working on multiple projects with different deadlines, alongside a whole cast of collaborators, clients, customers, and colleagues.
You need a clear line of sight on all those moving parts and a system to plan for and keep track of everything.
Our planners and worksheets aren't just pretty tools with random blocks — they're built from the ground up using time-tested principles from habit formation theory, positive psychology, behavioral economics, and productivity studies. They're the brainchildren of the same guy (Charlie) who literally wrote the best-selling book on finishing what matters most.
Their minimalist design helps your priorities, projects, and schedule take center stage. Add your own stickers, highlights, and colors if those help you focus and engage with your planner.
We've been sharing and iterating on our planners and worksheets since 2009 and they've been downloaded over a million times by action-takers just like you.
I'll do a quick primer for each of the planners shown in the gallery above. It'll help you know what you're downloading so you can get started right away.
Thanks for reading Productive Flourishing! Subscribe to get access to more free planners, worksheets, and resources.
The Momentum Planners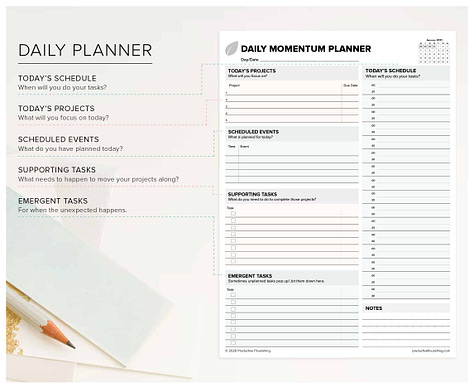 The Momentum Planners are a family of planners that help you plan based on time horizons. The Daily Momentum Planner focuses on a daily horizon, the Weekly Momentum Planner focuses on a weekly horizon, and the Monthly Momentum Planner focuses on the monthly horizons. (We also have Quarterly and Yearly planners in our full set of dated planners, available to paid subscribers.)
Each helps you keep a line of sight to the goals and projects related to the time horizon before it. When today's work lines up with this month's goals, you're able to build toward a better future rather than just remaining in a reactive, get-what-you-can done mode.
The best part? You don't have to use all three to benefit from the methodology.
If you're new to Momentum Planning, the best place to start is the Weekly Momentum Planner. There are several reasons for this:
It's the goldilocks time horizon for planning you can take action on and see results.

Most people can grasp the size and scope of a week for planning purposes.

It aligns neatly with the concept of time blocking, and works in concert with your calendar.

It provides just enough horizon vision so you can see enough forest to make progress on larger projects without getting lost among the trees of your individual tasks. 
Download this month's weekly PDF planners and start moving your own best-work projects to done.
🆕🎉 The full set of dated Momentum Planners and the Momentum Planning E-Course are now available to paying subscribers. Click the button below to learn more.
The Productivity Jumpstarter
The Productivity Jumpstarter has one job: to get you out of the swirl and moving towards goals that matter.
Use it when you've fallen into a clickhole, before the coffee's set in, when you're overwhelmed and don't know where to start, or when you want to be more intentional during a time block.
Its simplicity is deceptively powerful. It's either just enough to focus your work or you'll know what you need by what it's missing. You're welcome. 😜
Download the Productivity Jumpstarter, print out a few pages, cut them in half, and have them handy for when stuck strikes.
The Action Item Catcher
The Action Item Catcher's only job is to catch action items as they come up through the day.
Yes, many work management tools have ways to quickly catch action items. But how often does getting to those tools or being in those tools distract or short-circuit the process of capturing the items?
The Action Item Catcher helps you quickly get the action item out of your head so you can get back to whatever you want to have your attention.
The Action Item Catcher pairs incredibly well with the Productivity Jumpstarter and Weekly Momentum Planner. Some people use it as their rolling task list and push tasks to either the Productivity Jumpstarter, their favorite Momentum Planner, or other tools.
The Daily Habit Tracker
Like the previous two planners, the Daily Habit Tracker tells you what it's for by its name. It helps you track the daily habits that you want to cultivate.
We know from habit science that visibility, streaks, and tying the habit to something important help form that habit. The Daily Habit Tracker has you covered on all fronts.
Though it has room for five habits, I highly encourage you to stick to no more than three habits. One is better, as it's better to really lock in one game-changing habit than flail with five.
But I've run with ambitious creative folk long enough to know that if it only had 3, you'd rebel and bail. Use the Daily Habit Tracker to learn what your real habit cultivation success rate is — and I won't say I told you so. 😜
These Tools Will Get You Started - But There's So Much More to Productive Flourishing
I've chosen the planners above because, together, they'll go a long way to getting you started and making progress toward what matters most. All but the Momentum Planner set are pretty straightforward, too.
The full set of dated Momentum Planners and the Momentum Planning E-course are now available to paying subscribers. Click here to learn more.
Paying subscribers can access more planners, worksheets, mini-workbooks, mini-courses, and Q&A sessions with me. If you'd like to have more access and support — and to play an important part in funding more of these kinds of resources — join at the Plus or Pro level using the button below.