Discover more from Productive Flourishing
A newsletter and community for driven possibilitarians who are seeking full-spectrum thriving, hosted by award-winning, best-selling author of Start Finishing, Charlie Gilkey.
Over 33,000 subscribers
How to Improve Team Productivity with the Weekly Cadence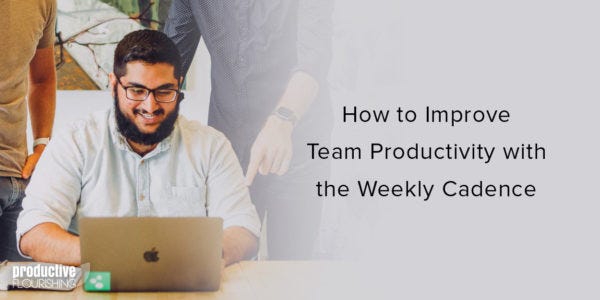 I wrote recently about how we were shifting our operations here at PF, and another concept we've been implementing lately is the weekly cadence. This is something Charlie's been doing implicitly for a long time, but over the past month or so we've been making it more explicit with the whole team.
The weekly cadence concept is a simple one: each day of the week gets a job that supports the business priorities for that week.
Monday: What are the priorities for the week?

Tuesday: What projects support those priorities?

Wednesday: What blockers are we encountering?

Thursday: What can we do to push projects through the red zone?

Friday: How did we do?
Sounds simple enough, right? Let's dive into each of these in a little more detail.
Monday's Priorities
Here's where we determine what the team will be focusing on this week. From all the things we are working on, we select three team priorities to rally behind.
As an example, one week's priorities may be:
Completing the Burnout Webinar final preparations and promotion

Continuing our preparations for the 2022 Momentum Planner Digital Pack launch in August

(And a third priority we can't share just yet!)
These priorities represent or align to the larger objectives we're focusing on at the monthly or quarterly level, connecting those broader planning horizons together with the "get the work done" horizons of the week and the day.
We keep the weekly priorities to three for a few reasons:
Three priorities are easy to remember and keep top of mind.

We might have more than one weekly project supporting a priority (and we want to abide by the 5 Projects Rule).

The team has other responsibilities and routines to complete in addition to the weekly projects/priorities.
We also typically go over these priorities and discuss any discrepancies at our Monday team huddle, so we can start the week aligned.
Tuesday's Projects
Tuesday is where we follow up on the projects that will support the priorities for the week. Here's where we ask questions like:
Do we have the right ones to move those larger objectives forward?

Does the team need any additional information or support to execute on this week's projects?

Do we need to make any adjustments to team assignments to make sure enough time, energy, and attention is being paid to those objectives?
Some of this work we do at Monday's huddle, when the team lists their own three individual commitments for the week. Here we can see if there's enough alignment with the priorities, and enough capacity on the team to get everything done.
Tuesday then becomes the day when the work on the projects begins in earnest.
Wednesday's Blockers
We use Wednesdays to identify any blockers that are coming up that might prevent the week's projects from being completed by Friday.
Blockers could be just about anything, such as:
a delay in a vendor getting back to us

confusion over a task or assignment (and a need for clarification or more information)

a task taking longer than expected

another priority coming up that had to displace project work
If the team identifies any blockers (or potential blockers) mid-week, that gives us time to address them, rally the team, and finish the week strong.
Thursday's Rally
Thursday is "red zone rally" day. Charlie talks about the creative red zone on the blog (and in chapter 9 of Start Finishing): it's our struggles against things like competing priorities, poor team alignment, and fatigue that happen just as we're about to cross the goal line.
Thursdays at PF are about how we rally together as a team to make sure we're getting that week's footballs over the goal line. We use rally day to:
address any blockers we identified on Wednesday

shift the team around to make sure priority projects are adequately covered

make sure the team has what it needs to get everything finished by Friday
Friday's Review (and Celebrations)
As we wrap up the week, we look back at what we accomplished, how far we moved those priorities forward, and celebrate the wins we had.
That's one use of our weekly ops update: highlighting things that went well during the week, and what we accomplished individually and as a team.
We also identify ways the process didn't serve the team or the projects, and how we can make those better. This isn't to point fingers, but to focus on places where all of us can improve. Because we'll be back on the field again next week!
Week to Month to Quarter... and Beyond
One of the beautiful things about this weekly cadence is how well it leads us back into the broader objectives of the business. The week's priority projects and accomplishments support and inform the month's projects and objectives (and vice versa), our team monthly reviews support and inform our quarterly objectives and key results (OKRs), and those quarterly OKRs (and our quarterly planning and AARs) support the overall direction of the business.
It's a fruitful combination of top-down and bottom-up planning that helps our team stay aligned on our most important objectives.
And a bonus: you don't have to have a team to make this work for you. This weekly cadence can support the work of individuals as much as it does teams. You can include these five ideas as prompts in your 10/15 split, one for each day of the week.
Give it a try, and see how it supports your team (of many or just one) in accomplishing your best work, week after week.