Momentum Planners
Most planners aren't designed for the way you actually work.
They're designed by well-meaning people stuck in the old way of thinking about time management. Specifically, those planners are designed for setting appointments and meetings in a traditional work environment.
It used to be that if you had a place — paper or digital — to track all of your meetings and appointments, you'd be good to go. But that's not enough anymore.
Alternatively, other well-meaning people cobble together a bunch of random elements from other planners (including ours) but focus on making them sparklier and prettier. They look great but they don't work great because they're not an integrated methodology.
The Momentum Planners are a complete, intuitive system that helps you …
Identify your big goals and projects

Break projects into daily, weekly, monthly, and quarterly action items

Plan when to spend time on action items

Track progress on goals and projects
The Momentum Planners are built from the ground up using time-tested principles from habit formation theory, positive psychology, behavioral economics, and productivity studies. They're the brainchildren of the same guy (Charlie) who literally wrote the best-selling book on finishing what matters most.
Their minimalist design helps your priorities, projects, and schedule take center stage. Add your own stickers, highlights, and colors if those help you focus and engage with your planner. They're also designed so you can use these at work without losing your cred.
We've been sharing and iterating on our planners and worksheets since 2009 and they've been downloaded over a million times by action-takers just like you.
Get to Know the Momentum Planners
Momentum Planners are a visual product, so you need to see the planners to understand them. If you're interested in seeing how the bundle fits together, give these demo planners a look.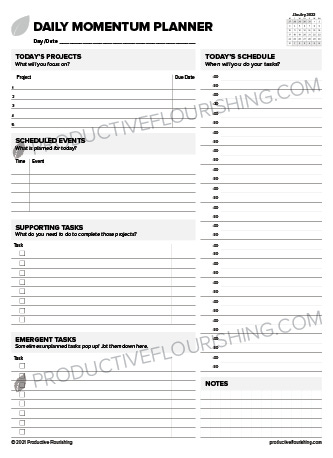 The Momentum Planning E-Course Will Get You Up to Speed
While the Momentum Planners themselves are intuitive, some users have a hard time getting started with them because they require you to ask yourself questions you haven't really been taking seriously.
These are subversively simple questions like:
What are the few priorities that matter most to you?

How do you articulate those as goals that you can do?

How do you break those goals into projects?

How do you sequence and overlay those projects?

And does your schedule have room for those projects?
The Momentum Planners can't answer those questions for you. The Momentum Planning E-Course guides you to answer them in the context of using the planners that make the most sense for you. It's a hybrid of a productivity course and a user guide.
The Momentum Planners and Momentum Planning E-Course Are Premium Subscriber Exclusives
Prior to our move to Substack, these two products were available as one-off purchases. The Momentum Planners were $18 and the Momentum Planning E-Course was $29.
They're currently no longer available for one-off purchases and are instead included as paid subscriber exclusives.
This allows us to support our paid subscribers via Monthly Community Coaching Calls, monthly mini-courses, and other resources.
To get immediate access to the Momentum Planners and the Momentum Planning E-Course, become a paid subscriber using the button below.
This post is for paid subscribers