Discover more from Productive Flourishing
A newsletter and community for driven possibilitarians who are seeking full-spectrum thriving, hosted by award-winning, best-selling author of Start Finishing, Charlie Gilkey.
Over 33,000 subscribers
Midweek Meditation: How's Your Practice Going?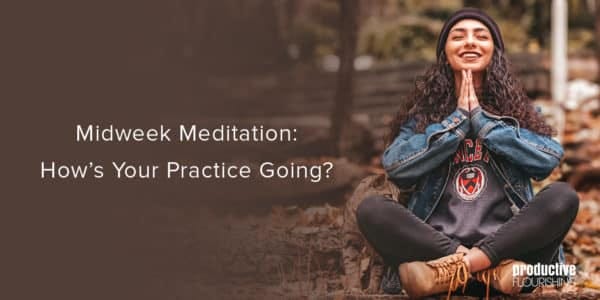 How's your meditation practice going? If it's anything like how mine used to be, you did it once or twice and felt great. Then a couple of days went by and you let your meditation practice go, because suddenly five minutes of silence sounds like torture, you're just too damn busy and, hey, you're feeling pretty great anyway. And then a couple more days went by and you realized you're feeling anxious during something that you normally wouldn't (or shouldn't) be.
But then you remember the tools in your toolbox that help with combating anxiety, like: drinking more water, staying off social media, and… oh yeah… meditation.
Much like any type of physical activity, you always feel better after you've done it, even if you don't see results right away or didn't feel great at the time. Because just like life in general, meditation is not always all rainbows and butterflies.
Sure, some days I feel good and I lay down to meditate and am able to perfectly focus, coming out on the other side calmer and more refreshed. Other days – ahem, these days – I overhear my husband on a conference call in the kitchen, my phone keeps vibrating from everyone in the group chat going off about the latest news on COVID-19 again, and my stomach is grumbling because apparently I need banana bread every 60 minutes now.
And still, I set my timer or pick my meditation and power through it, for better or for worse. It isn't always pretty, and oftentimes my mind is everywhere else but on my breath, but making it a part of my routine reassures me because I know it's ultimately for the best.
The next meditation I want to offer from Insight Timer is called Energy Reset for Anxiety. There's a lot to be anxious about out there in the world, even without a global pandemic looming in the background. This 7-minute guided meditation helps you to understand your anxiety in a more tangible way; to breathe through it and release as much as possible. I like this one when I'm feeling particularly anxious or down, because the visualization aspects make me feel like I'm really letting go of something.