Discover more from Productive Flourishing
A newsletter and community for driven possibilitarians who are seeking full-spectrum thriving, hosted by award-winning, best-selling author of Start Finishing, Charlie Gilkey.
Over 33,000 subscribers
Find Your Focus By Widening Your View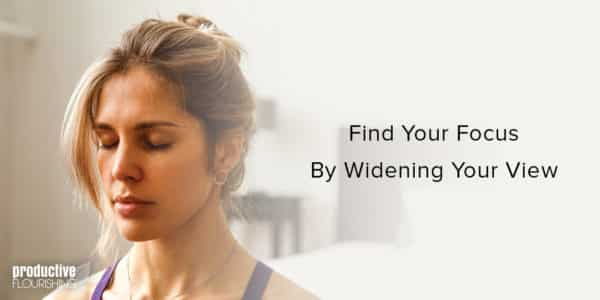 If you've ever been to a yoga class, while wobbling in Tree pose you may have heard your teacher say, "Find your drishti."
Drishti is a Sanskrit word meaning "focus" or "gaze", and is used in modern yoga classes to encourage students to find one point in front of them to focus on or to steady their gaze. For example, while in a standing balancing posture such as Tree pose, you may feel unsteady if you're looking all over the room, or even if your mind is wandering to a Slack message you forgot to respond to earlier in the day. When you're unfocused like this, you're much more likely to lose your balance and fall.
But by using your drishti, you're encouraged to find one point to steady your gaze on. This might be someone's mat in front of you, an aspect of the mural at the front of the room, or maybe just a meaningless spot on the wall. By finding your drishti, that one point to focus on, you are better able to stay centered and steady.
When it comes to our work and our businesses, we try to find our focus all the time. It might be in trying with all your might to get through an important task that's due today, or during bigger quarterly planning sessions, strategizing where you want your career or company to go.
And while in yoga we tend to keep our focus narrow in an effort to stay in a pose, to ultimately build strength and confidence, we might consider both perspectives when talking about growth in the workplace.
Staying Steady
When we break down our big picture plans, we know that we're really just planning on taking many small steps to get us where we want to go. In our day-to-day lives, that is what we're primarily focused on. Putting one foot in front of the other, we get through our daily list of to-dos. Everything from getting the kids ready for school and planning meals for the week, to working on metrics reports and collaborating during brainstorming sessions.
The challenge in these daily tasks is, of course, staying focused through the inevitable distractions. When your focus is somewhere else – like on an argument from last night, the cookies in the kitchen, or the sun shining outdoors – it's a lot harder to stay on task and meet your deadline.
Since we all have moments of distraction, we can't always rely on our drishti to help us. We, then, use discipline, gumption, the gaze of a boss, or an impending, impenetrable deadline to make sure we get our things done. But when you find yourself perpetually unable to focus, you might consider finding your drishti from a different angle.
Grow by Expanding Your View
All of our everyday small wins are what builds upon one another to create robust life experiences and progress in our projects, personal or professional. So when we feel like we're spinning our wheels, or don't feel the motivation to take those important small steps, it's time to widen our perspective.
By broadening the range of your drishti, you're no longer focusing on the little task in front of you, but you're allowing your eyes to broaden and to take in more of a panoramic view. You're reminding yourself of your bigger picture goals; say, to get three new clients this month, so you can scale and hire an assistant to ease your workload.
When you take the time to plan bigger, and to have your bigger goals in place, it can be easier in those moments of demotivation during the small tasks to stay focused on what it is you really want to accomplish. (Tweet this.)
It may seem counterintuitive to the drishti we think about when keeping our balance in Tree pose, but when it comes to our work, our businesses, our careers, and our future, it can be helpful to take a step back, take in the whole view, and then move forward with more of an understanding of what it is you want out of this life.
So, where is your drishti? Maybe it's different from day to day, and it can certainly change over the years. But consider the idea that broadening your view might actually help you to see more clearly in the short term.
I'll leave you with this to ponder: Is it possible to keep your focus spacious and broad, while also being able to keep your vision on the specifics of the smaller goals?