Discover more from Productive Flourishing
A newsletter and community for driven possibilitarians who are seeking full-spectrum thriving, hosted by award-winning, best-selling author of Start Finishing, Charlie Gilkey.
Over 33,000 subscribers
Are You Asleep at the Wheel on Something That Matters?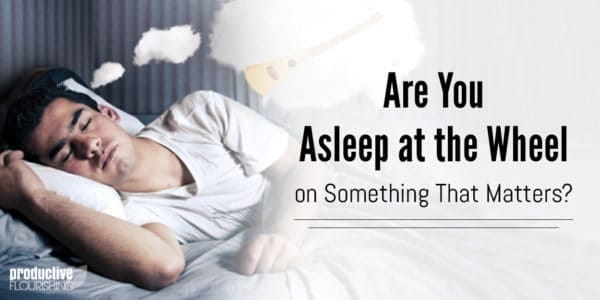 Because life comes at us quickly and the habits of yesterday often guide what we do today, it's easy to fall asleep at the wheel on the things that matter to us and make our lives better. (Tweet this.) We fall into a routine and somehow overlook or miss the small things that enrich our lives.
Avoiding the Broken Guitar String
It's happened to me. A few months ago, the high E string on my Martin Backpacker popped off as high E strings sometimes do. I wanted to address the broken string, but life kept getting in the way. Between the book, some family health challenges, office rearranging, and travel, I just never sat down to restring the guitar.
I should have; I keep the Martin downstairs between the living room and the kitchen so that I can play during random time periods like waiting for coffee to brew or on Angela to finish getting ready to go somewhere. I even "play for dinner" at times. It gets me out of the way — important when Angela's making something and I'd be more nuisance than help — and adds some joy to the mealtime process.
But I kept pushing the task aside, mostly because I was avoiding entering my music room, which was serving as storage space during the office rearrangement. I refused to enter for I knew what awaited: boxes, furniture, and piles of disorganized, disheveled, and random stuff. I had not the courage of Frodo to wade through that wasteland in hopes of finding some extra strings.
In fact, every urge to change my guitar's strings was met with a resounding "nope!" The guitar eventually disappeared into the very same corner that made it prominently visible and convenient to get to. Now, I rarely saw it unless I accidentally bumped into it or had to move it to create space for another box or office chair, treating it in the same way I handle one of Angela's assorted bed pillows.
Sleeping at the Wheel
This past weekend, though, I saw my Martin. I immediately felt crummy. Angela and I finished sorting and resetting the Room of Doom several weeks ago. Plus, it's not like strings expire overnight. If I'd taken the time to search for some strings in the abyss, I might have found some. Even if I didn't, strings aren't expensive. They cost something like $6 on Amazon.
Obviously, the issue wasn't the room or the money. I know since I've been examining a lot of hidden stuff, especially around money, in the past few months.
The issue was me. I was asleep at the wheel.
Sure, a lot was going on, but I could've made time for my guitar. Instead I wasted time, energy, and attention in destructive self-soothing on social media. Why'd I do that? Guitar strings are more important to me than scanning Twitter moments to see what's new for the day. (Which is more or less nothing. What's new for the day is some shade of the same political drama unfolding since 2016.)
But when I truly saw my guitar again, I had to confront my lack of integrity to the guitar. I specifically set it up in that downstairs room so that I would play it. But I wasn't. I acted like the guitar didn't matter, even though it's a daily source of joy and feeds my soul. Leaving laundry unsorted is one thing, but avoiding joy-making and soul-feeding is another. The strings arrive tomorrow.
PRODUCTIVE FLOURISHING
Waking Up to the World
I share this story in hopes that it'll illuminate something that matters to you but has been left unaddressed for too long.
Maybe a treadmill sees more use as a clothes rack rather than as exercise equipment. A Room of Doom causes guilt and anxiety every time you walk by it. It could be a Bible on your nightstand that acts as a bed for your smartphone. Perhaps it's a gym membership or magazine subscription that hasn't been used or read in months. (But thanks for recycling!)
Just to be clear, I'm not judging. I get how easy it is to fall asleep at the wheel when it comes to this stuff.
My invitation is to take a look at whatever your thing is and ask whether it still serves you. If it does, take a small step to start engaging with it again. If it doesn't serve you, take a small step to get rid of it. Put it on the curb, throw it away, or cancel it. Whichever step you take, the important thing is to take it. I mean, think of Frodo. His whole journey started with a step outside his door, and he ended up saving the Shire. Surely our small steps can restore our joy, feed our souls, or help us complete a project.