Discover more from Productive Flourishing
A newsletter and community for driven possibilitarians who are seeking full-spectrum thriving, hosted by award-winning, best-selling author of Start Finishing, Charlie Gilkey.
Over 33,000 subscribers
What Voting for Us Gets You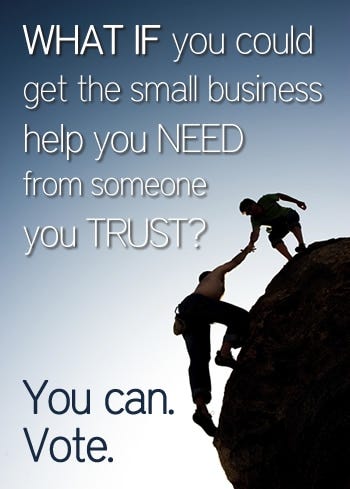 A few days ago, we shared our Mission Small Business proposal with you, and we wanted to tell you a little more about where that's coming from.
We said Productive Flourishing has changed... but we didn't say quite how much.
From online coaching and productivity blogging, we've evolved into a full-fledged firm helping small businesses increase profits, get more customers, and  grow strategically.
What does that mean exactly?
In short, we do productivity and planning for bootstrapped businesses.
We've been spending a lot of time speaking with small businesses and entrepreneurs here in Portland, Oregon and around the nation, specifically focusing on working with brick and mortar small business owners who want to expand their business but find themselves stuck and unsure about how to go forward. Some of the ways we've been doing that include:
Creating long-term growth plans

Training teams

Hiring

Cashflow projections

Organizational development

Executive, marketing, and tech coaching

Much more
Small businesses have a unique set of problems that are often left unaddressed by major business publications. Since 99% of all businesses have 20 employees or less, though, this doesn't make much sense. Just because you're not a huge venture doesn't mean you're not a viable, valuable business.
We're in there with the small business owners whose businesses are hitting critical mass and they know they can't do everything themselves.
That's where we come in.
We still love our online clients and we'll continue to work with them in the future. But now, we're much more selective about our clients. We want to work with people who are in it for the long game, and when we say long, we mean 5, 10, and even 20 years out.
Help us get the grant by voting here. (Voting is now closed.)
Some other facts you might not know about us and what we're doing:
We are a veteran-, minority-, and woman-owned business that cultivates diversity, empowerment, and social good.

We specifically moved our business and life to Portland to be a part of a vibrant community of small business owners and contribute to the success of the larger community, helping to make Portland the place in the US that is welcoming for new business.

We are involved in many local groups, including the Portland Business Alliance, CRAVE Portland, Portlandia Women's Business Club, and Oregon Entrepreneurs Network, and we're also involved with local non-profits through some of the above mentioned groups.
So what's the grant for?
1. Finding our own office space that provides the right environment for creative exploration
We're currently working out of the Congress Center in downtown Portland. It's too small to fit the plans we have because we need a reasonably-priced space that will accommodate all of the functions we need it to, including a space to hold workshops and live events and a studio-esque space that will enable us to produce more video content more easily.
Sidebar: We also have dreams of turning part of it into a co-op working space.
2. In-house hiring to provide operational capabilities
Team PF is working on amazing projects everyday, which is why we need a dedicated project manager and office manager. Right now, we're not able to commit to as many of the ideas that we have brewing as we'd like and the main reason is because we don't have enough hands on deck. Once we get a great team addition, we'll be able to do even more for you.
3. External hiring for software/webware development
Yep, we're working on an app. It's a top secret project right now, but we know you're going to love it. However, we need the right people to build the app the way we want.
4. Update our current tech
Because of the cutting edge work we do, we'll need to upgrade our tech infrastructure to handle a lot of the audio-visual projects we're working on.
Final Thoughts
Productive Flourishing is changing, but one thing hasn't: we still work with the best and brightest out there. The rising stars, the determined bootstrappers, and those entrepreneurs who refuse to take no for an answer - these are the people who ship and they are the people we will continue to help in the future.
Thanks again for helping us become a better company that can better serve you.
Instructions for Voting:
Click here to vote. (Voting is now closed.)

You will see on the bottom right where it says to login and support.

Then, you go to business name and enter: Productive Flourishing and search.

When it shows up you click the support button. That means you voted for us.
Thank you so much for your support.