Discover more from Productive Flourishing
A newsletter and community for driven possibilitarians who are seeking full-spectrum thriving, hosted by award-winning, best-selling author of Start Finishing, Charlie Gilkey.
Over 33,000 subscribers
What Is Your Anger Telling You?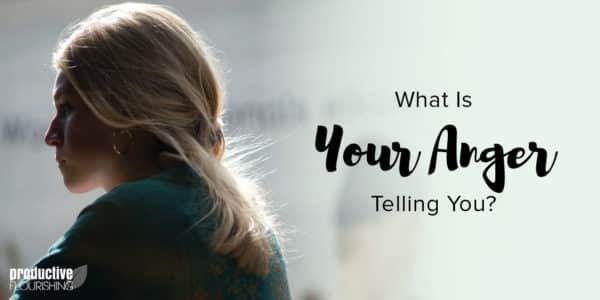 A couple of months ago I shared with you about some difficult emotions, specifically anger and resentment, that had been building in me for a while and my growth edges when it comes to feeling and expressing anger.
Because of my early experiences with anger and the unhealthy ways I saw it expressed, I know that my work around feeling and expressing anger is a challenge I will continue to contend with and I'm becoming more and more comfortable with feeling anger as I face it, allow it, and work through what it is telling me.
I can't say that I'll never allow myself to get to that place I was a few months ago — where I held on to my anger and tried to suppress it only to have it turn into resentment (which feels a whole lot worse) — but I can say that it will be something I continue to stay aware of and practice allowing.
I believe that feelings are our teachers, and we have a lot to learn about ourselves and our relationship to the world around us by paying attention to what we feel.
I shared recently about noticing what is under the fatigue you may be feeling; for me, at that time it was trying to prove myself worthy. Just like with fatigue, it's what's behind or under our anger — when we get to the why under the why — that important truths are revealed.
What's beneath the anger?
There are an infinite number of reasons why we may feel angry. I believe though, that getting at what is under our anger is where we learn and grow and our truth is revealed.
So, what might be lying under that anger? It could be hurt or betrayal or fear. It may be a feeling of a loss of control or a sense of injustice.
I've seen and felt a lot of anger around me since COVID started and the longer it continues to force changes that we don't want,  for many the anger intensifies.
That anger from COVID has been building in many of us, and when the killings and other injustices against black people finally hit a point where people couldn't turn a blind eye anymore, the sense of anger and outrage in the world became louder and louder.
I would be surprised if you haven't felt angry at some point (or at a lot of points) over the last few months. And, you know what, that is OK. In fact, it is good and it is healthy.
These are just a small number of the types of anger I have heard expressed from those around me recently:
From both moms and dads, I have heard anger about becoming stay-at-home parents when that was never in their plan for their life. They have had to make choices as a family about how to balance childcare and education needs with career and financial needs.

I have heard anger about a lack of leadership at the local, state, national, and global levels.

From some, I have heard anger over the loss of a job and the financial future they had imagined for themselves.

From all over I have heard anger over police violence and a lack of accountability when it occurs.

I have heard anger about holiday events and vacations being canceled.

From some, I have heard anger about people not taking measures to stay safe from COVID-19.
My own anger and its roots
And, because I am in a place of learning and growth when it comes to my own anger I will share with you that I have been angry about some of the things I listed above, but one of my biggest areas of anger for a long time now has been and still is related to racial injustices.
I know that under that anger I feel is a sense of injustice and despair and disgust and at times a sense of not having control, as well as fear and pain and betrayal. That's a lot, I know. There is a lot under that anger for me.
There is the despair I feel when I see or hear of another fellow human harmed because of the color of their skin. There is a sense of betrayal because I was taught that we live in a country of equal opportunity and protections, but that is not what I see in the real world.
There are times I feel angry and under that is a feeling of not being able to help or do enough, of having no control.
And, what I have only ever shared with a few people, but I am going to share with you now is that my anger around racial injustices hits very close to home and touches the deepest part of me.
I am angry and under that anger is fear. Fear that when my husband walks out into the world that he may not make it home because of someone's beliefs about the color of his skin. It is a fear that I have felt for more than two decades, but that becomes heightened at certain times — like now, and back in 2014, again in 2016, and, well, just too many times to even begin to list.
I didn't realize I was going to share this much when I started to write this and I am feeling incredibly vulnerable right now, but I want to share with you just two of the real-world experiences that Charlie and I have had together that have led to this anger and fear that I feel.
When we were much younger, in our late teens, we had our lives threatened for being together. By someone who barely knew us and I don't believe we had ever had any interaction with. Just for being a couple.
Second, and this one is even harder to share, because not only did it bring fear, but also a deep sense of betrayal, and still hurts in a deep way to this day. Someone very close to us was also angry about us being together and threatened Charlie's life.
I have kept those stories, and others, to myself because I have never wanted to make other people uncomfortable and didn't want to take any attention away from the real issue: that racial injustices happen everywhere and all the time and are not out of the norm. They are the norm and that is not OK.
So, yes, I am angry. And, there is a lot under that anger. I have had to find healthy ways to process that anger. Rather than trying to ignore it or suppress it, such that it leads to resentment or manifests in unhealthy ways where I don't take care of myself, I am doing my best to learn and grow from it.
What are you angry about?
There is so much in our world today that can cause anger. I shared an extreme personal example, but please know that anger doesn't only need to be felt in extreme circumstances.
Just like with any other feeling or experience you have, comparing it to what someone else is feeling or experiencing is not helpful. You feel what you feel and how you feel and how big you feel and that is your reality. Your reality is what you need to allow, feel, and honor.
What are you angry about? Are you honoring your anger and giving it space to show you what it wants you to acknowledge? It may point you to places where you can make changes happen. And, even when it is beyond your ability to change something, just acknowledging an emotion is often enough to allow it to move through you.