Discover more from Productive Flourishing
A newsletter and community for driven possibilitarians who are seeking full-spectrum thriving, hosted by award-winning, best-selling author of Start Finishing, Charlie Gilkey.
Over 33,000 subscribers
What Is Holding You Back?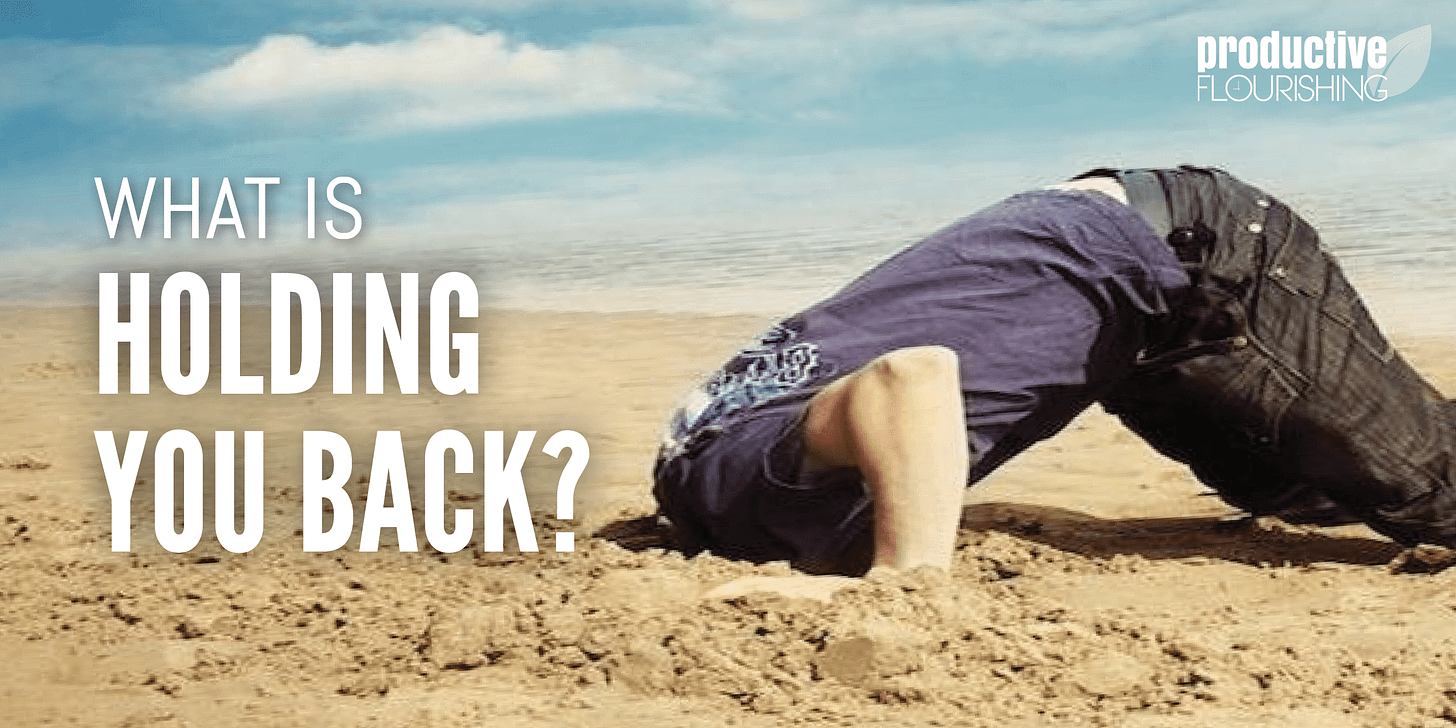 Editor's Note: This is a guest post by Karl Staib of Work Happy Now.
Are you resisting doing something that you know will help your career?
You probably should be working on something important right now that will skyrocket your life. You want some great idea to get everything to click. Some magic solution.
First, there are no magic solutions. I know you know this, but it must be said. I won't be that blogger who promises you grandeur and then changes nothing.
A Little Story
I recently broke through a mental barrier. I was lost in my business. The drowning business owner syndrome was in full effect.
Charlie's coaching was actually very instrumental in helping me break through. He asked the right questions that helped me figure out what I was doing wrong.
See, I have a passion for work happiness, the thing is I am more focused on a habit/personal development level, rather than being focused on helping corporations create a better work environment. Well, I am interested in this too, but it's hard to do this type of work unless you have a book, make lots of connections, and love to cold call businesses. I don't.
I was missing the personal connection with my people. When I gave talks to organizations, I often wondered how many people were going to apply my advice. I knew that I needed to work with passionate people who wanted to take their lives to a higher level.
That's when I opened my Superpower Coaching practice. I struggled at first, but the transition has been a wonderful learning experience. The response from clients has been fantastic, but that's not even the best part: my confidence and my engagement in my work have multiplied.
Fear Keeps Us From Thriving
I was afraid to take my business in a new direction because of all the hard work I had put in during the last two years. This fear was holding me back.
It's interesting to watch how my emotions dictate my actions. I didn't even realize that I was holding back until someone pointed it out to me.
If you're wanting to stop letting emotions dictate your actions, here's what you'll need to do:
1. Ask the Painful Questions
It all starts by figuring out how to ask the right questions. The right questions are usually painful because they put you in an uncomfortable situation.
This means digging into your emotions. This can be a scary place. I know I have avoided many projects because I was afraid of messing up. I didn't want to ask myself why I was avoiding certain projects, so I kept doing my usual work and hating the results.
If you can't do it yourself, like me, then hire someone to help you break free of what's holding you back. When I started talking to coaches and other people who could help me break out of my comfort zone, I finally started to multiply my business.
2. Jump in the River of Pain
Once you start asking the right questions, you have to give the answers. This will hurt. It hurt me because it meant I had to take my business in a new direction.
My answers forced me to see my reality. I couldn't keep going along the same path and expect great results. Once I accepted this truth I needed to take action.
3. Swim Your Butt Off
Taking action is the key to any change. Want to be a better writer? Then write until your fingers hurt. Want to be a more successful business owner? Then get in there and learn how to improve your business.
You have to learn to enjoy the river of pain because it never ends. Suffering is a part of our lives, so we we may as well work with it now rather than waiting for it to go away.
If we can stop letting fear guide our choices and we can transform our aversion to pain into a spring board, then we can stop holding ourselves back.
4. Transform the Pain
The easiest and most useful step to take when trying to transform your pain is to immerse yourself in your emotions. The more you begin to see the emotional patterns that keep popping up, the easier it will be to make choices that encourage you to stop procrastinating in your work.
I like to keep a one sentence daily journal to track my wins and losses throughout a week. Every Sunday I review my progress and refocus my energy. At the end of each month I do another review of my progress. These daily, weekly, monthly and yearly reflections help me understand more about the choices I make.
When I keep resisting work that I know will help my career I always see the pattern of fear emerge. I sit with this fear and listen. I listen then talk to this little scared dude within me. We talk about the results that I will get if I don't do this thing vs if I do this thing today.
I try to make the decision based on whether the results are more important than my fear. 99% of the time the results take precedence. It's why I started my blog. It's why I go to SXSW. It's why I took my business in a new direction.
Your Turn
How do you overcome your resistance to projects and work that you know will grow your career?