Discover more from Productive Flourishing
A newsletter and community for driven possibilitarians who are seeking full-spectrum thriving, hosted by award-winning, best-selling author of Start Finishing, Charlie Gilkey.
Over 33,000 subscribers
What Are You Taking with You?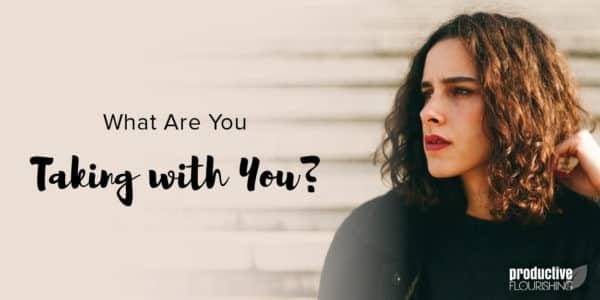 While COVID-19 has certainly placed enormous amounts of stress on every one of us, we can also use this time to reflect on how we are showing up in our lives day to day. Despite the fact that I have actually had more work to do throughout COVID rather than less, I have intentionally made space to reflect on different areas of my life and make changes where I have felt they were needed. 
It often takes a hard stop for us to take stock of our lives. We get wrapped up in our day to day and can find ourselves far off the path we had set out on before we even realize that we veered off course.
Wake up, get ready for work, get the kids ready for school, pick up the carpool, drop the kids off, put in 8 hours at the office, pick the kids up from after-school programs, do homework, make dinner, tidy up, bath time, maybe a few minutes for yourself before hopefully going to bed if you can sleep tonight, wake up tomorrow and do it all over again.
I have heard from many of our clients, community, family, and friends that COVID has been the catalyst for that hard stop and reflection for them. While we definitely don't want to rely on a pandemic to come along and knock us all off course to finally make some changes in our lives, why let a good crisis go to waste (Churchill), right?
I'm going to guess that many of you have already found yourselves in times of serious reflection over the last couple of months. The world has changed all around you and your own internal world has changed, as well, and you've noticed some things not quite where you want them to be in your life.
Whether you have already made the time to reflect on what COVID has taught you and allowed you to realize about your life or this is something that has come to you little by little or you have not even had time to think about it, I want to encourage you to not let this crisis go to waste.
Perhaps you can find time to ask yourself questions and reflect on the many different areas of your life to see where you are in alignment and where you want to take this opportunity to make some changes that you will take with you as the world gets a bit more "normal?" So that you don't get overwhelmed, choose one question at a time to think about:
What is there for me to learn here?

How have I surprised myself with my resilience?

Is there a habit I have started during this time that I want to continue?

Is there a routine I have lost that it's time to bring back?

How has my work changed? Is it feeling better or worse than it did before? How, specifically?

How am I interacting with my kids differently? Is it feeling better or worse? What can I keep doing or what do I want to change?

How am I interacting with my partner differently? Is it feeling better or worse? What can I keep doing or what do I want to change?

How am I interacting with my friends differently? Is it feeling better or worse? What can I keep doing or what do I want to change?

What healthy habit have I started to help me cope with COVID and that I know would be supportive for me to keep doing?

What unhealthy thing have I started to do during COVID and how can I get help with stopping this pattern?
Each location in the world is on a bit different trajectory and timeline when it comes to how leaders are choosing to open things back up and when, but what we do know is that things are starting to shift in many places. Some restrictions are being eased, while in some places the restrictions are planned to stay in place a bit longer.
As with other major crises that have happened throughout history I believe that things will never be the same as they were before COVID happened. And, that can be a very good thing. Many people have lost so much and there is much to grieve.
And we have all also been given this opportunity to decide what we will do next.
There is still much uncertainty and many of us continue to feel disempowered and scared. I would never attempt to ask you to dance around those feelings or try to pretend they are not there. Face them. Be with them. Allow them. And, choose what you will do next. What have you learned from this crisis? What choices can you make to build your life closer to what you want it to be?