Discover more from Productive Flourishing
A newsletter and community for driven possibilitarians who are seeking full-spectrum thriving, hosted by award-winning, best-selling author of Start Finishing, Charlie Gilkey.
Over 33,000 subscribers
What Are You Creating?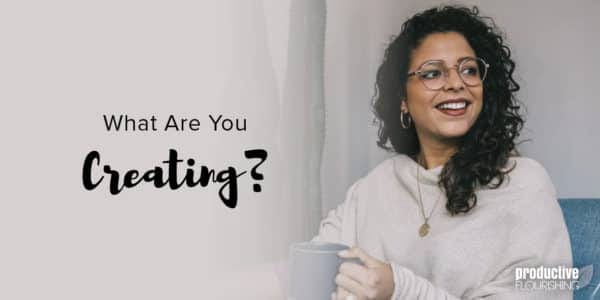 There is much in our world today that has us feeling tired, overwhelmed, frightened, sad, angry, disappointed, and so many other seemingly negative emotions. Those things (and those feelings) are real — I am not going to downplay them or pretend they are not there, as that serves no one. Sticking our heads in the sand is never the way forward.
And, we are always part of creating the world that we live in. Each one of us leaves our mark, our fingerprint, our energy, on and in the world.
We may have a larger impact on our smaller part of the world — for instance, in our own home or neighborhood or city — than we believe we do in the larger world of our state or province or country or world. It is impact all the same, and it matters.
Your internal world creates your external world
Our internal world — what we think in our minds, what we feel in our hearts, the stirrings in our souls — are part of who we are, who we become, how we walk through the world, how we show up, and how our work shows up in the world outside of us.
Doing our internal work (however we might define it) allows us to create, see, and experience a better world outside of us.
Whether it is through meditation or prayer or counseling or mantra or some other mindfulness practice, have no doubt that as you work to create peace inside of yourself, you will see that peace reflected outside of yourself more and more.
There is incredible suffering in the world and you are not going to be able to make it go away by meditating it into submission. But I absolutely believe that we experience more peace in our world when we have taken the time and done the work to create peace inside ourselves.
Even if the peace I create internally is only experienced and felt by me in the external world, that leads to better for the world.
Truly, though, I do not believe that I can work on making myself better and not also impact the world in a positive way. I believe that is true for every one of us. (Tweet this.)
We have all experienced that when we are at peace within, it ripples to those around us. We are better versions of ourselves and we show up better in the world, which impacts all those whose paths we cross.
Your internal world has created your external world.
And your external world is a reflection of your inner world
Just as what is inside of us creates our external world, what we experience outside of ourselves is a mirror for what is happening inside.
When I am unhappy with what I see in the world around me, it is a sign for me to check on what is happening inside:
How am I experiencing the world around me?

How does it look?

What am I feeling as I am making my way through the world today?
We always have a choice. Every day is a choice. Every moment is a choice.
What are you creating with your choices?
Are you making choices to work on your internal world in ways that create the external world you most want to live in?
Today is always a good day to create a bit more peace within, and to contribute ripples of peace and good things in the world.
Thank you for doing your internal work towards creating peace. I know it is making our world more peaceful, too.