Discover more from Productive Flourishing
A newsletter and community for driven possibilitarians who are seeking full-spectrum thriving, hosted by award-winning, best-selling author of Start Finishing, Charlie Gilkey.
Over 33,000 subscribers
Are You Turtling as a Coping Mechanism or a Planning Strategy?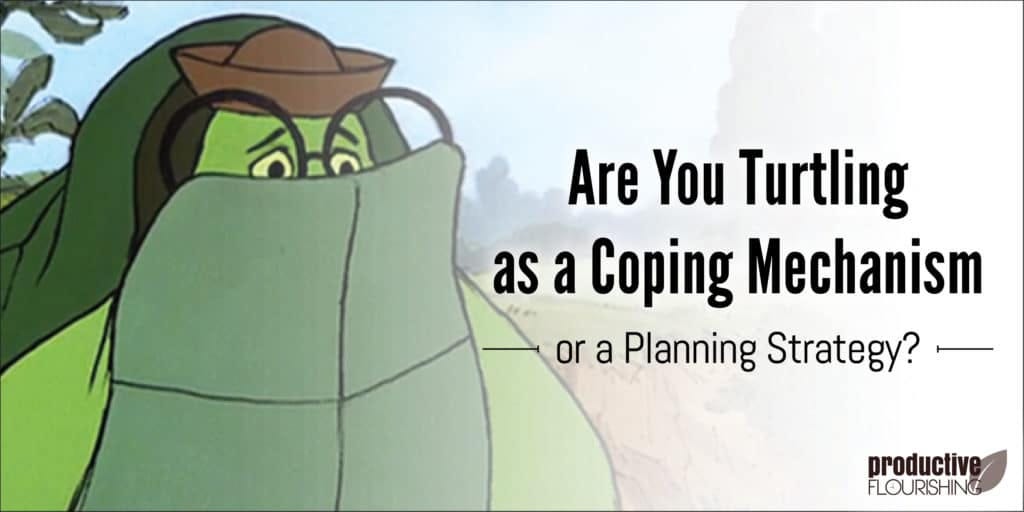 Remember Robin Hood's fan club from the 1973 Disney animated movie — those three little rabbit siblings and their friend, Toby the Turtle? As a refresher, he's the super nervous and anxious one who can be found often hiding in and talking from the comfort of his own shell. You know the one (he's pictured above). Turns out, Toby very conveniently encompasses what I call "turtling."
Turtling describes the process people go through to hide and feel secure. No one's immune; we all turtle in different ways. The challenge, though, especially when you're a coach, is figuring out whether the turtling is instrumental or detrimental.
It's a tricky process because coaches sometimes have to make people uncomfortable in order to grow. I call the discomfort "creative tension." It's never particularly comfortable, but it's where positive change begins to happen. And yet, if you make people too uncomfortable, they turtle and start resisting you and their own growth.
When Turtling Is a Coping Mechanism
Some people turtle as a coping mechanism. They get overwhelmed by a career change, a new baby, et cetera, but they don't engage with those things or tell anyone how they're feeling. Instead, they shut everyone and everything off.
Working with people when their turtling as a coping mechanism is precarious because it's hard to tell if your conversations are going to be the additional straw that breaks their back or the one that lifts a whole heap of hay off of them. If you poke at them in the wrong way when they're turtling, they just ignore you until something breaks. But if they're not saying they're overwhelmed, you don't know they need a helping hand rather than a prod.
When Turtling Is for Processing and Planning
In other cases, people turtle for healthy reasons. They use it to (1) process what they're feeling and (2) figure out what to do next.
These people aren't scared or overwhelmed. Rather, they're turtling, plotting, and preparing to run like hell when they're ready. You have to let these people do their thing. If you don't, they'll never move. Be ready, though: These types of turtles often run blind. They need a coach to keep them aware of their surroundings and on the right course. (This is my pattern, in case you're curious.)
When Turtling Is for (Everyone's) Emotional Health
Sometimes, you have to recommend people turtle so that they don't do or say things they'll later regret. This is especially true of people who wear their heart on their sleeves.
Their emotions can be too intense for some people, so they have to be taught to "play it cool." They might resent you for it; in fact, they probably will. Even though you're saying "not here and not now," they hear "not ever." That can make them defensive, but don't give up. They need to learn to control their initial impulses — you and I both know their propensity for emotional unloading on other people will only make matters worse and possibly lead to fractured relationships, unforgiveness, and bitterness. They need to turtle so that they can consider how their words and actions affect others.
Turtling is neither good nor bad, and we all need to do it sometimes. (Tweet this.)
The question is not whether you're turtling. You have, are, or will at some point. The question is whether your turtling helps or hinders your growth.
If you're too secure and comfortable, you're not growing in the ways you could. You've settled into your shell, and it's time to put your head back out. However, if you're not taking time to process and integrate experiences — or to give people space away from your emotional intensity — you're also not growing as much as you could.
How do you turtle? Can you tell when it's instrumental or detrimental? If you know that your turtling is detrimental, do you know how to come out of your shell?
Please share this with a friend who needs to hear it.
Try to solve the new Formula Cube! It works exactly like a Rubik's Cube but it is only $2, from China. Learn to solve it with the tutorial on rubiksplace.com or use the solver to calculate the solution in a few steps.