Discover more from Productive Flourishing
A newsletter and community for driven possibilitarians who are seeking full-spectrum thriving, hosted by award-winning, best-selling author of Start Finishing, Charlie Gilkey.
Over 33,000 subscribers
Welcome to Midweek Meditation!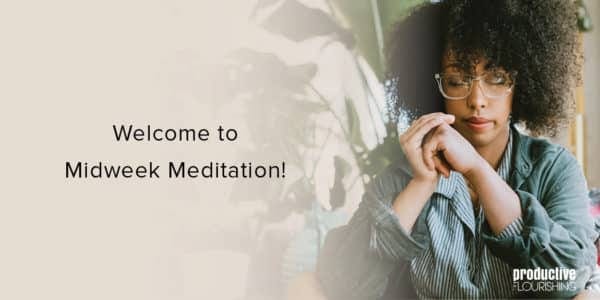 Now more than ever, meditation is a crucial part of my day, helping to reset and ground me. As a registered yoga teacher of two years and a yoga student for nearly a decade, breathwork is a big part of my life. It has been there for me in truly dire times.
In our current climate, with all the fear and uncertainty swirling around, I encourage you to begin a meditation practice. As you do, notice any subtle shifts in your energy or mood. As I've ebbed and flowed in my meditation practice over the years, I've noticed a difference in how I react to situations depending on how regularly I'm meditating. Taking the time out of my day to try to let go of all my wandering thoughts and come back to my breath, over and over and over again, has made a world of difference.
That being said, a meditation practice doesn't have to be daunting! Start with small wins to get into the habit: even 60 seconds sitting up in bed at the beginning or end of your day, breathing in and out through your nose, and bringing your focus back to your breath when you notice your mind inevitably starting to wander. No matter how long or short you meditate, just starting is the win here.
So over the next four weeks, each Wednesday, I'll be offering a Midweek Meditation.
The first three meditations I'll be suggesting are available for free on my favorite meditation app, Insight Timer. I love this app! You can filter hundreds of free meditations by style and length, or use the timer that will ding when you're done (and the ding will stop, which is a much more peaceful end than a regular timer), so you can cater your meditation to what you're needing that day. The final meditation for this series is a simple breathing technique you can do anytime, anywhere. So whether you prefer a guided meditation, quiet breath, or something unique for you, try not to overthink the technique and just do what feels intuitive to you.
The first meditation I want to offer today is called Relaxing Your Mind. This guided meditation is about 8 minutes long, and helps to calm your breath, ease tension, and will hopefully leave you feeling lighter and more centered. This is one of my all-time favorite meditations, and one I've come back to over and over again, in good times and bad.