Discover more from Productive Flourishing
A newsletter and community for driven possibilitarians who are seeking full-spectrum thriving, hosted by award-winning, best-selling author of Start Finishing, Charlie Gilkey.
Over 33,000 subscribers
Understanding Founder's Mojo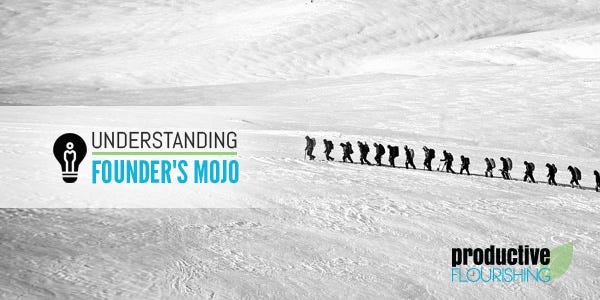 Working with hundreds of small business owners has gotten me used to noticing and addressing patterns that apply across businesses. One ubiquitous dynamic I've seen in my fieldwork involves what I'm calling founder's mojo, which can be used to exponentially grow a business but can also prevent a business from growing.
Before I jump into this discussion, I'll let you know that it builds on my book, The Small Business Lifecycle, which you can also read parts of in this series. The book provides better and more comprehensive coverage than the series, but with either one you'll know enough for this conversation.
Founder's mojo is that amalgam of intuition, vision, experience, and drivenness that enables a founder to be a more effective, decisive, and risk-tolerant than the rest of her team. In the past, I've called this combination of traits the E-factor, but the E-factor and founder's mojo amount to the same thing.
Founder's mojo is what powers the creation and growth of early-stage businesses. It's also what keeps them stuck in Stage 3. (Tweet this)
Founder's mojo is like an electric generator that can move around in a business. That generator can power anything within the business; in fact, it has powered everything in the business.
But there are only so many things the generator can power at once. As a business grows, there are more things needing juice than the generator can power simultaneously. When businesses are newer, it's possible to run around plugging in a few things that need juice, but as businesses grow, the running around starts to take considerably more energy. Many founders find themselves exhausted from it and feel frustrated that they never really charge anything up - they just keep things running.
And therein lies the rub with founder's mojo: it powers only what it's directly connected to. No founder, no energy, no activity. Business is not a friction-less plane, and without the infusion of more energy, things will slow down and eventually stop. Alas that the business ball seems to roll down the hill more readily and quickly than it rolls itself uphill.
"No founder" here doesn't necessarily refer to death; rather, it refers to the founder's not being plugged into a given activity. Most small business owners resist taking vacations or breaks because they know or believe that their business moves forward only when they're around to power it.
The reality of founder's mojo makes it such that there are only a few options in small business:
Keep the business small enough that founder's mojo can power everything it needs to. (This is the route of microbusinesses, although most successful ones apply a lot of automation or software-driven processes.)

Continually fight with the frustration that comes from the consequences of having a business powered by one person - it runs only as fast and as well as you do.

Get the right people, processes, and systems in place - we're looking at right-sizing here, not growth for growth's sake.
Let's assume that no one wants to live in that second option.
It turns out that being successful with options 1 and 3 requires a deeper look into the founder's most important job. Follow the link to read on! As for figuring out #2, check out Part 3 of the Founder's Mojo series: Five Ways Founders Stifle Business Growth.