Discover more from Productive Flourishing
A newsletter and community for driven possibilitarians who are seeking full-spectrum thriving, hosted by award-winning, best-selling author of Start Finishing, Charlie Gilkey.
Over 33,000 subscribers
Today Is Two Weeks From Two Weeks Ago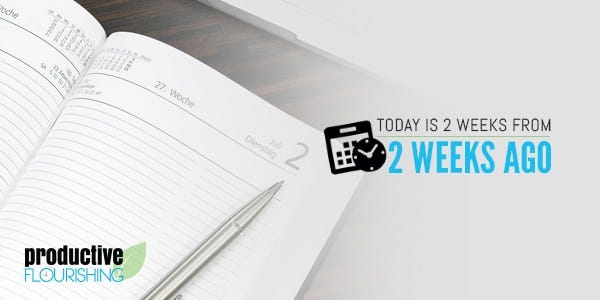 I tweeted this yesterday and it confused a lot of people. It's cryptic, I know, and the first statement is also really obvious. But I'll give the context so that we can dig a little deeper.
It's not uncommon for us to reach a phase in our lives when we have an abundance of good things happening to us. That abundance can be cashed out in business terms, like when something tips our business a certain way and, all of a sudden, people get really interested in what we're providing. We're so used to not having enough clients or customers that our natural response to this rush is to try to take everything in all at once. After all, we don't want to pass up a good opportunity.
The problem is that an abundance of good things can be just as bad as an abundance of bad things. There are only so many people that we can help before we ourselves crack, and the surest way to crack is to take on too much too quickly. At this cracking point, the abundance of good things becomes our undoing, as we have started relationships that we can't maintain well, and what we often forget is that the only thing worse than having too few customers or clients is having too many customers or clients that we're underserving.
The main issue here is one of self-trust. Since we don't trust that we'll be able to bring about good things in the future, we can't say "No" to current opportunities. Since we can't say "No," we take on too much. A ship laden with gold is a great thing, indeed, but an overfull ship gets sunk by greed.
What if you believed that you could repeat whatever you did today to manifest those good opportunities? What if you knew you could return to the gold tomorrow or next week instead of flirting with being overloaded?
This is not to say that every opportunity can be returned to - some are the momentous kind that present now or never choices. But all too often, we can't commit to the really good momentous opportunities because we're too full already. We can't carry the diamonds of the future because we're carrying the silver of the past.
Today is two weeks from two weeks ago, just as two weeks from now will be the future's today. If you're making things happen now, why do you think you won't be able to do it then? (Tweet this.)