Discover more from Productive Flourishing
A newsletter and community for driven possibilitarians who are seeking full-spectrum thriving, hosted by award-winning, best-selling author of Start Finishing, Charlie Gilkey.
Over 33,000 subscribers
Is It Time to Forsake Your Goals?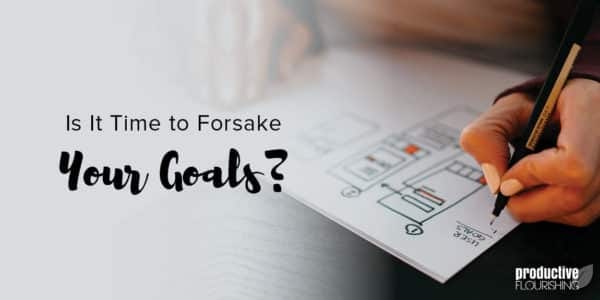 Is it time to forsake your goals?
This is how the conversation in my head started a few weeks ago.
Say what?! Oh my!
If you've been with us for a bit on this Anchor journey you may be able to sense what is coming:
Hold on, we may be going for a ride in the mind of Angela. ;-)
[Note to self: let's try to keep the curves and detours to a minimum.]
Firstly, seriously, forsake?!?! Oh mind, I love you, but really? Forsake? That word seems a bit over the top.
Yeah, yeah, I know. I don't always pay attention unless it sounds extreme. Noted! Carry on.
So, is it time to... ahem... give up your goals?
NO!!
Hear me out, please. You know this is coming up for a reason. How many times do we have to go through this fight? Please save your energy and just sit with this for a bit longer.
Sigh. But, you know what, also a pat on the back for forgoing (OK, shortening) the internal battle and just listening to what wants to be revealed.
I'll save us both from continuing with the journey of the internal and skip to what I walked away with and wanted to share with you today.
Goals vs. Intentions
While it may just be semantics or how it made sense to me in the moment, I realized that there is a big difference between goals and intentions. And, after much reflection I understood that at this time I need to be focusing my attention on my intentions more than my goals.
Intention is about the how of what we are doing. It is about being more so than the doing; the who you are and how you want to move through the world and even towards your goals. But it is not focused on the goal — it's the journey (the how, the moment to moment, the feeling) of how we get there.
Intentions are greater than goals. INTENTIONS > GOALS.
Choosing not to focus on intentions may get us to our goal, but at what cost? Or, it may not get us to our goal at all because how we were doing it may not have been in alignment from within.
Again, it may just be a matter of semantics, but for me it feels more of a matter of the energy of intentions over the energy of goals. It feels different for me.
Goals feel like they are about the end. The finish line. And, while it certainly doesn't have to be this way, it feels that often in the pursuit of goals the focus is so much on the end that what happens to get there is an afterthought, or doesn't get the focus that it needs.
How we get there matters more than that we actually got there. ← I'm going to keep sitting with this.
Forsaking Goals?
So, back to the question that first started this for me: Is it time to forsake my goals?
My answer is still no, but it's not a NOOOOOO!!
It's a no, and.
No, I do not need to give up on or leave behind or set aside my goals AND I do want to focus more of my energy on my intentions. In fact, I want to focus a majority of my energy on my intentions, not my goals.
I believe I will benefit from my focus being on my intentions right now rather than my goals.
I know that I have reached a goal before and reflected on the how of getting there and realized that the how was at a great cost to my well-being or to my holistic flourishing and thriving.
That's why I want to focus on intentions. My intentions are full of the things that bring me joy and well-being and flourishing and thriving moment to moment, step by step, day after day.
My intentions are what will fuel me to reach my goals in a way that keeps how I want to be and the type of person I want to be at the very front.
The ultimate goal is to have a full life of love, integrity, thriving, and contribution. There have been and will be many other goals that are a part of that ultimate goal, but it is only through my intentions that it will come to be in the way that I want it to be.
The journey matters more than the destination. Intentions > Goals. Goals are best reached with the best of intentions.
A few questions to ponder:
Are your intentions clear?

Are you leading with your intentions? Do they guide every step forward?

Are you clear on the how you want to do things and the who you want to be while you are doing them?

How are your intentions supporting you to live the kind of life you most want to live? Are they supporting the ultimate goal?

Might you want to focus a bit more of your energy on your intentions rather than your goals?
There is so much in our world today that requires us to show up strong and centered. I hope that your intentions will guide and lead you. I hope you will give yourself the gift of knowing at your core that you are in alignment from within as the kind of person that walks through the world day by day leading from intention rather than in pursuit of something.
Because that can really only be found when you lead with intention anyway.