Discover more from Productive Flourishing
A newsletter and community for driven possibilitarians who are seeking full-spectrum thriving, hosted by award-winning, best-selling author of Start Finishing, Charlie Gilkey.
Over 33,000 subscribers
Three in the Morning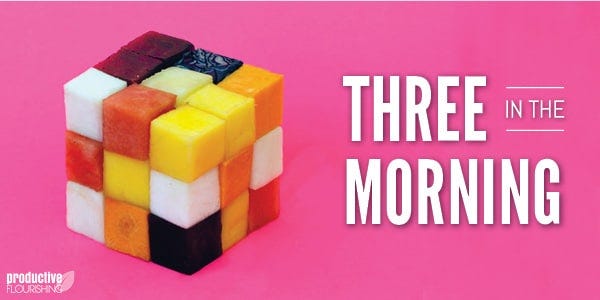 When we wear out our minds, stubbornly clinging to one partial view of things, refusing to see a deeper agreement between this and its complementary opposite, we have what is called "three in the morning."
What is this "three in the morning?"
A monkey trainer went to his monkeys and told them:
"As regards your chestnuts: you are going to have three measures in the morning and four in the afternoon."
At this they all become angry. So he said: "All right, in that case I will give you four in the morning and three in the afternoon." This time they were satisfied.
The two arrangements were the same in that the number of chestnuts did not change. But in one case the animals were displeased, and in the other they were satisfied. The keeper had been willing to change his personal arrangement in order to meet objective conditions. He lost nothing by it!
The truly wise man, considering both sides of the question without partiality, sees them both in the light of the Tao.
This is called following two courses at once. (Merton's note: The "two courses" are, on one level, the higher way of Tao, the "divine" way, and on the other, the ordinary human way manifested in the simple conditions of everyday life.) From The Way of Chuang Tzu ***
Chuang Tzu approaches "three in the morning" from the perspective of insight, that is, seeing multiple views at once. Like many Taoist teachings, though, it can be applied in myriad ways.
I see "three in the morning" play out in strategy and productivity. Many people will set a particular goal, make a plan, and stubbornly insist that that plan is the only way to achieve their goal. Reality can be those angry monkeys to them - they will have four chestnuts in the morning, whether they like it or not!
To be sure, there is virtue in having the backbone to work through adversity and challenges. To back down every time you get a little pushback from the world would mean that you wouldn't get very far with anything that actually matters.
But wisdom comes from noticing when a different approach may make it easier to achieve your goals. If the essential arrangement of things is the same - with "arrangement" here being understood as your values, priorities, and resources - why get hung up on the original plan you had?
Take a look at what you're doing: will a simple rearrangement help you get the results you're after without as much effort? (Click to share - thanks!)
As I've mentioned before, plans help you get to where you're trying to go; if you see a better way to get there, change the plan.