Discover more from Productive Flourishing
A newsletter and community for driven possibilitarians who are seeking full-spectrum thriving, hosted by award-winning, best-selling author of Start Finishing, Charlie Gilkey.
Over 33,000 subscribers
Teach Your Team The Three Types of Decisions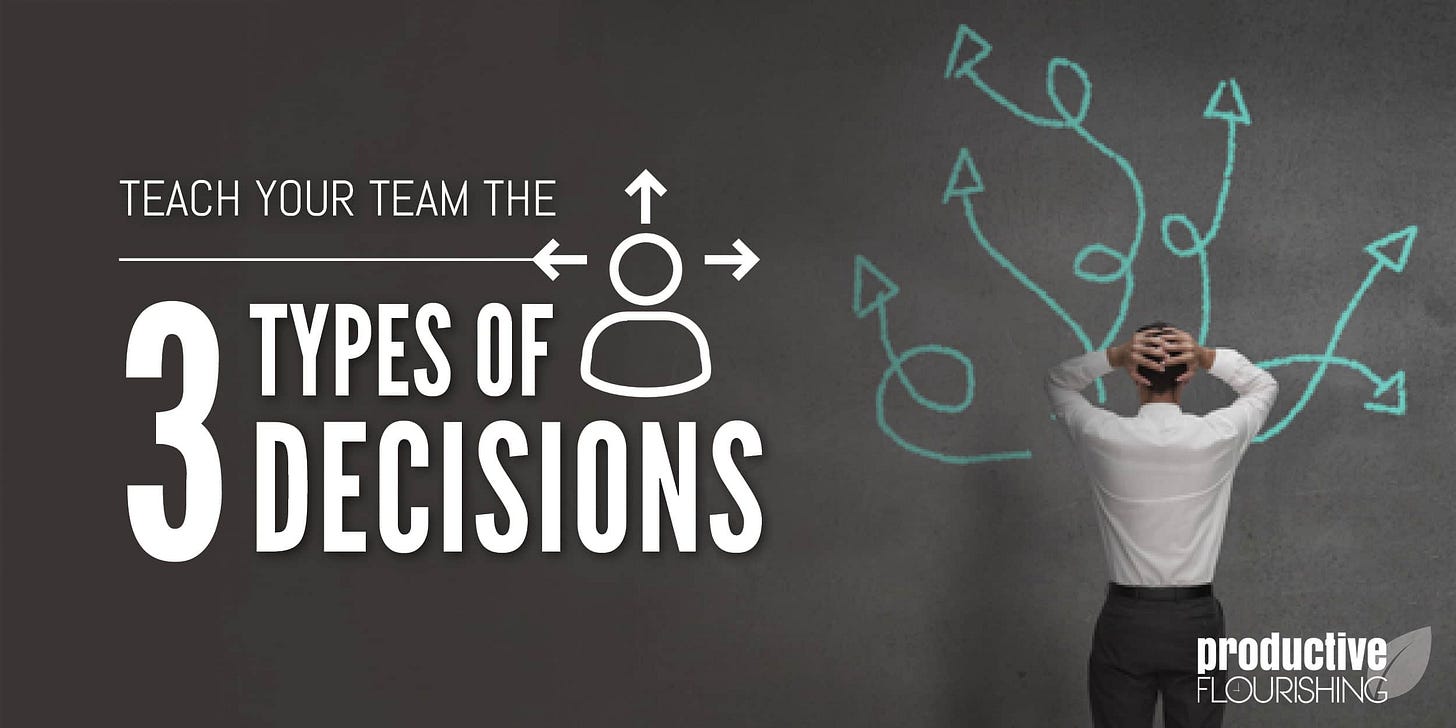 This post is part of the Elements of Leadership series.
The art of leadership takes years to learn, mainly because knowing how to lead requires knowledge of yourself, knowledge of those you lead, and knowing how to get things done. Despite these variables, there are elements of leadership that will apply in any context.
I've been in a leadership role in one shape or another for about 16 years, and I started thinking about these elements the other day while driving to military training. It started as tips I was going to share with my new lieutenant during our first counseling session - but I figured I'd share it with everyone.
Many people think military leadership is different than civilian leadership. What's different in the military setting is that the scope of leadership is greater -- the elements are the same. The elements that keep your team working under fire when they've been up for too many hours are the same ones that keep your team together after a strong push at work.
There's a lot to the art of leadership, so I'll split this into a series. I'll try to keep the post size manageable, and they're not in any particular order. And we're off...
Teach Your Team about the Three Types of Decisions
In my experience, most leaders are suffering from decision fatigue. They simply have too many decisions thrust upon them and it's exhausting.
But saying they have too many decisions thrust upon them only points out the problem, not the cause. The reason they have too many decisions to make is that they're making too many of the wrong types of decisions.
There are three main types of decisions that your team will have to make.
The decisions they can make on their own without letting you know. These are the routine decisions that they make to get their job done on a daily basis. They have no obvious long-term repercussions for your organization, and you just frankly don't need to be included in the process.

The decisions they can make on their own but they have to let you know they made them. Your team has to make some decisions on the fly, but sometimes you need to know they made the decision. As a general rule, if there are obvious positive or negative long-term fiscal, legal, or public relations repercussions, you probably want to know so you're not blindsided by the information.

The decisions they can't make and must defer to you. There are just some decisions that no one but you, as their leader, can make. They need to know what these are so they a) don't make them, and b) learn to anticipate when a process is going to lead to this type of decision.
It takes a while for people to learn which types of decisions fall into which category. On the one hand, you don't want to have it where they can't make any decisions without deferring to you, and on the other, you don't want them to make decisions they shouldn't be making. It is your responsibility as their leader to help them through this lengthy learning process.
When someone comes to you with a decision of the first type, kindly thank her for letting you know and let her know that she doesn't have to tell you about it in the future. If it's a good decision, praise her to encourage her budding initiative.
When you get blindsided by information that you should have been told, find the project manager and kindly let him know that you applaud him for making the decision but that it's something you needed to know. If it's a bad decision, clearly and calmly explain why it was a bad decision -- your goal is to teach him to make good decisions without you.
If someone makes a decision that fell within your domain as a leader, kindly let her know that she overstepped her boundaries and that in the future all decisions of that type need to be deferred to you. If it's a great decision, praise the hell out of the her and consider including her on important decision-making committees.
Above all, present a clear vision of the organization's goals and encourage people to take as much initiative as they can to advance those goals. The more they advance your vision on their own, the more time you have to focus on your high value activities.
The next installment in this series is about getting to know your team.