Discover more from Productive Flourishing
A newsletter and community for driven possibilitarians who are seeking full-spectrum thriving, hosted by award-winning, best-selling author of Start Finishing, Charlie Gilkey.
Over 33,000 subscribers
The Rebirth of Entrepreneurialism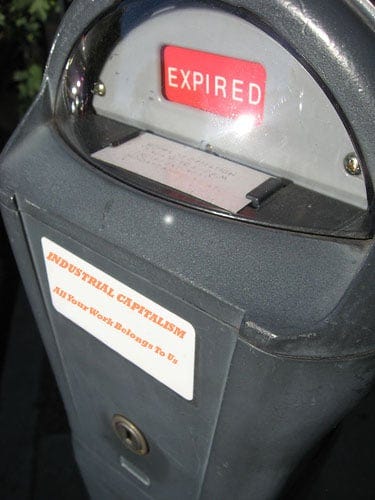 There's a movement happening around you that you may not see. Every day, people are leaving their jobs, not because they got laid off but because they're tired of working under the economic model they've been given. More and more people are seeing that we've reached a point in history at which we as individuals can prosper without being a cog in the corporate, academic, or government machines.
Many of us have rediscovered entrepreneurialism and are returning business to what it has been throughout human history. And we're finding that business as usual is not business as usual.
Back to Business
I've been discussing this idea with some pioneers of this movement for some time now. The particular pioneers in question have been the type of people who not only pave their own way, but also take the time to turn around and show others how to follow their own path. This conversation has included Jonathan Mead, the brilliant people on the Beyond Productivity calls, Naomi Dunford, Mark Silver, Steve Spalding, Jonathan Fields, Chris Guillebeau, Pam Slim, and Clay Collins. It started before Tim Ferris became well known, but he made the discussion a national meme.
Each of these pioneers is looking at the phenomenon from a different perspective and is helping people in different ways. But what most of us are saying is that the economic options available through the Internet are allowing one person or smallish teams of people to create products and sell them, one at a time, to potentially millions of people (one person at a time). We don't need Wal-Mart's help, and frankly, we shouldn't want to be Wal-Mart.
Think about what this means for a second. Rather than buying unremarkable products from faceless corporations, you can buy products made by individuals for individuals. Every purchase you make helps a particular family put food on the table, and the products you get aren't made for everybody; they're made for you.
This type of economic interchange is much closer to the type of interchange that has been a part of the human experience for millennia. The town baker had a vested interest in making good bread (and the right type of bread) because if he made crappy bread, he had to live with the sneers of his neighbors. But his neighbors had to support him because if they didn't, somebody else would have to bake bread, and they might not do it as well as Baker John did. The relationship was reciprocal.
You'll be familiar with this type of thinking, though you've seen it in a different form. The "Made in America" stickers affixed to products harken back to this primal urge to support the people in your tribe; unfortunately, the way in which it's commonly used is mostly a marketing ploy. All too often, these purchases support American corporations, and we've seen how well American corporations support Americans en masse. If you aren't a) the owner(s) of the corporation, b) a high-level manager or executive of the corporation, or c) a shareholder in the corporation, your interests are served to the smallest degree possible to keep you either employed at the corporation or buying from the corporation.
In other words, the relationship is reciprocal only inasmuch as they have to keep you happy enough to work for them or buy from them. And happiness is relative to options; when your options are limited, it's easy to keep you happy or scared enough to maintain the status quo. The status quo, in our society, benefits a very, very small minority of people. The rest of us are just players in the corporations' risk-reward game - we shoulder the risk in severe disproportion to the rewards we might attain for doing so. And we continue to do so because of two things: 1) we believe this is the way the world is, and 2) we hold out hope that we are one of the .1% of people who find ourselves living "the American Dream."
Of course, the last two paragraphs are the results of the Industrial Revolution, in which a few people own and control the means to production, and everybody else works for them or buys from them. It takes a lot of capital to start and maintain those types of enterprises, and the people who do so assume a lot of risk, whereas the people who work at the factory assume very little. Since the entrepreneurs and people with money on the table are shouldering the risk, they should get the reward. So the story goes.
(Which really should make you think about why we're now bailing them out. They "assumed the risk" -- by which I mean were subsidized by our tax dollars and sweat and tears -- and failed. We pay. When they don't fail, we pay. But I bought four lottery tickets this week and am feeling lucky...)
The Promise of the Information Revolution
The Industrial Revolution was a turning point in history and has led to unprecedented advances in science and medicine. But the business practices of the Industrial Revolution are an incredible departure from the historic business practices that focus on people. The baker sold bread to people; corporations sell products to numbers. It's all about the numbers.
The Industrial Revolution didn't just change business, though. It changed the way we think about ourselves and the human experience. We now relate to time and money in ways that we didn't before. We see dollar signs on trees where we once saw living things. We think in terms in which some people lose and others win, rather than seeing that we're all interconnected in very important ways. We value quantity instead of quality.
It's this change in the way we view ourselves that is the most pernicious and lasting, for we are now at the point in history in which you can start a business for zero capital. If you're especially ambitious, you can pay $8 for your own domain name and run everything through Google.
Furthermore, there's no king, tyrant, or other figure with power that's explicitly telling us how we are going to live our lives. Our governments still limit what we can and can't sell, but for all practical purposes, we can do pretty much what we want. We are no longer forced into serfdom, despite the fact that many people play the role of serfs.
It turns out that, thus far, there really hasn't been a revolution - the techniques of the Information Age have been applied to the society of the Industrial Revolution. Yet the underlying economic realities that (perhaps) justified the social changes of the Industrial Revolution are no longer the only ones in play. Individuals and very small teams can create and distribute products at almost no cost. Furthermore, individuals now have access to a market of at least 4 billion people, growing by thousands every day.
The promise of the Information Revolution, then, is not really a revolution, but a renaissance. That renaissance is allowing people to reclaim their dreams and create remarkable products, and not only that, but to deliver those products to people one at a time. Like the baker, the creators have to answer to the consumers of their products, and the consumers, like their counterparts, have to support the creators. The reciprocal relationship has returned.
What we'll start to understand in this rebirth is that business doesn't have to be dirty. The baker took pride in what he made and cherished the people who bought his bread; we online entrepreneurs should, and do, feel the same pride. When you buy something from us, you are exchanging value for value. Selling doesn't have to get in the way of sharing because selling is sharing. Sometimes we share freely; sometimes we share by exchange - but both are instances of sharing.
Insert Marxist Communist Dystopia Here
I'm not advocating communism here, although if the extension of these ideas lead to a workable communism, so be it. (Think long and hard about why you're scared of communism in principle. Note: Russia and China are not examples of principled communism.) What I'm urging you to consider is a capitalism that's divorced from industrialism. I think people should be rewarded for the value they create; in most cases, though, the people who are doing the creating are not the ones who are being rewarded under industrial capitalism. The days when capitalism and industrialism are necessarily linked are over.
And then there's the reality that few people are actually going to buck the system. Books on lifestyle design sell because people like the ideas and they like to dream, but few people are willing to "risk" everything to go out on their own. The thought of leaving the system is epic for most people, and most people are not willing to rise to the task to do epic shit.
The people that I've had this discussion with are ordinary people; I myself am incredibly ordinary in most ways. What makes us extraordinary is not some particular talent; furthermore, the desire to live life on our own terms and to help others do the same is not particularly uncommon. What's uncommon about us is that we're actually doing it. No more, no less.
The world is full of talented, beautiful people who have so much value to give. Sometimes people find organizations within the current model that gives them an outlet for their value; life is grand for them. But many people know that there's more to life than the work they're doing. If you're in the latter camp, all I have to say is ... there is another way.
Before we can discuss that other way, we'll need to turn our attention to The Changes in Creative Work & Entrepreneurship.