Discover more from Productive Flourishing
A newsletter and community for driven possibilitarians who are seeking full-spectrum thriving, hosted by award-winning, best-selling author of Start Finishing, Charlie Gilkey.
Over 33,000 subscribers
The Small Business Life Cycle: The Crucible Stage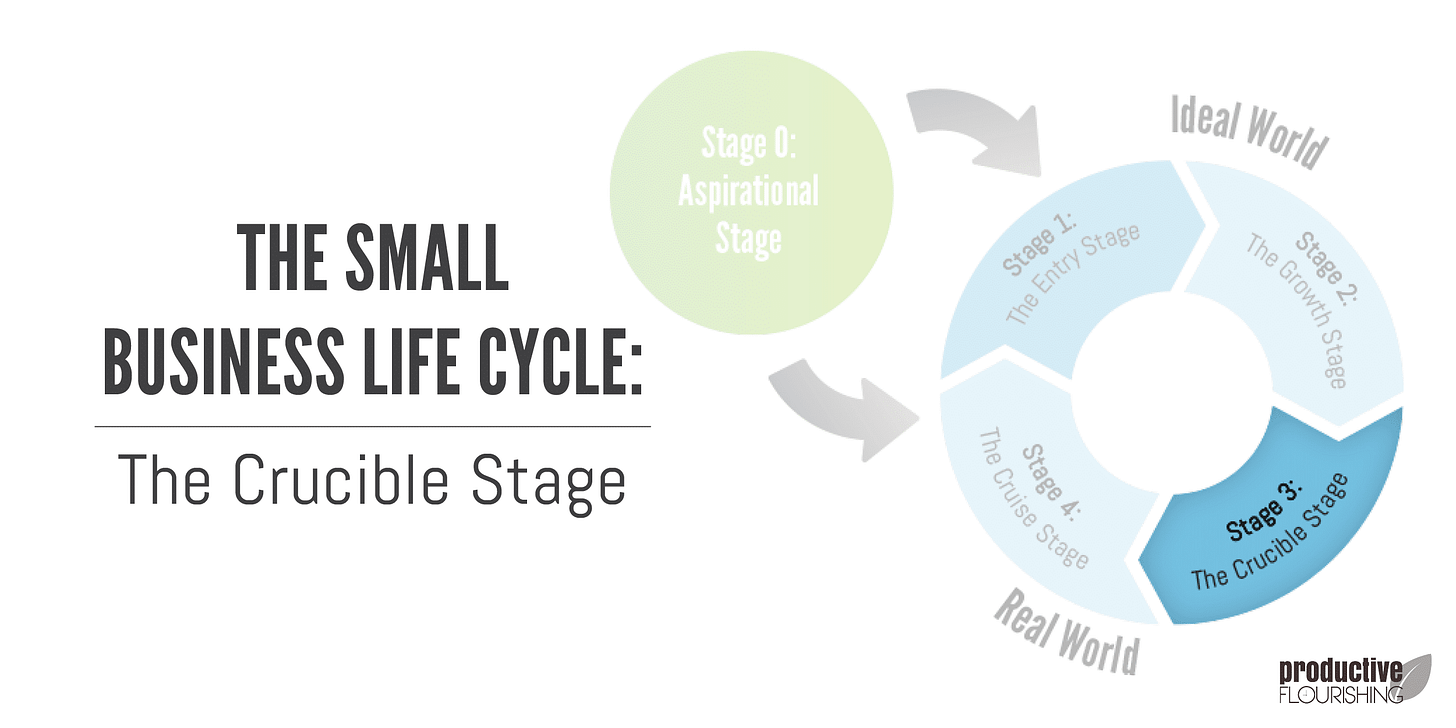 Editor's note: This is part 4 of the Small Business Life Cycle series. If you'd like to start from the beginning, check out the Aspirational stage. Stage 3 is the Crucible stage. This stage is awkward and challenging, as you bump against the edges of your business. There's a feeling of constriction and a sense that there's not enough ground under the business. Stage 3 is the first "no" stage. It's the time when you finally have to start practicing saying no because you're already at capacity. If you've ever been in Stage 3, you know it. It's frustrating and disheartening. You spend time trying to figure out what small tweaks you have to make in order for your business to move forward. You've got enough going for you that it's hard to quit, but you don't have enough systems in place that you can continue to do this indefinitely. Stage 3, to use Seth Godin's term, is the "dip" stage of business.
Challenges of Stage 3
The first challenge of Stage 3 is that you're tired. You've been on the road for a while, you've been hanging on to the rocket, you've thrown as much fuel as you can into it, and you've taken the business about as far as you can on grit, spirit, and spunk. The second challenge is that there's not really a business under the business. You're missing some or all of the administrative help, legal and tax implications, and everything else it takes to make a business tick. The third challenge is that people are watching now. You're no longer in that safe stage where nobody is paying attention to you. Maybe the big dogs are starting to promote you and put you in front of their people. Now you have to be much aware of the social game and the social expectations of your business. You're not that rogue business anymore; you're no longer the up-and-coming one.
Strengths of Stage 3
The first strength of Stage 3 is that you are a small giant. In whatever realm you're in, you are big enough to be a known player, but not so big that you're overextending or that people want to take you down. You can call upon a trusted group of friends or your network to get things done, you have some impact, and you have leverage to extend in this stage. Another strength of Stage 3 is that you're at home as an entrepreneur. You've matured to the point of knowing that this is right for you. It has become part of your being in a way, so you no longer have to question it or spend a lot of energy explaining it. On a personal note, this is normally when your family and friends finally stop trying to convince you to do something else. The last major strength is that you know what's working. You have your positioning, your marketing is clear enough to get sufficient sales, you've figured out the repeatable elements of your business that make it work, and you have a good idea of what's working and what's not.
The Inconvenient Truth
The inconvenient truth of Stage 3 is that there wasn't much business under the business. The growth of the business has largely depended on effort, intuition, fortuitous timing, and grit more than it has relied on a strategic sense of where the business is going, how it can get there, and who needs to be on the team to help it get there. To make it through Stage 3, you must get four key ingredients in place: the people, processes, systems, and positioning that drive your business.
The Way Ahead
Here's the way ahead for Stage 3: focus on your core and shed the rest. You'll have to narrow down the types of offers you're putting out there and the types of activities you're doing. This is the time you see businesses starting to cull their earlier product list. You'll notice them contracting their audience and the network of people they're trying to work with. You'll see them focusing on certain audiences, niches, or specialties and saying no to the rest. The only way you can continue to grow is to focus on a few areas.
The Catalytic Moment
The catalytic moment of Stage 3 is when your business backbone gels. You get the systems, processes, people, and positioning in place. (Click to tweet - thanks!) Whatever your business does, how it does it, and whomever it does it with, this can now happen efficiently, effectively, and indefinitely. To continue the series, read about the Cruise stage.
I expand on this post in my best-selling book, The Small Business Life Cycle. In it, I discuss the steps that need to be taken at each stage. To learn more about how to transition and thrive in your small business or microbusiness, check out the book by by clicking here.