Discover more from Productive Flourishing
A newsletter and community for driven possibilitarians who are seeking full-spectrum thriving, hosted by award-winning, best-selling author of Start Finishing, Charlie Gilkey.
Over 33,000 subscribers
Success Often Comes When You're Not Searching for It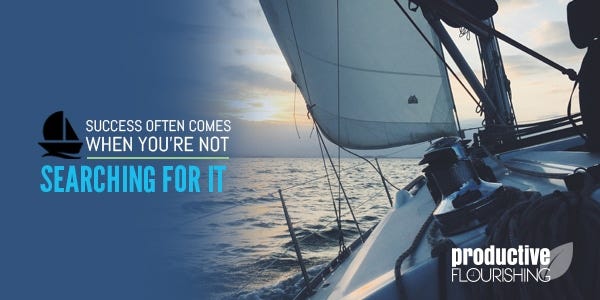 When was the last time you tried something that really might not have worked out? Where you didn't actually have the answers? Where you didn't find success?
[optin-monster-shortcode id="voqqlhj1hrddmljdyqzr"]
This dance with uncertainty about both the outcomes and the terrain you're in leaves a lot of people paralyzed. Getting to the point where you continue to drive forward into the uncertainty is a powerful practice, one which my good friend Jonathan Fields literally wrote the book on.
Think of the practice in levels:
Some people do as little as possible.

Fewer people do only the safe and known.

Fewer still drive into uncertainty.
Despite what it may seem, that third level isn't the pinnacle level. We need to add a fourth:
Very, very few people let go of the outcome itself and focus solely on the doing.
It turns out that people in this fourth group are the most successful, for less of their energy is devoted to the active effort it takes to fight against the uncertainty. They're not the ship that rows upstream; they're the ship that allows the river to take them where it goes. The Taoists call this attitude wei wu wei, best translated as "unattached action."
To say that this fourth level is effortless is to misunderstand it. It takes an incredible amount of effort to keep your eyes forward instead of constantly looking about for signs that you're on the right track. (Tweet this.)
Most of my life, I've been at that third level. During some dark patches of the last few years, I've been in the first two.
But when I look at where my personal and business success has always come from, it's been at Level 4. I started Productive Flourishing there – I didn't really need it because I had two other careers I was busy growing into. I didn't know a lot and didn't need a lot, so that gave me a lot of flexibility to just try some things and be me.
One of my first business mentors used to get exasperated with me. I still hear her voice in my head: "Charlie, you do everything wrong, but it's always so, so right." Her comment wasn't the spiritual one, but the more tactical one. The conventional approaches I was being taught – and summarily either dismissed or failed to do – couldn't match up to my unconscious unconventional approach. For what it's worth, I wasn't trying to be unconventional; I was just doing things my own way.
Practicing wei wu wei, I've found, is unlike the practice of other success habits in that it doesn't become automatic. At least, it doesn't for me. Maybe it's because the stream changes so quickly. Maybe it's because your boat's constantly changing. Maybe it's both.
I'm nowhere near mastery in this practice. I can't give you the steps that make doing it safe and known. But I remember that, once upon a time, illuminating the journey we're all on, regardless of knowing how to walk it, was the most important thing that I could do.
So, for the things that matter most, how are you practicing unattached action?