Discover more from Productive Flourishing
A newsletter and community for driven possibilitarians who are seeking full-spectrum thriving, hosted by award-winning, best-selling author of Start Finishing, Charlie Gilkey.
Over 33,000 subscribers
Strength in Surrender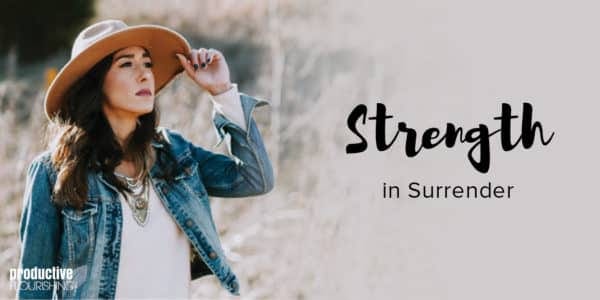 Is it time to surrender? While waving the white flag and giving up may be what comes to mind for you when you hear the word surrender, I have found tremendous strength and peace within surrender. 
To me, surrender contains wisdom, love, compassion, and peace. It is letting go of the need to be someone and/or somewhere I am not. 
Surrender actually sits within me as the near opposite of giving up. It is not resignation; it is knowing when you have done enough.
Surrender shows wisdom. It shows that you have learned and have paid attention to the signals that are being shown. That you heed the nudges and advice being shown to you by your higher self and the universe.
Surrender shows love. Love for yourself and your limits. Love for your abilities and talents and gifts. Trying to push past them is not love; it is pain. Love is in the honoring.
Surrender shows compassion. It shows that you are willing and able to hold yourself in the light. It shows the reverence you have for your own self; the gentleness of your being.
Surrender shows peace. It allows you to sink into a place of stillness and calm. It brings a settledness of body, mind, and spirit; an ease within.
Peace is what so many of us are longing for — especially now, in light of how uncertain so many aspects of our lives are.
Is there a place in your life where surrender is calling to you?
Are you able to tap into your strength and allow this surrender?
Imagine a gentle wave of love and peace washing over you as you allow the surrender to envelop you.