Discover more from Productive Flourishing
A newsletter and community for driven possibilitarians who are seeking full-spectrum thriving, hosted by award-winning, best-selling author of Start Finishing, Charlie Gilkey.
Over 33,000 subscribers
Is Your Strategic Roadmap Too Ambitious?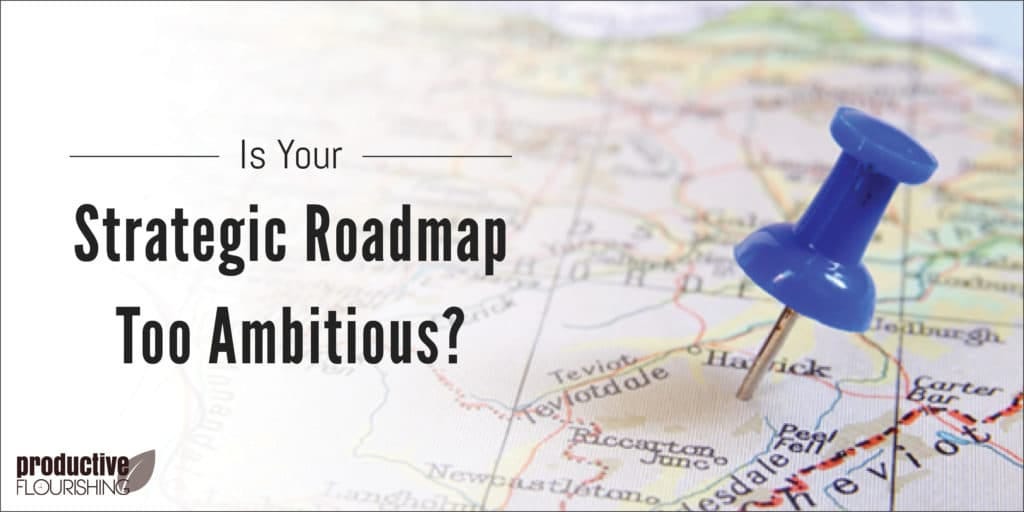 When you take everything you want to do and start putting that in the quarters and months you actually have available — aka strategic roadmapping — know that the first draft is usually going to be too ambitious. It looks good on the first pass, but when you take a step back and ask, "Can I actually do this with everything else I already have going on?", if you're being honest, you'll probably see that you can't.
Think about it this way: if you're already overloaded with projects and commitments, adding a bunch of new stuff to the mix is not going to help. And changing the overload equilibrium you're in is going to require additional work. You're stuck there because it's easier in the short term to keep doing what you're doing, but what you're doing is keeping you there.
So you'll probably have to start removing quarter-sized projects (we call quarter-sized projects "quarterly objectives" in our planning process) and/or punting them into follow-on quarters. That second run tends to be closer.
But it's really the third pass, in my experience, that gets closer to something you can actually do. This is why I recommend tackling your strategic roadmap in three passes, and waiting at least a day (but not more than three days) between the second and third passes. So if you start Friday, come back Monday for the third pass.
In between the first and the third pass is often a bit of frustration, sadness, self-negotiation, and (finally) acceptance, as I've mentioned in Why Strategic Planning Is So Hard for Creative People.
I used to try to prevent people from over-stuffing their first pass, but I learned that it's a part of the process and if I tell them they're over-stuffing their strategic roadmap, it fires up their creative rebel in a counterproductive way. So now I just encourage them to get everything out, see what it looks like, and then pare down when the overwhelm starts to take a hold of them.
In case you're curious, this issue (predictably) came up recently during a team strategy retreat I was facilitating. As I've done more of these, I've noticed a pattern: the smaller the company, the more overly ambitious their first passes tend to be and the more emotional the process is. While I think there's experience at play in larger organizations, I also think that there's less engagement, investment, and inspired vision in those planning teams.
P.S. I shared this in the Creative Giant Campfire and thought you might want to see it, too. Join us there for more conversations, prompts, and delightful randomness.