Discover more from Productive Flourishing
A newsletter and community for driven possibilitarians who are seeking full-spectrum thriving, hosted by award-winning, best-selling author of Start Finishing, Charlie Gilkey.
Over 33,000 subscribers
Straight to Happy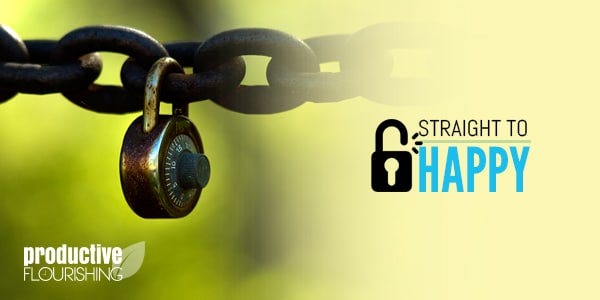 One thing that often trips people up when they start thinking about what they want is that they often don't think about the difference between something being instrumentally valuable and it being intrinsically valuable. Yes, this is a distinction that a philosopher would make, but it can make a huge difference in how we choose our path to happiness.
When something is intrinsically valuable, it is valuable independently of anything else. When something is instrumentally valuable, it is only valuable because it gets you something else. Take the difference between true happiness and money; the latter is only valuable because it gets you other things, whereas true happiness is valuable on its own.
One way to distinguish between the two is to notice when there's a because or in order to relationship in the things you want. Whenever you spot this type of relationships in ideas, the thing you want because it gets you something else is the thing that is instrumentally valuable, and it's pretty normal to have a nested chain of instrumentally valuable goals before you get to an intrinsic one.
For example, let's say you want a promotion at work. The reason you want to be promoted is so that you'll have more influence and money, and more influence and money give you more freedom and possibilities, and more freedom and possibilities make you happier. Like most philosophers, I believe that happiness - the flourishing kind, not the ephemeral kind - is the intrinsic value we all want. PRODUCTIVE FLOURISHING
So, What's The Point?
So many of us set up a nested chain of wants and desires, and clinging to those chains prevent us from seeing that there may be an easier way to get what we want. If we understand that our true goal is to be happy, we might be more open to opportunities that get us straight to happy.
What often happens, though, is that the further removed the instrumental goal is from the intrinsic goal, the harder it is for it to have the real benefit we seek. Taking the promotion example, the unintended outcomes of taking that promotion is increased responsibility and possibly more time required to excel at the role. These outcomes can actually be counter-productive to getting the end goal of happiness, and an easier option may have been to volunteer at a homeless shelter one Saturday per month.
Yes, this is counter-intuitive, but those huge chains are the reason why so many people end up with convertibles and cosmetic enhancements. The chains we think would make us happy can quickly become the ones that bind us to realities we don't want.
Of course, one of the challenges with this is that we spend so much time thinking about what other people think we should do, want, and be that we fail to take seriously the idea that our happiness counts. People expect you to take that promotion, launch that product, take that big step, or whatever seems to be the thing you should do, and they don't understand it when you choose a simpler option that makes you happier.
The fact that they don't understand your choices doesn't make them any less of your choice, though. If you choose to play the social expectations game, remember that even if you win, it's unlikely that you'll be happy. Social rewards rarely track our inner desires. (Tweet this.)
Think about some of the things you want or desire. Why do you want or desire those things? Is there a way you can get straight to happy than working through all those nested chains?