Discover more from Productive Flourishing
A newsletter and community for driven possibilitarians who are seeking full-spectrum thriving, hosted by award-winning, best-selling author of Start Finishing, Charlie Gilkey.
Over 33,000 subscribers
Now Is the Time for Spring Cleaning Your Business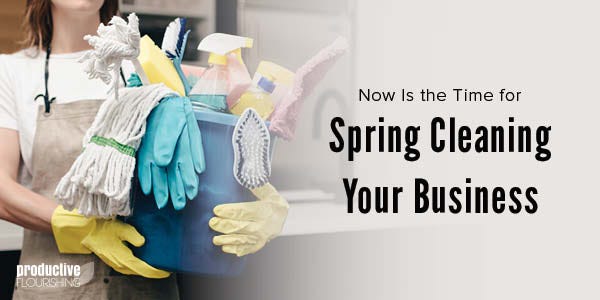 For more tips and strategies to help you be your productive best, pick up a copy of Charlie's book Start Finishing, winner of the 2020 Productivity Book of the Year. Available on Amazon and other favorite booksellers.
Have nothing in your house that you do not know to be useful or believe to be beautiful. – William Morris
Winter has been a difficult one for many across the U.S. this year. Spring can't come soon enough. These tough weather months decrease our vitamin D intake and often reduce our energy. In fact, "winter slump" is a real thing, and while it can affect our energy and personal joy levels, it can affect our business as well. That first few days of warmer weather and sunshine, even if there's still a chill, give many of us hope. With that sunshine often comes a burst of renewed energy. Welcome: spring cleaning.
Most of us know what this looks like in our homes — we throw open the windows, scrub the floors, and wash everything in sight. In essence, we facilitate a fresh start. Our business can benefit from the same mentality. (Tweet this.) Check out some tips below on what spring cleaning may look like for your business.
Review Time Commitments
As you start new projects or launch new services, it's natural (and easy) to set aside time to focus on these things. But as these projects are completed or handed off to someone else, we need to re-evaluate where our time will now be spent. How are we filling in these new gaps in our schedules? Hand off tasks that someone else can do and focus on the things that only you can do. As the business founder and visionary, it's vital that you set aside time for idea development and company direction. That goes for entrepreneurs as well. You might be wearing all the hats, but the one that determines your future is one of the most important ones to wear consistently. PRODUCTIVE FLOURISHING
Review Company Expenses
As you try new things and experiment with process and flow, businesses often subscribe to goods and services. As your direction evolves, these may become more vital to you, but they also may become unimportant. Spring cleaning your subscriptions and expenditures is a great way to save money and make sure you're staying focused on your future. Go line-by-line through your expenditures if you have to and remove anything that is no longer serving your business.
Review Customer Care
How is your customer interaction and education going? Are your customers falling in love with your goods or services or are they left a little confused as to how to make the most of their purchase? Take some time to audit your process. This will ensure that your sales funnel is smooth and that people aren't slipping through the cracks. In addition, evaluate what's working. When was the last time someone bought each product or service? Is the upkeep worth the return on investment? Has your audience shifted their focus? You may find that you can drop a few things, but also repackage a few others and boost your sales as a result. And you may just discover that simplifying your business in this way is one of the fastest tracks to measured success.