Discover more from Productive Flourishing
A newsletter and community for driven possibilitarians who are seeking full-spectrum thriving, hosted by award-winning, best-selling author of Start Finishing, Charlie Gilkey.
Over 33,000 subscribers
Self-Care on the Front Lines and Beyond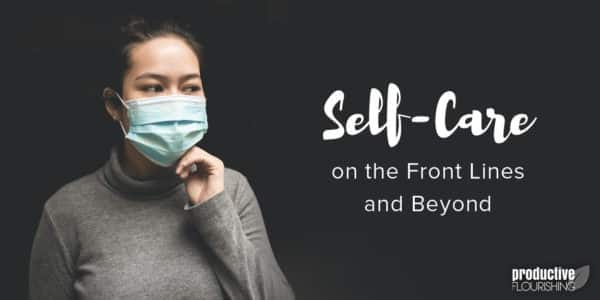 We are living in a time of great unrest and uncertainty. We can all feel it. The COVID crisis and the swell of outrage over social injustices are being felt all over the world.
Regardless of how phenomenal your boundaries and self-care practices are, you are undoubtedly feeling a lot right now.
Whether you are a front-line worker in the fight for social justice or a front-line worker serving during the COVID crisis, you are holding a lot.
For all of us, even if we are not considered front-line workers, we are doing, holding, witnessing, and being more than perhaps ever before in our lives.
Let's expand the idea of front-line workers for a time.
You may be in the role of a front-line worker in a community that you lead. Your people are hurting and you, as a leader, are being called upon to step up.
You may be in the role of a front-line worker in your family in a different way than ever before. Perhaps your spouse is currently without work and ill and your children are relying on you more than ever before.
You may be in the role of a front-line worker in your place of work. It could be that you've been shorthanded for months now due to layoffs and more is on your plate, or you've been tasked with leading a team and you've never done that before, or because of your position you felt the call to be the lead for equity and diversity training in your company.
Even if you are not a front-line worker, or don't feel like it's a place you've been called into or moved into due to the times we are in, you are undoubtedly feeling the energy in the world around you.
To be able to give, to show up as your higher self, to make a positive difference, you have to focus on your own well-being. The times you are feeling more stress is exactly when you need to double down on self-care; unfortunately, for many of us, this is also the hardest time to take care of ourselves.
If you don't focus on self-care, you will burn yourself out and be unable to do your work in the world. That doesn't help you and it doesn't help those you want to support. If you give until there is nothing left to give, how are you to help then?
Here are some self-care areas and practices to help you stay well and able to show up to do your work:
Sleep, sleep, sleep. The ideal amount of sleep is a bit different for everyone. I know some people do well with 7 hours or even less, while others (myself included) need 9 good hours or more. Know and honor your sleep rhythms. It is one of the most important, foundational pieces of your overall health.

Move your body as much as possible, and outdoors when you can. Our bodies are made to do much more movement than many of us ask of them on a day-to-day basis. And, we need the sun, trees, fresh air, and open skies to fulfill a primal need within.

Nutritious and regular meals are essential to keep you healthy and sharp for the important work you have to do. Food is your fuel — make it health-full.

Have at least one person you can share with and talk to about anything. For some of us this may be a partner or friend. For others, especially for those who are on the front lines with trauma and unrest and life-and-death matters, a counselor or trusted spiritual advisor can help to make sure you get the support you need. Please, please do not make light of or disregard the cumulative effects of what you hold on a daily basis.

Unplug. Many of us are addicted to the pulse of the world, always connected to our devices, the news, and our feeds. Your brain has to figure out what to do with all of that data as it continues to come in. It needs a break. Your adrenals need a break. Your heart and soul and body need a break from it, as well.
There are many other self-care practices that can support you right now. Those above are by no means exhaustive, but they are a wonderful place to focus, and can give you a very strong foundation on which to do your work.
Whether you are a front-line worker or not, in this moment you are being called upon to be, hold, and do more than ever. 
We need you and the unique gifts you have and the ways that only you are able to show up.
Please take care of yourself so that you can do the great work in this world that only you can do.