Discover more from Productive Flourishing
A newsletter and community for driven possibilitarians who are seeking full-spectrum thriving, hosted by award-winning, best-selling author of Start Finishing, Charlie Gilkey.
Over 33,000 subscribers
Good Self Care Is the Foundation for Flourishing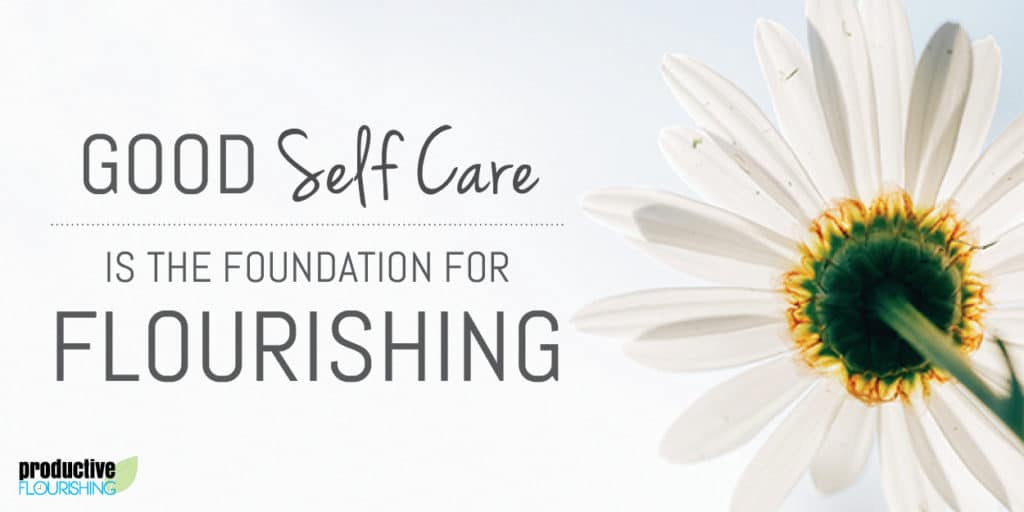 Several years ago I was in a place where it felt like it was all I could do to get through the day. You know those days when what sounds best to you is crawling under the covers or into a hole and staying there for a couple of months while your family, boss, co-workers, partner, friends, etc., figure it out for themselves and leave you alone? I see you nodding your head.
It wasn't a depression, but it certainly could've turned into one. Depression and anxiety have knocked on my door in the past. No, this was different. I was so caught up in the swirl of life, feeling pulled in five directions, overwhelmed with all I needed to do, that I'd completely lost sight of my core needs. I was also dealing with decision fatigue: You know that place where deciding what to eat for dinner is Just.Too.Much? I see you nodding your head again. We all get to this place at some point.
One particularly challenging day, Charlie saw that I was struggling and asked me what I needed to do to take care of myself (sometimes you need the stark reminder that in order to take care of others, you have to take care of yourself first). I had no answer. I was so outward focused and in the swirl that I couldn't even come up with one thing that I could do for myself. Yikes!
How to Make a Self Care List
When I'm in this place of overwhelm and feeling pulled along by life rather than piloting my own ship, I often forget to check in with myself. So, being a person who loves lists and knowing that I need to see something to make it work for me, I came up with a simple, yet powerful, list of things that I could turn to when I felt overwhelmed and didn't know what I needed.
I keep this list on our refrigerator. It was important for me to keep it in a place where I'd see it often, so that I could internalize that when I was feeling overwhelmed and didn't know what to do to take care of myself I could just walk over to the list and choose any one of the simple things I'd written there. It asks a couple of powerful questions and then moves on to ask more about simple — yet powerful — things that I know help me with self care.
Feeling like you might need your own list? Grab a piece of paper and pen and let's get started. (An important note before getting started on your list: Keep it to one page so that it's easy to see. Leave yourself a few lines of space at the end, as I'm going to ask you to write a few more things after your list.)
Write down these first four questions:
What's right for you in this moment?

What are you feeling?

What do you need?

What's calling to you?
These first four questions are just ways of asking yourself to check in. Any one may resonate better with you at one time or another.
From this point quickly write down 10 to 20 more questions about activities that you know have helped you take care of yourself. It's important that these be simple things that can help you re-center and get back in touch with your core self. You don't want to have to think too much about it when you need the list. Set yourself up for success and cut out the decision fatigue. For instance, my list includes:
Do you need to talk?

Do you need to practice yoga?

Do you need to get into nature?

Do you need to rest?
These are four simple activities that I know have helped me to take care of myself.
So, go ahead and make your list of questions.
After you have made your list, please write these sentences below your list:
"Your needs matter. Be your own best advocate. You deserve to be taken care of." (Tweet this!)
You now have your own list to turn to anytime you know you need to bring in self care.
PRODUCTIVE FLOURISHING
Holding Yourself Accountable
Another powerful action is posting the list in a place where it can be seen by others who live with you or who visit your house. Let them know about your list and why you have it. Ask them if they can point the list out to you if they notice you're struggling with self care and connecting with your own internal needs. Perhaps introduce them to this exercise and find a way to help support one another in taking better care of yourselves.
I took a picture of my list and am sharing it here in case it helps you. I'd love to hear from you about how you're doing with your self care and how your list supports you in honoring your core needs.
We have to take care of ourselves before we can take care of others. This we know, and yet it's so much easier said than done. But why don't we prioritize it once and for all, with this extra time and period of slowed down reflection during the COVID-19 pandemic? Head over to our resources page to learn even more about how to stay sane and supported during these uncertain times.