Discover more from Productive Flourishing
A newsletter and community for driven possibilitarians who are seeking full-spectrum thriving, hosted by award-winning, best-selling author of Start Finishing, Charlie Gilkey.
Over 33,000 subscribers
Remembering Iraq - A Video Walk Through
[I was originally just going to post the pictures, but I thought I'd share them in a video with me talking about them. I'm keeping the photos up since video isn't everyone's thing.]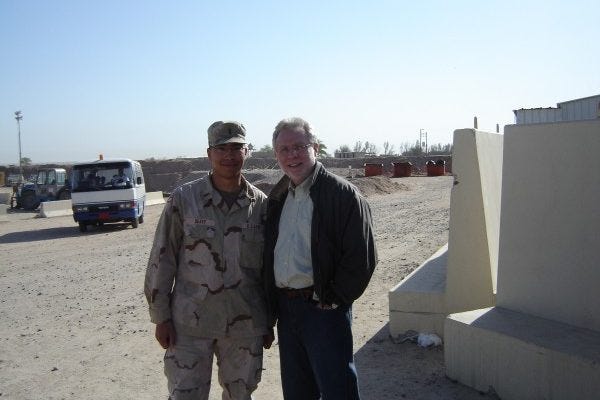 Wolf Blitzer and CNN came through and I was assigned to escort them.
I saw Wolf Blitzer reminiscing on the Iraq War last week. The Iraq war officially ended on December 15th, 2011. As he was talking about his experience with Iraq, I was remembering Iraq and thinking about my experience with him there. Don't worry, I'm sure he doesn't remember me - I was just assigned to escort him around our little base and answer any questions he had.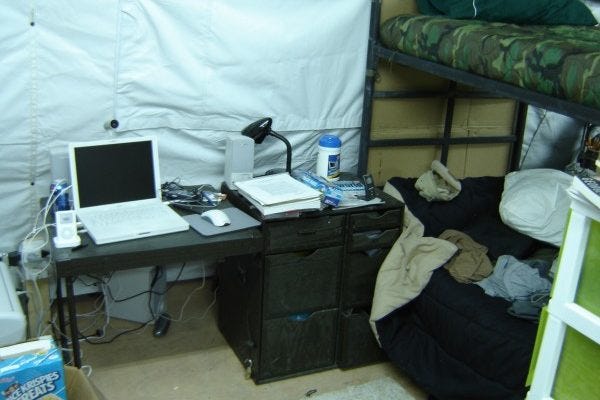 My mobile command desk.
Here recently I've been thinking a lot about my office since we're in a bit of a transition. When I get frustrated, I always reflect on the fact that at least I'm not living in an 8-man tent in the desert with sand in everything and constant power outages. (Notice the 2003 MacBook, iSight, and iPod.)
I've started to talk more about my experience "over there" since last year - and, in a Lost Rifle on A Dark Night, I shared one of my convoy experiences.. I took the following pictures from the gun turret of a HUMVEE - it was a smaller convoy, but you get the idea. Note: this is the desert, so the convoy is longer than it looks in this picture.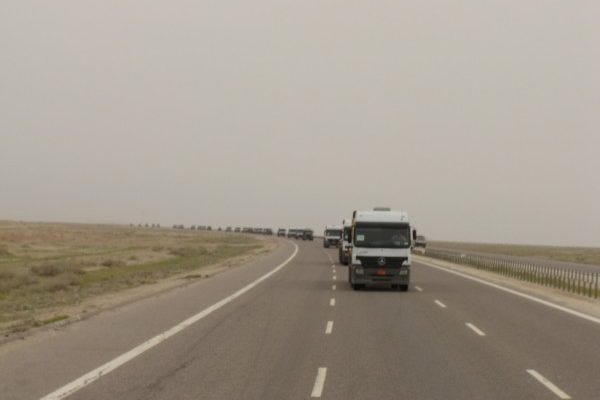 Looking down the convoy.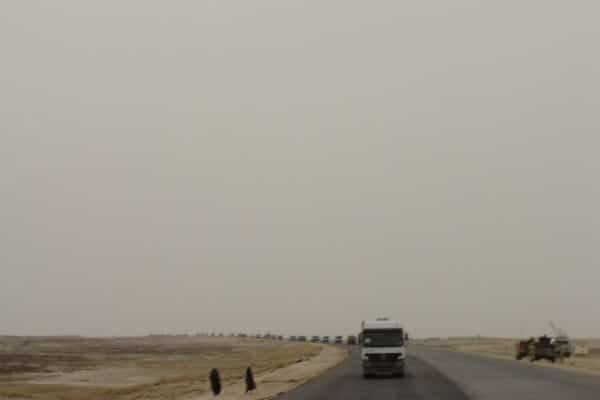 Notice the people on the side of the road? Not cool.
The people on the side of the road in the last picture were a constant source of anxiety. We were there during the time in which the civilians on the side of the road would occasionally leave explosive surprises or be in alliance with the insurgents, who also would leave explosive surprises for us. Other times, they were just kids and women, but you never could tell.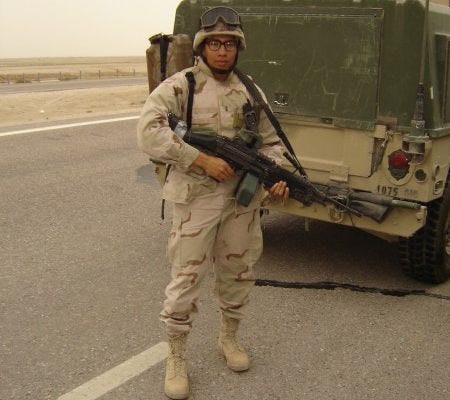 I'm not fat! I'm armored-up. (Okay, and a little heavy.)
By the time you count all the armor, weapons, ammo, radio equipment, and assort what-nots in pockets, it was easy to be carrying 45 - 70 pounds of stuff on you. I swear, there's something about those army glasses that gave you Superman vision. Unfortunately, they're only cool in Portland, where I didn't live at the time but currently do.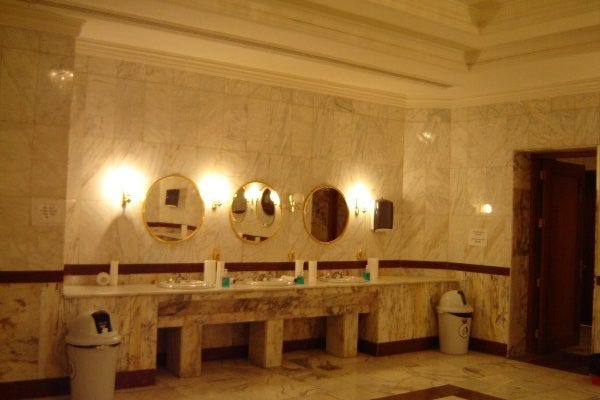 On the one hand, desert. On the other, opulence.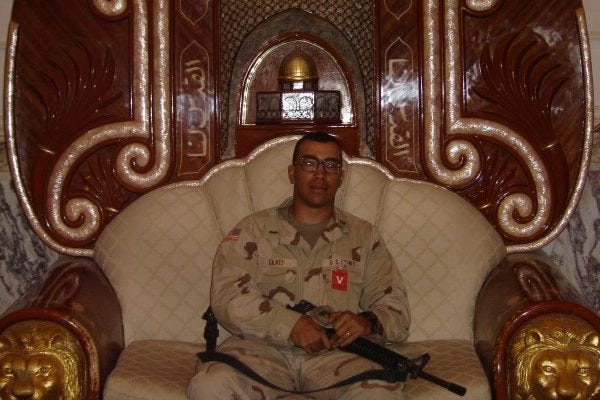 Sitting in the dictator's chair.
These were pictures taken in one of Saddam's palaces. I can't disclose why I was there, but I decided to snag some pictures.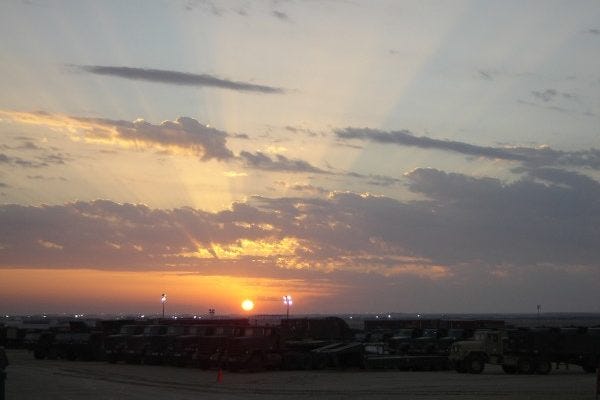 I always remember how pretty the sunrises and sunsets where in the desert.
I have so many memories of my deployment. It was both the hardest and one of the best times of my life and I'm still unraveling and implementing the lessons I learned through that crucible period. Amidst the fighting, the suffering, and the loneliness, there was brotherhood, mission, and happiness. The sunrises and sunsets were both spectacular and monumental; it was another day you got to live, another day you made it, and one day closer to home.
That's something everyone couldn't say. It was true then, and it's true now.
Thank you to those served, in whatever capacity. And, for everyone else, life is precious - live it well. (Tweet this.)