Discover more from Productive Flourishing
A newsletter and community for driven possibilitarians who are seeking full-spectrum thriving, hosted by award-winning, best-selling author of Start Finishing, Charlie Gilkey.
Over 33,000 subscribers
How to Push Through a Plateau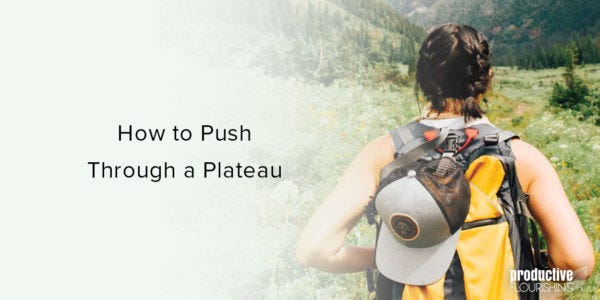 Picture this: You're on a hike, gradually going up and up and up… and it's getting hard. Sweat is dripping down your back, your hamstrings are on fire, and you already wish you packed more snacks.
But even through the discomfort, you keep going.
Why? There might be many reasons. Your friend (who you trust, though you might have moments where you question them, like right now...) promised you the view was incredible. Plus, you know you'll feel amazing having accomplished such a feat.
But while your heart is pounding as you trudge through that uphill upheaval, all you want in that exact moment is a break. Something easy.
And then, after that switchback, finally, you see a long, flat part of the trail… ahh, you're at a plateau.
That feeling of ease in and of itself is rewarding, especially knowing that you've got more difficult — but sure to be meaningful — moments ahead. Sometimes the plateau is too short; you barely had enough time to catch your breath. And sometimes the plateau is too long: sure, the break was nice, but now you're looking to feel that burn in your booty again and to make the climb up to your ultimate reward.
While there are times in our life when we hit literal plateaus, we more often grapple with the metaphorical ones.
Finding Yourself on a Professional Plateau
Plateauing in the professional sense is quite similar to coming upon a plateau while on a hike. This might be the feeling you have when you're in a job that doesn't seem to be going anywhere. It's not a bad job, per se — it pays the bills, and you can do it easily enough — but most days it's not filling you up. Even worse, you might not see any sort of room for growth, or the growth that's available to you isn't where you want your career to go.
As a creative, you likely hit plateaus too, where your inspiration to start (or finish) a new project is severely lacking. Same for a business owner: you might have the energy to tackle smaller projects, the ones to keep the wheels spinning and the lights on, but not enough for the big projects that'll boost your business higher up that mountain you set your sights on when you started.
Feeling plateaued professionally is extremely common, and not something to necessarily fear. Once you recognize you've possibly plateaued, it's all about how you think about your next steps.
Know When You're Ready to Get Going Again
Just because you aren't in pain, doesn't mean you aren't growing or going anywhere. In fact, knowing how to set boundaries, say no, and not feel anxious and overwhelmed is a massive win, one that those who don't know when to stop the climb may feel on the daily.
Differentiating between taking a break and feeling stuck in your career is nuanced, and only you will know for sure if you're truly stuck. If you know in your heart that you want, need, and crave more, then it's important to figure out how and when to start back up again. One clear sign that your rest is turning into a plateau is when you start to feel antsy, ready to take on new challenges again.
Be aware of the feeling of complacency, as this is when it's easiest to lose your drive and discipline, and is a slippery slope that takes you further and further away from what fuels your passion. Sometimes you might just need that fear of missing out on the view at the top to motivate you to press on and to remember what's most important to you and your career.
Don't Punish Yourself for a Plateau You Chose
Maybe your "plateau" is actually your top, for now, or forever. Maybe you're playing the comparison game, seeing people who worked their way further up the mountain, and you start to feel down on yourself. But consider this: you're the one basking on the flat land, doing well, kicking back. Those still going may be huffing and puffing, trying mightily to make it to the top. You're the one who is able to sleep in and take long lunches, resting your weary legs. That person struggling towards the summit might never reach it, because in the business world there is no true end, unlike the physical conclusion of a mountaintop.
Have you ever had the feeling of plateauing? What did you do to put your shoes back on, stand up, and keep going? It may just take a community of support to remind you of your vision because the view at the top is (almost) always worth it.