Discover more from Productive Flourishing
A newsletter and community for driven possibilitarians who are seeking full-spectrum thriving, hosted by award-winning, best-selling author of Start Finishing, Charlie Gilkey.
Over 33,000 subscribers
Why I'm Sticking with a Productivity Experiment That I'm Hating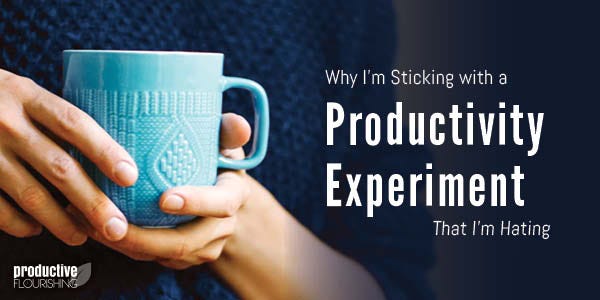 I'm in the middle of a personal productivity experiment that I'm hating.
For years, I've advised creative people to plan and do their work according to their energy levels and biorhythms rather than fighting them because it's been the single best way to make the best use of their time. When you're energetically dead, it's nigh impossible to get your best creative work done. Check your experience to see the difference between being creatively blocked versus just energetically dead.
My current experiment is exploring what happens when I flip my schedule so that it's the opposite of what it's been for the last twelve years. Rather than creating in the morning and meeting in the afternoon, I'm meeting in the morning and creating in the afternoon.
At least, that's been the theory.
The reality is that I meet people in the morning, complain every afternoon between 1-3, get tired of complaining and either workout or nap, then work from 5pm until the wee hours of the morning. And then promptly get up at 7:30 because apparently that's what my body thinks sleeping in means. I'm essentially on a biphasic biorhythm, which wasn't really the intent.
So, you might be wondering the same thing that the people I've talked to about it are wondering: if I hate it so much, why keep doing it? A simple retort of "science!" probably would be as insufficient for you as it has been for them.
The thing is, I was prepared to not like the change because it's not the first time I've played with altering my biorhythms. I've learned that a huge part of my dislike of it comes from the change itself. While mental and emotional agility are strengths of mine, my schedule and habits provide an unconscious certainty anchor for me. (Hat tip to Jonathan Fields for the concept of "certainty anchor" from his book Uncertainty.)
It's a bit like when you're hangry. If you know you're angry because you're hungry, it allows you to modulate your response to whatever's irritating you. You know it's not the stimulus that's making you feel that way -- it's the simple fact that you're hungry.
So I'm sticking with it a bit longer to see if my change shock will wear off, as well as to do a more neutral evaluation of all of the outcomes of the change. The data is worth sticking with it. (Oh, how I suffer for you!)
Food for thought:
Which of your routines and rhythms are serving you particularly well? How might you be able to lean a bit more into those?

Which of your routines and rhythms aren't serving you well? How might you explore changing them?

Where in your life or business are you going through a change that's frustrating you, and might it be that it's just the change itself? If it were, how would you respond differently?