Discover more from Productive Flourishing
A newsletter and community for driven possibilitarians who are seeking full-spectrum thriving, hosted by award-winning, best-selling author of Start Finishing, Charlie Gilkey.
Over 33,000 subscribers
Play to Your Strengths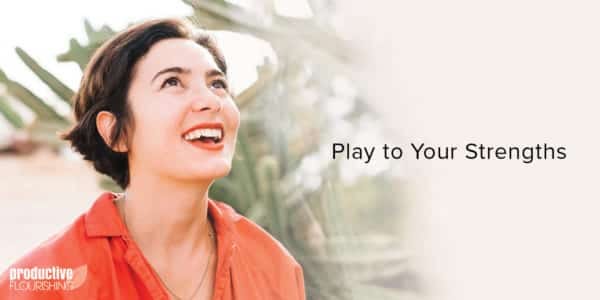 Editor's Note: This is a guest post from Ali Luke.
If you run your own business, you probably spend a fair amount of time looking at what others in your field are doing.
What services do they list on their website? What do they tweet about? Do they write blog posts, or produce a podcast? What are their clients saying about them?
Perhaps you think that they know far more than you. They're offering exactly the services that the marketplace is hungry for. They've got a carefully-worked-out system of content marketing.
And maybe that's true.
But, chances are, they're simply playing to their strengths. And if you try to emulate their success ... you're probably not going to succeed.
Finding Your Strengths
Your strengths are the things you're good at and that you enjoy. They might be skills that came easily to you – or ones that you've developed over a whole lifetime.
How about:
Coaching and encouraging others

Connecting people together

Teaching and delivering information

Picking up new technologies swiftly

Speaking fluently and engagingly

Being photogenic
All of these could be an asset in almost any business.  Let's say you're a website designer: being good with technology could enable you to help clients who have odd, obscure systems (and who want to stick with them). You don't necessarily need to compete with the design-genius who only works on WordPress sites.
Sometimes, you'll have known what you're great at for years. I've known since I was about 13 that I could write well and write fast. (Unsurprisingly, I'm a writer...)
Other times, though, your strengths will surprise you. Something that you thought was a weakness will reveal itself in a new light.
When I was a kid, I got teased about my "posh" accent. For years, I hated my voice. I was afraid of doing audio, because I thought I'd alienate my audience. But then I went to America for a conference, and I found that to pretty much everyone outside the UK, I just sound endearingly British.
What are you really good at?
Do you have any perceived "weaknesses" that could actually be strengths?
Using Your Strengths
Knowing your strengths is only useful if you actually use them.
That means:
Making them a core part of your business. If you're brilliant at teaching, then run ecourses or webinars or live seminars.

Giving them priority in your schedule. Mornings are my peak times, so I use them for writing. (If you need some help figuring out your best time of day, head here.)

Helping other people to know your strengths. You don't have to go around bragging: you can demonstrate what you're incredibly good at through the things you link to on Twitter or the ideas you blog about.
It's not cheating to play to your strengths.
I know it can feel that way. If something comes easily or effortlessly to you, it's tough to see the true value of it in the marketplace.
I love writing, and I'd never pay someone to write for me, so it took me a while to realise that my clients were more than happy to pay me for 30 minutes work that would save them six hours of struggling.
The things that seem easy to you could be exactly what your clients would gladly pay you to do for them.
How could you tweak your business so that you're using your strengths? How could you change your daily routine to give your strengths priority?
I'd love to hear your thoughts on this, and especially any stories from your own life where you've succeeded by playing to your strengths. The comments are open!