Discover more from Productive Flourishing
A newsletter and community for driven possibilitarians who are seeking full-spectrum thriving, hosted by award-winning, best-selling author of Start Finishing, Charlie Gilkey.
Over 33,000 subscribers
How to Pivot Strategically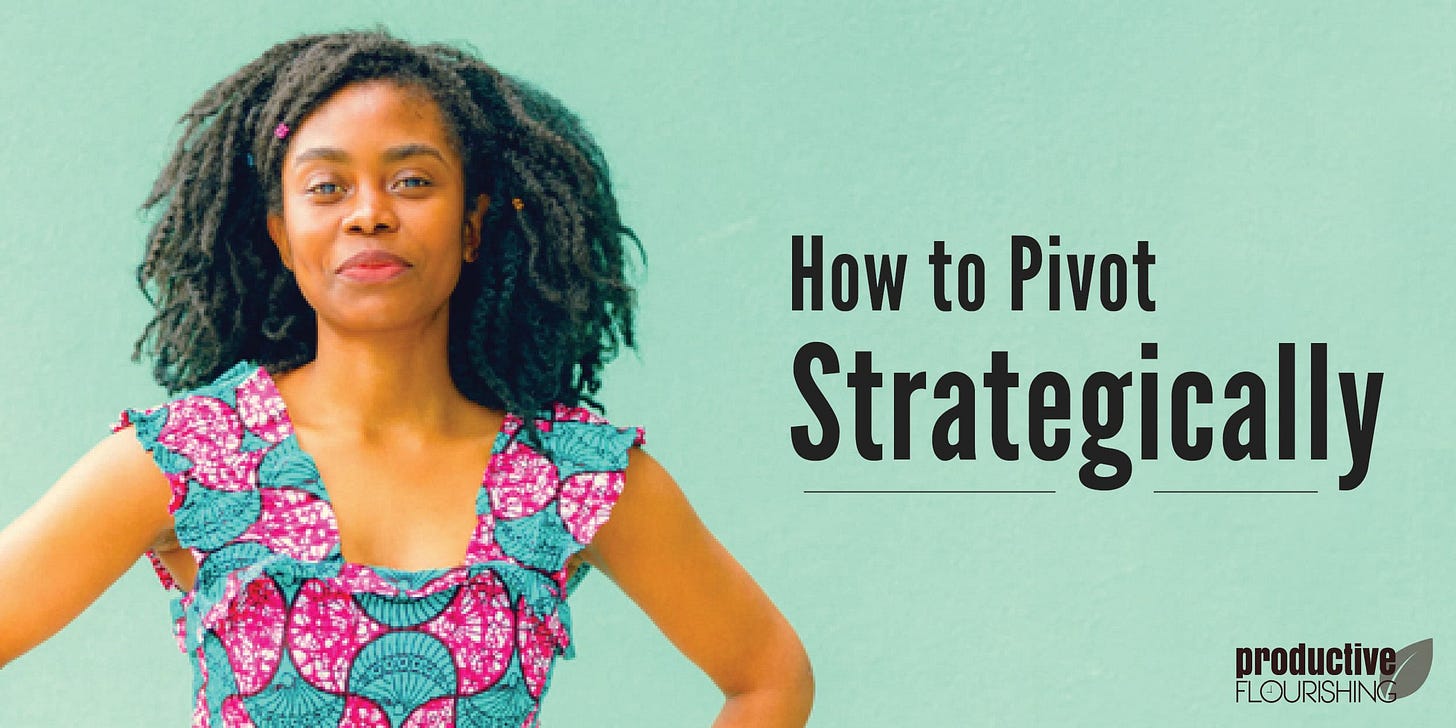 Editor's note: This is a guest post by Kerra Bolton.
Change was in the air and Natalie, my client, was scared.
The nonprofit where Natalie worked for 20 years recently called a meeting to announce organizational changes, including hiring freelancers for tasks that had been within her scope of work.
"I need a plan," she frantically told me. "I need to know what to do so that if I'm let go next week, next month, or in six months, I am okay."
Natalie feared a day of reckoning could be fast approaching. She could wait in fear of being let go, panic and apply for well-paying but uninspiring jobs, or she could pivot strategically.
Pivoting can result from a disruptive event or life change such as job loss, divorce, or death of a loved one. It can also come from a restless knowing that it's time to change. Or it can be an inspired and committed decision to move in a new direction. What makes a pivot "strategic" is whether the process generates opportunities for learning, growth, and innovation.
Here are suggestions to help you pivot with power, intention, and purpose so that the pivot is strategic and helps you move toward your dreams and goals.
Listen to the Voice of Divine Discontent
We know it's time to pivot before we consciously acknowledge it. We may feel dissatisfied with a field, task, or approach we have mastered. We may have a vague sense of reaching the end of something, but not know what comes next.
Physically, these thoughts and emotions manifest as a nagging in your gut, headaches, troubling dreams, or something "feeling off." We often dismiss these physical symptoms as burn-out, stress, or chronic illness. However, the sensations are the initial stirrings of "divine discontent."
Divine discontent signals the time has come for change. The path we have diligently followed for years has now come to a crossroads. Its "divinity" doesn't necessarily come from God or religion, though you may believe in such concepts. It is divine because life presents you with an opportunity to grow.
Natalie had experienced divine discontent in her job previously. For years, she knew she had outgrown her scope of duties and longed to open her own business. Instead of heeding the call to change, she swatted away the whisperings of divine discontent by taking on additional challenges at work.
But divine discontent has a way of making itself heard. You should listen whenever it whispers or roars. For Natalie, divine discontent appeared in a roar during two organizational shake-ups. She sought my coaching services in response to that loud voice. Together, we analyzed the organizational dynamics, brainstormed her options, and crafted short-term plans to empower and encourage her.
We did the work, but she failed to implement it. She remained stuck in an uninspiring job she should have left a decade ago. She may survive the latest round of organizational changes or she may be let go. Either way, it was time for her to listen to the voice of divine discontent. PRODUCTIVE FLOURISHING
Fear Is the Mind Killer
Natalie hadn't acted on our previous plans for professional growth and change because she was afraid. Her "fear muffs" made listening to the voice of divine discontent impossible.
We needed to remove them so that she could gain clarity on what she wanted to do next, recognize the resources that were already present in her life to support her new direction, and make a realistic plan to pivot in the next 90 days.
"What would you do if you knew you could not fail?" I asked.
Her eyes lit up as she described a media training business. She would use her extensive television experience, contacts, and field training to help high-performing individuals and mid-size companies tell compelling success stories about who they are and the services they offer.
Then, she immediately became crestfallen as she listed a litany of challenges: the impact of social media on traditional media, lack of immediate income, not knowing who her market was and how to find it, and being pulled in multiple directions as a professional, mother, wife, and daughter to aging parents.
"Are any of these challenges insurmountable?" I asked.
"No," she said.
"Then what are you really afraid of?" I asked.
She thought for a moment, and I waited. Eventually, she shared she was afraid of her family, friends, and former colleagues' critical judgment of her leaving the organization she had worked for during most of her adult life to start her own media consulting company. She worried their external judgment would mirror her internal fears about not being good enough.
Land on Your Feet or Learn How to Fly
Pivoting, whether it occurs once a decade or once every few years, seems contrary to everything we think we know about success.
This is especially true if we belong to the Gen X and Baby Boomer generations. Like Natalie, we learned that success is choosing a single path early in life and grinding it until everyone sees your brilliance. But such a view is as outdated as an iPod shuffle.
Natalie could stay mired in her misconceptions about success and fears about what people might think of her starting her own business. Or she could make a different choice. She could pivot strategically by making small moves in the time she had left at the organization to propel her forward.
Natalie chose the second option. She decided to let go and trust she would either land on her feet or learn how to fly.
I suggested she begin the process by making an appointment with her financial planner to see how long the dual income she and her husband earned could support their current lifestyle. Using that information, she and her husband could determine what expenses to trim, how to save more aggressively, and how to communicate their choices to their three children.
Next, we developed a no-cost, high-yield experiment she could launch in a month to discern who her potential market was and what problems they wanted her to solve. She made a list of everyone in her personal and professional networks who would be an ideal client in her new business and invited them to a one-hour, online workshop to discuss the most common problems people face when presenting themselves on television or video.
Finally, we brainstormed how she could align her daily choices with her future goals. Natalie decided it would be best for her finances and family if she remained at her current job for as long as possible while working to build her business. We set a series of realistic benchmarks she could meet in the time she had available. We also discussed ways she could counter her tendency to compare herself to people who had more time and financial resources.
The Alchemy of Our Own Fate  
The secret of strategic pivoting isn't lining up all the options and making the perfect decision about where and how to land. It's about developing confidence in yourself and faith in something larger than yourself so that you can navigate unexpected change.
Pivoting strategically allows us to let go of what is no longer working for us so that we can embrace the possibilities that are more aligned with our path and purpose. This can mean quitting our job and becoming an entrepreneur, changing the direction of our business, or deepening our craft. Strategic pivoting also permits us to release misguided notions of a fixed, straight-line view of success and seize opportunities as they arise.
When we pivot strategically, we get the larger lesson that life is full of pivots — paths taken and not, serendipitous adventures, and missed opportunities. We discover that all pivots are ultimately strategic because they are not part of the path, they are the path. And in understanding this, we become the alchemists of our own fate. (Tweet this.)