Discover more from Productive Flourishing
A newsletter and community for driven possibilitarians who are seeking full-spectrum thriving, hosted by award-winning, best-selling author of Start Finishing, Charlie Gilkey.
Over 33,000 subscribers
The One Where We Brag for You: PF Community Wins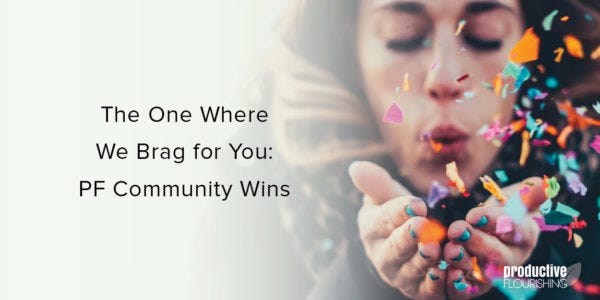 When you've been helping people finish their most important projects for 12+ years, you get to see some really neat things happen. It's a LOT of fun to see what people are doing in their communities and businesses using PF's resources. Our readers are heart-centric creators, business owners, leaders, and wonderful humans. Earlier this week we asked them to share some of the neat things they're working on. The responses — ranging from new art projects to mobile apps to essays to coaching programs — are going to warm my heart for the rest of the day. Take a look at the incredible creativity in our community, and then if you feel inspired to do so, drop a link to your own stuff in the comments.
Haven Iverson
My first book, Slow Down, Tumbleweed, comes out on October 5! In short, it is about a little wild child weed who learns to slow down and take in the beauty of life.
    ------------------------------
Karen Kemp​​
I'm working on an editorial portrait illustration for a university magazine. Right now I'm at the initial sketch phase, but you can see some of my finished portraits on my website at KarenQKemp.com. I've been a magazine designer for about 15 years, and have been pivoting to include more illustration work. This portrait assignment will be a ¾-page feature story, so it feels like a step up from the spot illustrations I've been doing. It has helped shift my mindset and I look forward to getting more feature illustration jobs soon. ------------------------------
Kristin Tweedale
I'm working on my app launch :) The public app launch party will be October 1st - 3rd. People can get more info about the app and sign up for details on my website. The Awesome Ladies Project app brings the already incredible ALP feminist scrapbooking community right to your fingertips. There are so many amazing things you'll be able to do right on the app, including upload all your fabulous projects, take great classes, join in on discussions with Awesome Ladies from around the world, learn new tips, tricks, and techniques during our live classes, and so so much more. ------------------------------
Julie Harris
My favourite project at the moment is building my public body of work. I am putting myself on a regular writing and publishing schedule. I've been cross-posting on Medium and Substack, and am enjoying playing around with writing about some of my favourite topics: play, pause and purpose. This project is the first long step towards publishing a New York Times bestseller (did I just say that out loud?!?). Why is it important to me? Because I am a writer at heart, and it is high time for me to take my place among giants. Onward and upward! ------------------------------
Sandy Sandberg
I actually just finished another piece for a client. He constantly hits me up for vintage signs and props. This time he bought an airplane to install above his bar. We did a planning session with cardboard models and his team got to work on the mechanicals. My job was to "patch out" the airplane, add new lettering, sculpt a pilot and carve two propellers. It was a lot of mess and a lot of hours but I enjoyed it! Check sandcruiser13 on Instagram. ------------------------------
Fiona Valentine
Here's a quick intro video about something I'm working on right now — The Art of Innovation.   ------------------------------
Helen Lewis
I am refreshing my website and I am uploading the content for my online learning platform attached to my website-training people how to Live their Values everyday, with every decision.
------------------------------
Marie Sand
My project is called Transition or What is the view from your breakfast table? I have started it during the last TAA Challenge launched by Cory ;) I have started to paint the view from my breakfast table every day until Halloween AND to share the journey with my community until the end without knowing what will happen next. A journey that talks about creativity, philosophy, process, weather, chaos... Everything that makes us human and vulnerable. The questions I have asked before feed the act of painting.
You can learn more on my Instagram and if you subscribe to my mailing list, you receive a weekly email about this project for the next 6 weeks 
------------------------------
Shanna Mann
Since 2017, we've had a small service business shipping for Amazon sellers. It was a lifestyle business, really. But, in 2020, obviously the ecommerce world took off like a shot, so we rented a 5,000 sq ft warehouse and expanded aggressively. By 2021, we'd outgrown that building and had to move. Now we are considering moving into DTC (direct to customer) fulfillment for indie e-commerce sellers. So somewhere along the way, I accidentally founded a 3PL. I was able to join a very good accelerator program locally, so that's been very helpful in riding the wave more confidently.
------------------------------
Sandra Halling
Small Business Book Club Podcast (coming soon)
Curate knowledge and best practices for starting and running a successful small business

Dispel toxic myths from hustle culture and manipulative online marketing tactics

Connect with a community of like-minded listeners
------------------------------
Caelan Huntress
I'm writing the final draft of my upcoming book, Marketing Yourself. Feedback from the advance readers has been really good so far!
------------------------------
Page Huyette
Creating a clear structure for my upcoming VIP day offering for real estate agents setting up a real business. Learn more about this day on my website. ------------------------------
Melissa Wiley
My current projects:
Writing my next middle-grade novel

Doing some promotion/marketing for my other books heading toward the holidays

An original embroidery project (multi piece) that I'm pretty excited about
------------------------------