Discover more from Productive Flourishing
A newsletter and community for driven possibilitarians who are seeking full-spectrum thriving, hosted by award-winning, best-selling author of Start Finishing, Charlie Gilkey.
Over 33,000 subscribers
Permission to Have a Bad Day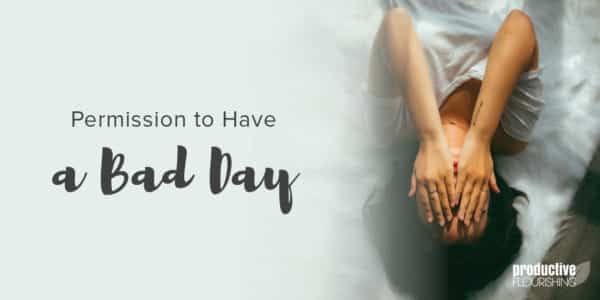 Last week I had a bad day; a really bad day. It was the kind of day where Charlie knew that he needed to steer clear. The kind of day where I would have loved to have steered clear of my own self. :-p Alas, I was stuck with my own self and had to figure my way through it.
Charlie shared recently about the three little things he does for himself when he sees things going sideways in his day. That post was super helpful for me the day after my really bad day to get back on track, but had I read that on the really bad day I might have told him how terrible his ideas were… OK, not really.
They were/are wonderful ideas and prove useful for me time and again. It was just that I was in one of those rare days where my self-care toolkit just wasn't going to work.
I want to share with you why I gave myself permission to just have the bad day — in case it may be helpful for you at some point.
Because I am fortunate to have so many self-care tools that I have cultivated over the years, and (usually) the space to be able to use them when I need them, I am often able to check in and turn around a day that's getting away from me.
When I sense a day going sideways or that it's a bad day I will turn to some of these things in my toolkit:
Walking around the block

Meditation

Dancing

A nap

Writing about what's going on

Practicing yoga

Taking a shower or getting in the hot tub (water is often the ultimate healer and cleanser for me)

Painting

Gardening

Hiking

Giving myself space to cry
There are many more self-care tools than the list above, but you can get a sense of the many different outlets where the negative energy can flow and dissipate.
What I have learned about myself, though, is that there comes a point where I have tried enough to turn around a bad day and it's time to just allow it to be what it is, and more importantly, to allow myself to just be with it for now.
So on that day, after trying several things on the list above and a few others that aren't listed, I sensed that it was time to just give myself permission to have a bad day and not need to fix it. It was going to be a craptastic day and I needed to accept that.
If I didn't, I knew that before long I was going to be getting to a place where I was trying to force myself to be or feel in a way that just wasn't going to work for me. When I get to that point I always make things worse for myself because that's when I start to add the stories about why I should be feeling better — which inevitably leads to me feeling worse.
On reflection, I see that the self-care tools I used that day actually did help me to have a less crappy craptastic day, but it was still not a good day. The gift that I gave myself was the permission to not be OK. To not force myself into a place I just couldn't be in at the time. To sit with the hard and yucky feelings of a bad day and trust that I would find my way through it when it was the right time.
I'm not advocating for you to hide your own self-care toolkit on hard days. In fact, quite the opposite — pull that thing out and take care of yourself. Just know and allow for that point when you've done your best to take care of yourself and turn around your day and now it's time to just sit with the hard, bad day.
We all have bad days. You don't have to make it anything different than what it is. You're allowed to have bad days and still be perfectly loveable and worthy. Be kind and generous with your own self and your needs and know that the bad days will pass without you forcing them to do so. Allow.