Discover more from Productive Flourishing
A newsletter and community for driven possibilitarians who are seeking full-spectrum thriving, hosted by award-winning, best-selling author of Start Finishing, Charlie Gilkey.
Over 33,000 subscribers
5 Questions to Ask Yourself That Will Help You Overcome Thrash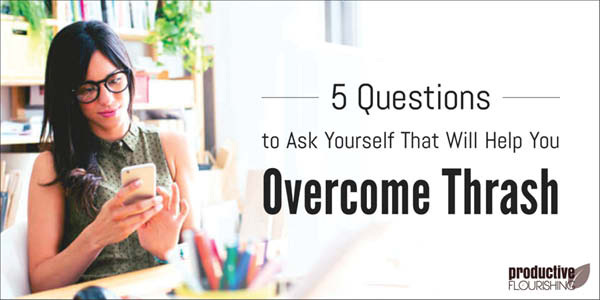 Editor's note: This is a guest post by Jenn Labin. Ugh, thrash. The silent productivity killer. The "I'm-busy-so-I-must-be-accomplishing-something" fallacy. How do you know if you're guilty of thrash? In Charlie's book Start Finishing, he defines thrash as, "this emotional flailing and metalwork we do when we don't fully commit to our best work... When we're thrashing, we're like the rocking chair that moves a lot but doesn't actually get anywhere." Here are some warning signs.
Warning Signs of Thrash
Do you check your email every 5 minutes?

Switch between projects rapidly?

Go grocery shopping during prime work hours?

Justify a load of laundry needs to be done RIGHT NOW?

Maybe you just realized you never called your friend back after he left a message three weeks ago.
Or maybe, as in my case, you decide that now is the perfect time to run around the house with a broom, banging on the ceiling because you just know that sound is an animal nesting in your attic. (True story.) All of these examples are signs of thrash, activities that look like productivity but aren't. Charlie has talked about overcoming trash for years. He says the goal isn't to eliminate thrash but to instead recognize when it's happening and move through it as quickly as possible. (Tweet this.) I agree, but I also think a lack of awareness about thrash is one of the biggest obstacles to success for entrepreneurs. Let me explain with a parallel concept, William Bridges' Transition Model. PRODUCTIVE FLOURISHING
William Bridges' Transition Model
Bridges' suggests individuals encountering change follow a predictable path. Change, in his model, might be epic, such as changing jobs. However, it could be as small as switching toothpaste brands. Regardless of the amount of change, an individual moves through three distinct phases:
Endings

Neutral Zone

New Beginnings
Each phase features a series of emotions mirroring the stages of grief. Depending on the size and impact of the change, an individual may move through these phases quickly … or not. The visual below demonstrates how Bridges' concept works. (And for a better, deeper explanation, check out this great blog post about managing change.)
Many people are unaware of that process. That, or they think the goal is to skip the first two phases and jump to New Beginnings. But skipping the two is unhealthy as they are essential to processing change. Without them, we would return to our earlier, negative emotions at an inopportune time. (Think struggling during an important presentation or feeling overwhelmed by a project.) Rather, we want to acknowledge where we are and how we are feeling so that we can move forward purposefully and as quickly as possible.
Thrash at Work
In Chapter 3 of Start Finishing, Charlie explains that the more an idea matters to us, the more we'll thrash, precisely because its success or failure is deeply important to us. Thrash happens on the way to our best work because our best work is a representation of our internal character, competency, and excellence. Thrashing is a sign that we're doing something that matters to us and that we'll need to show up powerfully to get it done.
Thrash is normal; we encounter thrash whenever the work matters to us.  That is, thrash indicates we're doing the right things! (It can also indicate we're doing the wrong things, but let's cover that another time,) We're on a positive trajectory. And yet, we thrash. Why? We thrash because some part of us thinks:
We want the work to be really amazing and that will take a lot of time and effort.

We tell ourselves we're not ready to do amazing work or not capable of it right now.

When we finish, someone will see it and give us feedback.

When we finish, we will have to find new work to do.
Further in chapter 3 of Start Finishing, Charlie notes some of the instances in which we thrash:
Before we start working on an idea. "Who am I to do this project?" "Does this project even matter?" "Is this original enough?" "Can I actually do this?"

In the middle of the project. "How the hell do I get this project back on track? "Why is this project so hard for me?" "Is anyone even going to care if I finish this?" "Is this really the best thing I can be doing right now?"

At the end of the project. "Is this good enough?" "What will people think of me?" "What about the haters, trolls and naysayers?" "What if I miss something important?"

Throughout every stage of a project. We're masters of the flailathon.
 Okay, so thrash is an indicator that the work we're doing is important. That means we should shorten the time spent thrashing and get to work. But how? Here's a recent process that has been working for me. I call it the "5-5-5."
5 Times a Day, 5 Days in a Row, Ask 5 Questions
Why am I not doing the work that matters / contributes to my goals?

Why am I letting that get in the way of doing my best work?

Is there self-talk or emotions that need to be unpacked right now?

What will I gain if I switch to the work that matters right now?

How will I feel at the end of the day if I make progress on the work that matters?
Set a series of alarms on your phone to answer these questions throughout the next five days. Your answers will help you see a pattern about when you are in the thrash and how quickly you are able to move past it. You can use these questions simultaneously with the Productivity Heat Map to get a crystal clear picture of your work rhythms.
Final Thoughts on Thrash
One more thought on thrash — don't mistake "getting ready to work" as doing the work that matters. For example, setting up your workflow timer, updating Asana, or searching for document templates are not the work that matters! We convince ourselves we need to do those things to be ready for the real work. In most cases, that's just not true. It's an excuse to stay in the thrash of things. Do you really need an awesome PowerPoint template before you create that client deliverable? No, you don't. You might need it after you've done the brainstorming and drafting and before you deliver but not in the moment. So, come prepared. Keep an awareness of your tendency to thrash in mind, and then change your focus. If you are prone to thrashing before getting your most important work done, I hope the questions and thoughts here will help you ease the path from Endings to New Beginnings a bit. Remember, don't try to avoid thrash entirely — that's impossible. Instead, find small ways, using the 5-5-5 method, to move through it quicker to get to the work so you can Start Finishing those projects that matter most to you. PRODUCTIVE FLOURISHING