Discover more from Productive Flourishing
A newsletter and community for driven possibilitarians who are seeking full-spectrum thriving, hosted by award-winning, best-selling author of Start Finishing, Charlie Gilkey.
Over 33,000 subscribers
3 Ways to Overcome Business-Owner Burnout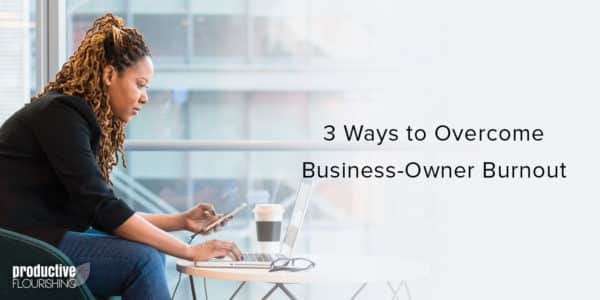 Does your business look different than it did a year ago? How about two years ago? And, does it look different than it did six months ago? What about just a quarter ago? What is it going to look like next quarter? Next year? Two years out?
If you're like many business owners, the answers to those questions may have taken you on a roller-coaster ride in just that one paragraph. Let's take a couple of deep breaths before we go further. I know I'm already needing them.
We live in a rapidly changing world. Even more so since COVID.
As a business owner, you know well that changes in the market and economy impact your business and that things can change quickly in those realms. In more stable times you may have a good idea of the trends in your business: seasonal shifts and when those happen, times when customers line up outside your door, or slower periods when your potential customers are focused elsewhere.
Even during the most stable of times — which we are far from right now — business owners need tenacity, clear and focused strategic thinking, an innovative approach (yes, even in the most stable of industries), and — let's be honest — a bit of delusion. ;-)
Many business owners started out with a passion for what they wanted to offer and a belief in how it can serve their customers. That idea has been important and impactful to them in some way, and so these creators want to offer it to make others' lives better.
Likely that desire didn't change when COVID interrupted (like the worst of uninvited guests at the family dinner table). Many other things did change, though. And because you are dedicated to your business and its success, along with many other business owners during the past year, you may have been working your tail off to keep the doors open and your dream alive. That burn takes a toll.
Perhaps you had to change your offers because meeting in person was no longer a safe choice? Maybe you saw the opportunity to shift back when things started to open back up? Oh, and then things closed down again. Another quick change. And, then they slowly started to open again. Another change. On and on, you have tucked, rolled, ducked, dodged, recalibrated… and then another change happens and here you are again.
Perhaps you had to let go of trusted and loved employees?
Perhaps you had to close your doors for a while and live with not knowing when or if you were going to be able to open them again?
Perhaps you had to work overtime for weeks or months to figure out a new business model to make a go of it?
Before I go further, maybe we should take a few breaths again?
I am intentionally sharing a lot of detail with you and am going to share even more, so really, please do take those breaths if you haven't already.
Are you feeling toasty? A little too crisp around the edges? Full-on charred? Might you be moving towards burnout? Maybe, like many, you have been riding that edge of burnout for months or quarters now? Maybe you see it coming, but you are just so damn tired and so focused on getting by that you don't know how or where to extricate yourself?
To be clear, before COVID started we were already living in a world (all of us, not just business owners) that pushed and pushed; faster, better, cheaper, more, lighter, etc. Our culture was already moving at a pace that pushed us towards burnout — unless we were very careful, diligent, and boundaried.
Take that fast-paced, burnout-inducing world, add a global pandemic, and now every single one of us is dealing with added layers of new stress.
For many of us, our lives have felt like runaway trains at times over the last year. If we were already on a burnout train going top speed, a few more cars were added to that train. Who is driving the train? Who is in the engine car? Can you even reach it? The world is such that you cannot remove those added cars, so how are you going to regain control? [For those of you action movie fans I'm currently picturing Runaway Train and Unstoppable here.]
On top of being a business owner and shifting with an ever-changing world to keep the doors open, you may have had other cars added to your train, such as:
Having a partner or roommate who's home all the time with or without their own work to do.

Having a partner or family member or roommate who lives with you who goes to work every day and you're worried about their safety while they are at work, and yours and your family's every day when they come home from work.

Having a partner who lost their job or was downsized.

Having elderly family members who you are now helping to take care of to help keep them safe.

Having elderly family members who you are unable to see and be with because you want to keep them safe.

And many more...
Those added layers of stress are a lot for anyone to handle and if you are also a business owner, the number and types of stress you may now be dealing with — to stay open and relevant and profitable — are on top of all of those other stressors in your personal and family life. The amount and types of change are stressful and exhausting.
In a world with a lot of uncertainties, a few things are certain — and one of those is this: the bill always comes due.
What if I were to tell you that, if you want to avoid a full-on business-owner burnout, and make it more likely that you will rally and make it through these incredibly tumultuous times with the business you have put so much of your heart and soul into, what you most need to do is take a step back from being in your business?
Before you start cursing me and telling me all the reasons that's impossible right now, I'm asking you to read the list of three ideas below and choose one of them to try. I'd actually love it if you did all three, but let's start with one and take it from there.
I want to support you in making sure you have what you need to be the best version of the innovative, tenacious, and strategic business owner that you already are. Look how far you've already come!
The last year or more you've had your feet to the fire. Let's remove some of that soot, and help you get a bit more clarity and feel more grounded and confident in what you are doing.
3 Ways to Overcome Burnout
Let's talk about a little time away, an audit of your responsibilities with support from teammates, and enrolling a success pack of other business owners to help elevate you.
1. Take a look at your calendar for the upcoming month and find one full day that you are typically working and mark that day as Out Of Office. You may need to plan this many weeks in advance so that you can communicate to teammates or clients or whoever else might need to know that you will be out.
(I have said one full day, but if you are only able to make that a half day or better yet, able to expand it to even more than one day, please do so. Do what works for you. We all have different realities and constraints, so I want to honor that, but also push you to make the space even where you think you may not be able to do so.)
Get everything in order before that day off, so that no one will interrupt you. Make sure the kids have a caregiver for the entire day. Let your employees know who is in charge while you're out and that you will be 100% unavailable. Decide where you will go. It may be that you are able to stay home by yourself or that you need to reserve a cabin at a nearby state park or somewhere else.
If you are like many business owners, stepping away is very challenging. So is turning off the business brain. I encourage you to do that to the best of your ability, but not to force it, because that just makes for a miserable time. Have a notebook handy or a voice recorder in case your brain (when finally allowed some space) decides it wants to drop all the solutions and ideas on you for making your business even better.
And, a gentle, loving nudge that if your brain decides it's going to give you all the answers, just let it flow. All you need to do is capture it in a way that works for you and you and/or your team can do something about it another day.
[optin-monster slug="qdylw7sdfsgrar0mxnfq"]
2. Set aside one full focus block to make a list of every single role, routine, and piece of the business that you are holding. Every. Single. Thing.
Are you the one who guides your team on their Objectives and Key Results for the year? Write it down.

Are you the one who fixes customer issues? Write it down.

Are you the one who is doing the hiring? Write it down.

Are you the one who is doing the employee reviews? Write it down.

Are you the one who closes the store for the day? Write it down.

Are you the one who does the bookkeeping? Write it down.

Are you the one writing social media copy? Write it down.

Are you the one who orders the office supplies? Write it down.

Are you the one who writes up the job postings? Write it down.

Are you the one who answers the phones? Write it down.

Are you the one who is the primary networker for the business? Write it down.

You get my drift. Write it all down.
After you have done your initial brain dump of all the things you do and that may be contributing to your burnout, I suggest that you enlist your teammates to also look at the list and see if they can add more to it. Our teammates often see things we are doing in our jobs that we don't even realize we are doing. Perhaps you started picking up a few responsibilities during necessary business shifts due to COVID and you never handed them back to the person whose job they are?
Remember, you're not in problem-solving mode yet. This is the initial catch of ALL THE THINGS. Be sure to let your teammates know that you are asking them to contribute because you appreciate their perspective and would love to have them involved in the process of helping you be a better leader and business owner.
After you have your list, ask yourself if all of the things that are on your plate are actually: 1) necessary in your business at this time, and 2) are things you should be doing rather than someone else on your team.
Go through the list and put an X next to things that are not integral to your business at this time. Put a checkmark next to things that are integral to your business, but are not things that you necessarily need to be doing; things that someone else could do for you. And, circle the things that are uniquely yours to be doing as the business owner.
Have your teammates do the same exercise separately from you. They have the same full list of all you are holding and doing and they are marking it up the same way you are, but independently.
Now, it's time to come together to share the Xs, checkmarks, and circled items.
Where is the overlap? More than likely if there is overlap from each person on one item that's not one that needs to be discussed as much. You just need to decide that it's either 1) no longer going to be done, or 2) who owns it.
Items your team differs on are the ones to discuss in more detail. Maybe some of your team thinks the task isn't important (for now), or maybe it's that several teammates believe it should become their task.
First, go through all the tasks and determine as a team which need to still be done, or done now. Then, for the remaining items, discuss as a team who is the best person to own that item, based on ability and capacity. As the leader, you should speak last, and give your team the opportunity to grab things from you. (At PF, we call this the #jawsoflife, and it's saved many of us on the team when we were holding too tightly to an item — even when we knew we couldn't get it done ourselves).
The goal of this exercise is to hand over responsibilities that are better left to someone else so that you can spend more time and energy on the things that are of the highest value to your business, and uniquely suited to you. Resist the feeling that you're dumping on your team, or you're not pulling your weight. Deep down you know you need the help and relief from the burnout, and that's why you have a team in the first place.
3. If you are not already part of our Academy, I'd love to welcome you into our community of courageous, ambitious, heart-centric, supportive business owners and leaders who amaze me day after day with how they show up to learn and grow together.
Charlie and I have had the privilege of leading the Academy (PFA) for nearly a year now. We felt and saw the pain and overwhelm and the need for support and community among our customers and clients when COVID hit hard about a year ago. Leaders were struggling with how to best support their teams, small business owners needed support with new business models, and every single person needed a few more people who were on their side, ready to be of support and a brain trust during a damn difficult time.
Members of our PFAmily (yes, to many it has come to feel like their business and leadership family) have become a part of each others' success packs and have been an integral part of not only helping each other get through COVID with their businesses intact but also helping each other grow and level up their businesses in phenomenal ways during the most challenging time many of us have ever lived through.
Charlie and I and the members of PFA have been there day after day, week after week, month after month to help our people — by giving them the safe space, coaching, skills and tools, feedback, cheerleading, and real talk needed to move their businesses forward when many other businesses have sadly had to close or downscale considerably.
And we know that at the heart of your business is you. To us, that means that a crucial piece of the work we do in PFA is to help take care of and elevate you so that you can be at your best.
We don't go it alone in life and we don't go it alone in business. We need others who get us, who see us, who want the best for us, who push us to do and be better versions of ourselves (not versions of someone else or someone else's business), and who want us to be in community with them. That's who our PFAmily is for us — and for each other.
I would love to welcome you into our community of business owners and leaders that continue to set the bar higher and higher and amazingly in a way that elevates every single person and leaves no one behind.
This is the community I have wanted for many years and I know I am blessed to be a part of it. As it continues to grow, each one of us that is a part of it continues to grow individually and as a team of owners and leaders making the world a better place by getting our best work out there.
This past year has been one that has pushed many people towards burnout in their businesses, and understandably so. It is my sincere hope that you will allow yourself the opportunity to start with one of the three ideas above to help you feel more grounded in your business and move forward from a place of power.
Make some open, free time for yourself. Ask your teammates for help so that you can focus on what is most important. And join a community that is ready to welcome and elevate you to be the business owner you are capable of being.