Discover more from Productive Flourishing
A newsletter and community for driven possibilitarians who are seeking full-spectrum thriving, hosted by award-winning, best-selling author of Start Finishing, Charlie Gilkey.
Over 33,000 subscribers
November 2021 Planning Tips: Get Into the Habit of Holiday Self Care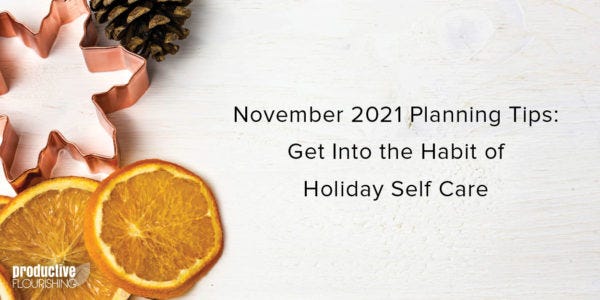 Ready or not, here it comes; the holiday season is once again upon us! Unfortunately, the season centered around good tidings of comfort and joy can often feel like quite the opposite. Stress and overwhelm tend to take over as project deadlines, meeting agendas, and holiday travel plans come in faster than you can say, "Where's the eggnog?"
It's important to face the reality of the ultra-busy holiday season starting now, so you can prepare yourself mentally, emotionally, and physically for everything that's bound to come your way. One of the best ways to do that is to start implementing healthy habits and to continue cultivating the ones you currently have. This way, when everything feels messy and amiss, you can take solace in the comfort of your routine, where everything really can feel calm and bright.
Here are some ways that you can keep your habits alive no matter the hustle and bustle around you:
Take a breath, and take a few minutes to figure out what you can reasonably do to take care of yourself. Prioritizing things like drinking enough water every day or committing to no social media an hour before bed can make a huge difference. By creating small goals, it'll be more likely that you keep up with them, which is super important for creating sustainable habits and routines.

Boundaries, boundaries, boundaries. Communicate with your people about what your intentions are over the next few weeks. Things like being sure to take your full lunch break so you can get some fresh air, and letting a coworker know how they can cover you during your use-it-or-lose-it holiday PTO are good places to start. Creating boundaries now means that you'll be setting yourself up for success without all the stress.

Remember those boundaries you created for others? Keep them for yourself, too! Stay strong in your convictions, and don't feel guilty for putting yourself first. Remember how you feel when you accomplish those small goals every day, which add up to big results.
Be sure to pencil your "me" time into your plans, snug between all those important calls and viewings of classic Christmas movies. Our Momentum app is all ready to go for 2022, with the planners you need to get through this holiday season and ease your way into the new year with grace.
Have questions about managing the holiday madness? Join us for our next Monthly Momentum Call (MMC) on Monday, November 8 at 2:00 p.m. PST / 5:00 p.m. EST. Get 75-minutes of free coaching from Charlie and Angela, hang out with other members of the PF Community, and ask a question or simply listen in; it's free, it's fun, and we'd love to have you. We hope to see you on November 8!