Discover more from Productive Flourishing
A newsletter and community for driven possibilitarians who are seeking full-spectrum thriving, hosted by award-winning, best-selling author of Start Finishing, Charlie Gilkey.
Over 33,000 subscribers
The Blog Post Planner and Calendar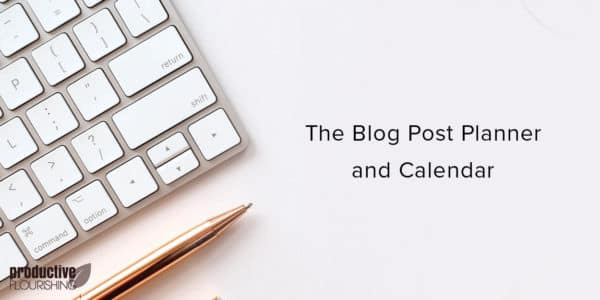 Want the Blog Post Planner and Calendar? It's in the Content Library of our free Mighty Networks community. Click here to join!
One of the great things about blogs is that some of the best posts come from the spur of the moment. An intense idea hits you and you crank it out, hit "Publish," and sit back and watch your page views skyrocket while you enjoy a frothy, calorie-laden beverage.
There are a lot of times, though, where having a general plan for what you're going to write can help your blog immensely. This is especially true if you're pressed for time and can only write a few posts a week. Planning, writing, and preposting allows you to maintain quality in your writing without you pulling your hair out trying to manage your blog and your life at the same time. It also ensures that your blog has continuity in voice and content.
In other words, planning, writing, and preposting prevents you from having a CrackerJack box of a blog like my own. You never know what you're going to get here until you open the box, and sometimes the surprise is really lame. I blame the frothy beverages.
I started creating these planners based on my own struggles to keep my posts going at an acceptable level of quality while I was adjusting to my new job. The basic ideas worked pretty well - the execution of the plan is a completely different matter...
How to Use These Planners
Over in our free Mighty Networks community, you'll be able to see and download these planners. The first is for the Blog Post Planner (the brainstorming planner), the Blog Post Calendar (the date-based planner), and a combo download that has them sandwiched together. Pick up whichever you'd like. They're free and you don't have to sign up for anything.
A set? Why two? Because they appeal to different sides of the brain. Either one could be used independent of the other, but they're stronger together.
The Blog Post Planner: Figuring Out What You're Going to Write
The Blog Post Planner helps when you have a general idea of what you're going to write but don't know when you're going to write it. The meat of the this particular aid looks like this:
In the upper right hand corner of the block, you'll see "Category/Type." This could be anything from a category of a post, like Productivity or Flourishing, or it could be a type of post, like a link-bait, how-to, or review. You choose, based on how you think about the posts you write – but Problogger gives some good ideas for blogging themes.
The lines have "Topic/Title" and "Scheduled." Some folks write posts by coming up with titles first, others write it by topic and figure out a title later (I'm in the latter camp). Either way works fine, and this block should have enough information to separate one post from another.
"Scheduled" could be either for the date it's scheduled (the mini-calendar at the top should help with this) or it could be a simple yes/no if you want to leave things open. Pick the technique that works best for you and run with it.
The little oval check block is there solely for motivation and satisfaction. When you write the post, check it off, and you're good to go. Satisfaction without stickiness or weight gain – what a steal!
I've tried to leave enough variability on this aid to appeal to different ways of generating blog posts. Let me know if this is too confusing and I'll fix it up in later versions.
The Blog Post Calendar: Figuring Out When You're Going to Write That Killer Post
The Blog Post Calendar is for the more left-brained of us. I use it after I've done the post planner, since it helps me fill in the "what" with the "when."
It also has the advantage of being much easier to describe, since all of the terms mean the same things as above.
The most subtle advantage of the calendar is that it gives you the ability to see how posts are linking together. You may notice that one post would make more sense if it were posted after another one, so you'll be able to make the switch before you write about it. Another added advantage of the calendar is that it allows you to unroll monetization efforts in a steady, non-"in-your-face-buy-my-stuff-now" way.
A rare few of you will be upset that I only have one line for one day. If you're writing multiple posts per day, you're probably writing news blogs where you really can't plan for the news that's going to break. Simply put, you'll probably need a different kind of aid. (Send me a comment, though, and we'll talk about a solution that works for you.)
The Method to the Madness
The Blog Post Planner has six blocks with seven lines. Were you to fill every line in every block, you'd have 42 posts. What gives?
The goal is not to max out the posts, but rather to bring a little order to your writing. If you want to write once per week on a particular category, then all you need to do is fill up four lines in that block. The rest are extra just in case your muse won't stop tormenting you giving you ideas.
Both aids in conjunction give you the one-two punch you need for a great blog. The Blog Post Planner helps you come up with great post ideas, and the Blog Post Calendar helps you spread those great ideas out evenly and regularly. The end result: your blog provides relevant, organized, and well-thought out content on a regular, somewhat predictable schedule.
No more lame CrackerJack surprises!
Aren't There Already Planning Tools for Bloggers Out There Already?
At the time I started designing these planners, the link to Andy Wibbel's editorial calendar was down. He's created an Excel-spreadsheet based editorial calendar that those of you who like working in spreadsheets may like. The particular version I downloaded hasn't been updated in a while - but run over and check out Andy Wibbel's editorial calendar to see if it fits your needs.
I've made no secret, though, of how I think paper-based tools for brainstorming are better than digital ones, so I designed these to fill that void between the creative mind and the capturing technique needed to channel that creativity.
Want the Blog Post Planner and Calendar? It's in the Content Library of our free Mighty Networks community. Click here to join!