Discover more from Productive Flourishing
A newsletter and community for driven possibilitarians who are seeking full-spectrum thriving, hosted by award-winning, best-selling author of Start Finishing, Charlie Gilkey.
Over 33,000 subscribers
6 Ways the Hardback Momentum Planner Can Improve Your Productivity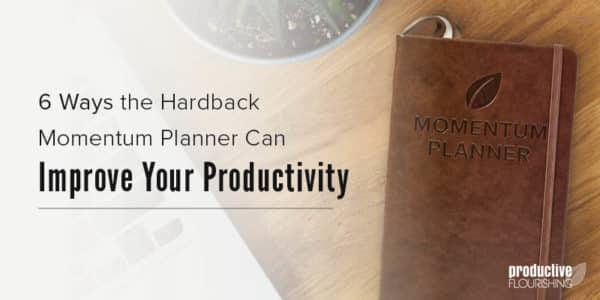 Recently, one of our big fans of the Digital Momentum Planner Pack, Chris Why, emailed me after buying and receiving his new hardback Momentum Planner. He wanted to know what added-value the hardback planner would give him over the digital ones he already uses.
I so appreciated his question. It seemed particularly prescient with 2019 just getting underway. His question also led to a realization that I haven't explicitly explained how a pre-made, physical, bound Momentum Planner can add value to your planning processes and improve your productivity over the purely digital version.
[Editors Note: The most up-to-date version of the planners exist inside the Momentum app -- try it now with a 30-day free trial. Prefer paper? You can always download one of our free PDF planner pages here.] PRODUCTIVE FLOURISHING It comes down to six things:
Handwriting — Research1 shows that handwriting goals and ideas helps us clarify, remember, and execute them better. (Some of you, like Chris, already do this with the Digital Pack by printing the PDFs and writing on them, so this reason may not be as compelling as the ones that follow.)

Aesthetics — We have a tendency to use beautiful things more than ugly or ho-hum items.2 The hardback Momentum Planner also has a tidiness that's hard to replicate with loose pages. My hope is that the aestheticism and tidiness help you engage with the hardback planner more to gain increased motivation and improve your productivity in 2019.

Convenience — Printing, hole-punching, and keeping up with the digital files has been a common customer complaint. The typical size — 8.5" x 11" — has also come up as a challenge. The size of the hardback (5" x 8") is much more convenient for purses, backpacks, and desks.

Tangibility — This reason is harder to explain. But part of what makes physical planners great is how their tangible nature helps us attach planning and review habits to them. (Plus, many of us read e-material but somehow find the feel of a book in our hand is special). It's much like how we gravitate toward our older, comfier clothes, sometimes even selecting them over other items that would otherwise be easier to wear. Also consider how much different it would feel to lose your hardback after writing in it for three months than to lose three months of however you currently keep up with your print-outs. There's an important emotional attachment that comes with the hardback, so much so that just seeing the hardback may be enough to tug you toward using it.

Skin in the game — While we don't like to admit it, the more we invest in something, the more we're likely to use it. The higher price point of the Momentum Planner makes us more likely to use the Momentum Planning process on a daily basis (while the lower price point of the digital planners make them easier to neglect).

Freedom from the electronic tether — We've all been told (and I've told everyone) the benefits of "unplugging." Having a compact, hardback, physical planner means you don't need your device all the time. It also keeps you from getting distracted when you go to check something on your digital planner and — bwoooop! — notification. You look at it. You forgot why you opened your device in the first place. You know the drill. (Tweet this.)
Personally, I think convenience and tangibility are the weightiest of the six reasons, with tangibility being generally under-valued because we quickly stop appreciating the everyday items that power our lives.
Chris's response to my answer?
"Now THAT is genuine and perfect response to my question. Many thanks for being forthright. "
The most up-to-date version of the planner is inside the Momentum app -- try it now with a 30-day free trial. Or you can always download one of our free PDF planner pages here.
What are your reasons for choosing the Momentum planner?
1Murphy, Mark. "Neuroscience Explains Why You Need To Write Down Your Goals If You Actually Want To Achieve Them." Forbes, Forbes Magazine, 15 Apr. 2018
2Chakraborty, A. (2017, October 03). The Aesthetic-Usability Effect: Why beautiful-looking products are preferred over...