Discover more from Productive Flourishing
A newsletter and community for driven possibilitarians who are seeking full-spectrum thriving, hosted by award-winning, best-selling author of Start Finishing, Charlie Gilkey.
Over 33,000 subscribers
Are Massive Action and Hustle Ruining Your Creative Business?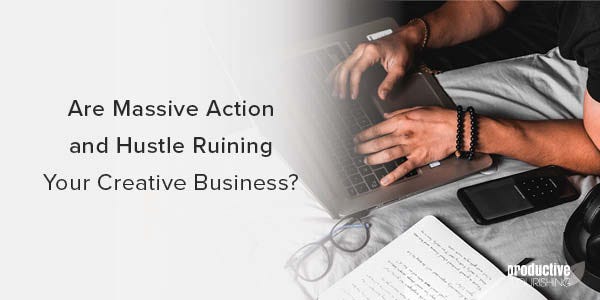 Editor's note: This is a guest post by Lisa Robbin Young.
Multi-talented performing artist Will Smith once famously said that he isn't afraid to die on a treadmill. He went on to say that he won't be outworked. Admittedly, Smith has been prolific. He has more than 30 films and nine albums to his credit, plus television appearances galore. While Smith hasn't been a winner with every project, he's won dozens of industry awards and been nominated for dozens more.
But he can stay on the treadmill longer because he's got help. Domestic help in the form of nannies and housekeepers. A personal assistant. A wife. Will Smith's support network enables him to hustle so hard that he can outwork anyone.
You, a creative entrepreneur, have got better things to do than die on a treadmill.
As a creative entrepreneur, you need to think differently about your time. Every second counts. You may not have the luxury of a huge support team. You may be bootstrapping your side gig while working a full-time day job. More and more creative entrepreneurs applying for my Creative Freedom Incubator are dealing with chronic illnesses and disabilities that prevent them from working a "standard" 40-hour week. For them, self-care isn't a luxury; it's an imperative. The same goes for any of us. Healthy boundaries and maximizing our return on resources (ROR) is infinitely more important than how long we can keep up with Will Smith.
Hustle Is Not Sustainable
I've known too many creative entrepreneurs seduced by speed of growth over sustainability. Their logic suggests that if they work hard enough, fast enough, they can slow down later. But that's a fallacy. Because they didn't set their business up correctly at the beginning, they're stuck on the hamster wheel of hustle — running, running, running. They get up earlier. They stay later. They're stuck. They can't free themselves from the jobby they've created for themselves.
In her book Chillpreneur Denise Duffield-Thomas confesses that, while she was able to build a six-figure business all by herself, it wasn't sustainable. She woke up at 4:30am every day, saw 15 clients a week, and still felt guilty she wasn't seeing 100 clients a week like one of her colleagues. "There was no obvious way to increase my income without working harder. I was already stressed and tired," Denise says.
She acknowledged the problem with her method and started thinking differently. Denise looked at how she could improve her ROR and free herself to enjoy more fruits of her labor. Her goal was to design a business that "works for your bank account and supports your well-being."
She's not alone. Paul Jarvis, author of Company of One, has this to say:
"We don't need an attitude of world domination and crushing it in our work in order to make a great living or even have a substantial impact. Our work can start and finish small while still being useful— focused on moving toward better instead of more."
Massive Action Is Not Always Profitable
I tell my clients over and over that size is relative. If you've got a dream, it's big to you — regardless of the scale. Dream scale shame is an epidemic. Creatives are accused of dreaming too big or playing too small, without considering what success looks like for the individual. There's so much unnecessary comparison going on that you might forget that you're building this business to support your dreams, desires, and goals. That means the business has to work for you.
You are not a multinational conglomerate. You don't have tens of thousands of workers implementing and executing on your vision. It's you. Sometimes you have a small team of key players, but mostly it's you. Many of my clients are like you, and I instill a mantra in them: do what you can, as you are able. This kind of work ethic encourages you to stay consistent and have compassion for yourself and your unique circumstance.
We can't all move at the same pace. We aren't all able-bodied in the same ways. There are biases, obstacles, and conditions that exist for some of us and not for others. Those details matter. They can be roadblocks to success. Telling someone to "hustle" or "take massive action" can fly in the face of the very success they're trying to achieve.
Plus, it's hard to hustle all the time. Human bodies aren't designed for endless massive action. We are creatures of habit. Charles Duhigg wrote that "our habits are what we choose them to be." True, but they are also a function of the environments in which we operate. Once we see a habit, good or bad, we can't unsee it. But sight doesn't always bring remedy, at least not right away. Our environment can preclude the action we want to take. That's why statistics about entrepreneur burnout, depression, and suicide startle us. The hustle mentality is unhealthy even for able-bodied entrepreneurs. How much worse is it for creatives with disabilities, chronic illnesses, or other energy and health limitations?
I Matter, You Matter, We Matter
Long before Jussie Smollet and Alicia Keys wrote the song "Powerful," a friend of mine shared three principles with me that inspired what I call the I-Matter paradigm. She explained we are all important and here for a purpose. Because I exist, I matter. Because I matter, you matter, too. And because you matter, we as a collective matter. (Tweet this.)
But you have to start with you. That's not being selfish. That's survival. If I matter, I have to make sure my needs are met before I'm capable of serving others effectively. Then, and only then can I put my attention on you and do my best work. And when we both do that, together we can make a positive impact on the world.
Your Noble Empire lives at the nexus of those three principles. It's an empire that works with your natural abilities and preferences, not against them. On the one hand, you get to enjoy showing up, doing the work you love. On the other, your right audience will love working with you. For creative entrepreneurs, the I-Matter paradigm helps you clarify priorities and maximize your ROR so that you're focused on doing your best work for your best clients, and still have time and freedom to enjoy the fruits of your labor.
Growth for the sake of growth isn't healthy or sustainable. I say it's not profitable, either. It costs precious resources to keep growing bigger and bigger beyond your enoughness number, the point at which your income is enough for your desired lifestyle. If it doesn't cost money, it costs time, energy, effort, or attention — resources that often are more precious than money anyway.
My advice to drown out the hustle and massive action tropes? Get clear on your definition of success. Then make a plan and create small habits that help you not only reinforce your definition but also move you closer to it. Curb your ambition in favor of enoughness. Monitor your results over time. Instead of massive action and hustle, opt for compassionate consistency. It may not sound as sexy, but it's way more effective. No treadmill required.