Discover more from Productive Flourishing
A newsletter and community for driven possibilitarians who are seeking full-spectrum thriving, hosted by award-winning, best-selling author of Start Finishing, Charlie Gilkey.
Over 33,000 subscribers
10 Ways to Support Yourself When You're Marketing in a Hostile World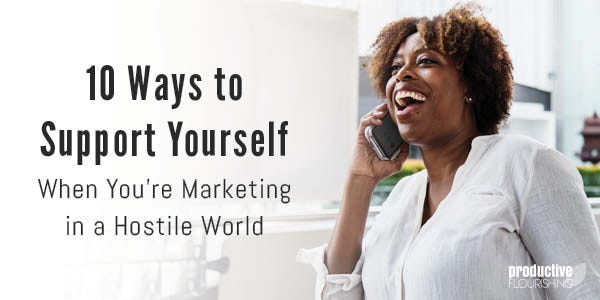 Editor's note: This is a guest post by Kerra L. Bolton.
I have become increasingly reluctant to increase my brand visibility on and offline.
In a world where anyone with a phone can say anything without impunity, sharing my perspective via thoughtful op-ed pieces and writing articles like this one feels like putting a target on my back.
This isn't an unfounded fear.
I am a freelance writer specializing in politics, culture, and women's lifestyle issues for CNN and other media outlets. Within minutes of an article being posted, I am deluged with hateful emails and messages and the occasional death threat.
I am not much better in the "real world."
I would rather give myself stigmatas in the waist than attend or speak at a professional conference, panel, or workshop because doing so requires "peopling." And the only thing I got from networking was a bad boyfriend.
However, choosing to remain cocooned at the kitchen table of my Mexican Caribbean apartment where my primary disturbances are the big-head baby who lives downstairs and the occasional spider monkey that swings by my living room window is costing me financial and creative opportunities.
Staying comfortable also means avoiding criticism that could help me grow as a writer and visual artist. If I don't increase my visibility, then I never test the strength of my ideas and talents in a larger arena. I also rob myself of building resilience and learning the hard-won lessons that come from being seen, exposed, and vulnerable.
I must take risks to earn the opportunities, partnerships, and money I want. The only way to do that is to develop, implement, and commit to a consistent system to increase my brand profile. Or in the words of a former Maryland state lottery tagline, "If you don't play, you don't win."
Marketing Advice from the Hivemind  
"You must do the things you think you cannot do," Eleanor Roosevelt once said.
But first you must procrastinate by posting your fears on Facebook. Never mind the irony of using social media to express your anxieties about being seen.
The hivemind, nevertheless, sometimes gives surprisingly good advice. Rather than summarize it, I thought it best to present the top 10 nuggets of information offered by other creative giants who struggle with marketing and the vulnerability of being seen in what feels like an increasingly hostile world.
Form a "love shield" around yourself of supportive colleagues and friends to counteract the hate mail. Reach out to others in the same or similar field to help you manage the successes and challenges of having an increased, public presence.
Think of marketing as a service. If no one knows what you do, how can you use your gifts and talents to serve others? You don't own your gifts; the world does, and it's asking you to use them.
Journal regularly to get a loving perspective. Use a special notebook, if you like, to capture ideas for your work in the world.
Choose marketing vehicles and platforms that feel most natural to you. Use Instagram or Pinterest if you love visuals. Speak to audiences or participate on panels if you need community and connection. Accept that you can't do everything, but do what you can well.
Attend conferences with a friend or several. Focus on discovering and sharing your professional interests with friends instead of "networking" or "meeting new people."
Use video to practice speaking and sharing your core message.
Increase your marketing efforts gradually. Concentrate on building your email list one month and seek speaking engagements a few months later. Expand your reach until you hit the sweet spot between commerce and comfort. Test out which combination of marketing methods work best for you.
Track your fears about marketing in your body and thoughts. Where do you feel the fear? Listen to it and be good to yourself.
The Gifts of Being Seen   
Many of the above suggestions may seem intuitive. I look forward to implementing their ideas. In addition, the experience of asking the hivemind helped me understand that no matter how successful we might seem in the eyes of others, we struggle with the same issues.
Being seen in a world that would prefer we stay silent and is overwrought with screaming people, ready to pounce at the slightest tweet or gesture is scary. However, time, history, and personal experience has repeatedly shown we can overcome anything when we realize we're in this together. (Tweet this.)