Discover more from Productive Flourishing
A newsletter and community for driven possibilitarians who are seeking full-spectrum thriving, hosted by award-winning, best-selling author of Start Finishing, Charlie Gilkey.
Over 33,000 subscribers
Make It to the Next Turn
Angela and I were hiking yesterday and the trail we were on was a dud. I checked the map and saw that the trail would eventually connect with another one by the river we were following, so rather than follow the trail, I led us down to the river instead.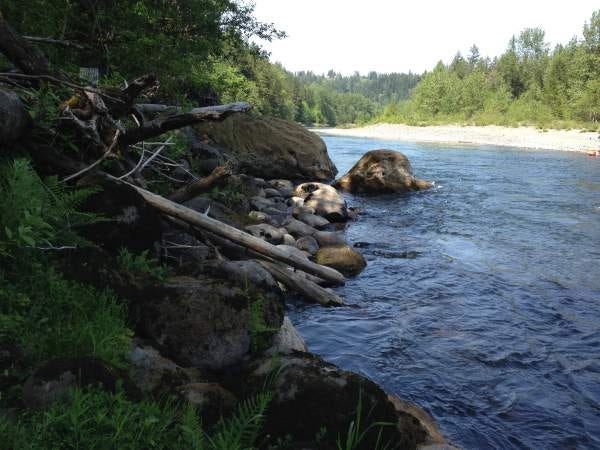 We scrambled down the bank and I could see the turn in the river about a half mile off where the two trails were likely to intersect, but the river bank had a bunch of small turns created by boulders, eddies, and juts that prevented me from being able to tell if we could actually walk down the bank to that intersection. We'd just have to climb and step over and around rocks to get there, and all we could see at any given time was about fifteen meters ahead of us.
As we were making our way, I was reminded about how similar it was to some of the practices I've recently started. I've now extended my month-long project of blogging daily to an indefinite time period, and there are times that it seems really daunting. What if I don't have anything to say? What if I don't want to do it anymore? What if it displaces so much other stuff that things start breaking?
My project for May is incorporating movement (CrossFit, yoga, hiking, running, kettlebells, etc.) into my day every day while keeping up with my newer daily blogging commitment, so from the start of April until now, I've added, on average, three hours' worth of time that I have to figure out how to fit in somewhere. What if that's too much? What if I get too sore? How am I going to take an already full calendar and fit it all in?
My new daily commitments are like the river diversion. We just had to make it to the next little turn in the river to see what boulders we'd need to navigate to get to the next turn. Some of the banks in between turns were more hairy than others, but sure enough, there was a way to make it through every one until we eventually connected with the other trail. And in between, there was a boulder that provided a fantastic view of the river and hillside that we would've missed if we'd stayed on the original trail that wasn't doing it for us.
The next turn for me when it comes to my dailies, then, is just the end of today. I'll do what I can to do today's dailies and make tomorrow's a little easier. The intersection that is the accomplishment of my goals is down the river a bit.
For what it's worth, our planners incorporate this mindset, too. If thinking about the year or quarter is too daunting, just focus on the month. If the month is too much, get down to the week. And if the week is too much, start where you are today.
There's a lot of similarity between this post and Take the Next Small Step and Build From There because they're both about acting on what's right in front of you. The chief difference is that one deals with how goal creep keeps us from getting started, whereas this one addresses the concern that we won't be able to keep doing what we're doing. In either case, focus on your next few steps and see what happens so your stories don't sap your energy.
If whatever you're working on is starting to seem too daunting, focus instead on what it will take to make it to the next turn.