Discover more from Productive Flourishing
A newsletter and community for driven possibilitarians who are seeking full-spectrum thriving, hosted by award-winning, best-selling author of Start Finishing, Charlie Gilkey.
Over 33,000 subscribers
4 Steps to Make Bookkeeping Easier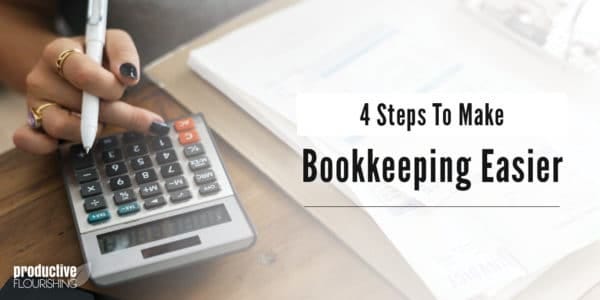 For more tips and strategies to help you be your productive best, pick up a copy of Charlie's book Start Finishing, winner of the 2020 Productivity Book of the Year. Available on Amazon and other favorite booksellers.
Editor's note: This is a guest post by Michelle Mangen.
Staring at a pile of receipts and wondering where you put your checking account password is enough to make anyone hop onto Facebook to look at cats. Trust me, I know! These attempts at avoidance only intensify when tax time approaches and the bookkeeping hasn't been touched in a year.
Those attempts truly are normal, even for the financial wizards among us. But if you committed to maintaining your bookkeeping on a monthly basis and fell off the wagon, you may feel a little guilty. Again, you are not alone. Almost everyone fails to keep personal New Year's resolutions. Also, most business owners feel as though bookkeeping is not in their genius zone. They rarely start a business and think, "Oh, and I get to do bookkeeping, too? QuickBooks, here I come!"
The good news is that bookkeeping continues to get easier as technology advances. It's been fascinating (and sometimes frustrating!) watching QuickBooks Online evolve over the past eight years. The software now handles a lot of the heavy lifting for individual transactions.
Two of my favorite (and time saving) features of QuickBooks Online are 1) imported banking transactions and 2) suggested expense categories for individual transactions. That said, some critical thinking skills and human intervention is still needed because the software doesn't know everything (yet!). It can't tell if you bought a bathtub from Amazon or a printer cartridge. However, it will assume both transactions should be assigned to whatever category you last used for an Amazon purchase.
So where do you begin with bookkeeping?
Whether you're behind, just getting started, or somewhere in between with your bookkeeping, there are a number of systems and tools you can implement to make maintaining your books more manageable. And, if you're simply curious about how to make Quickbooks Online work for you, read on. My advice, distilled into four key areas, still applies.
1. Use the Proper Tools
Consider using cloud-based accounting software, such as QuickBooks Online. Tools like QuickBooks Online can import transactions from your banking accounts automatically, helping organize your books and save time. IMPORTANT NOTE: Monthly account reconciliations are essential for bookkeeping accuracy. Not all accounting software features the ability, so use caution when selecting your next bookkeeping tool.

Implement and maintain password manager software, such as Passpack or Dashlane. Using these tools also helps with organization and time-savings. They also provide another layer of security for your business' financial information.
2. Retain Your Records
In most cases, the IRS requires you to retain records for seven years. The task is considerably easier in today's digital age, but you can make it even easier.
Set up Dropbox or Google Drive with annual folders. Then, scan and save receipts to them.

Make paper work for you. If you often have a lot of paper receipts, consider using a service such as Expensify to process a more traditional expense report.

Set up rules and filters in your email account to archive (not delete) email receipts.

Invest in FileThis. Most financial institutions offer online access to banking statements for up to two years. Set up FileThis and you'll have access well beyond their cutoff dates. An additional benefit of FileThis is that you don't have to log into each financial institution to download, rename, and save monthly statements. All statements, no matter how many different financial institutions you have, are saved and neatly organized in one location. Pretty handy, right?
PRODUCTIVE FLOURISHING
3. Don't Over-Complicate Things
You might be tempted to make categories for everything, but keep that category list in check. It should be detailed enough to provide useful data when reviewing financial statements. However, it should not be so detailed that you spend more time categorizing transactions than doing the work that matters for your business.
Also, if you bring in an outside bookkeeper to help with taxes, contracts, audits, et cetera, your extensive category list could cripple their work. You'll spend more time answering their questions than getting anything meaningful done — which was the whole point of hiring help. When you think about those things, keeping the categories simple sounds better, doesn't it?
4. Get the Bookkeeping Done
Set aside time to do the bookkeeping every week. It's similar to keeping the house clean. It's easier to stay on top of things if you set aside two hours a week to dust, mop, and vacuum than to spend 24 hours over the span of two weekends. Besides easing the workload, working on the books every week ensures our memories are more accurate, preventing that all-too-familiar last-minute panic and overwhelm. (Tweet this.)
If you still feel overwhelmed and suffocated by the thought of tackling the books, that's totally understandable. The IRS can be a somewhat "scary" entity. But hey, you can always hire a virtual bookkeeper to assist!