Discover more from Productive Flourishing
A newsletter and community for driven possibilitarians who are seeking full-spectrum thriving, hosted by award-winning, best-selling author of Start Finishing, Charlie Gilkey.
Over 33,000 subscribers
How MailBrew Has Helped My Digital-Primary Reading Practice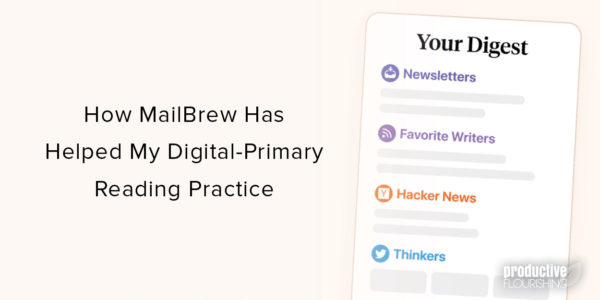 The internet is massive (to say the least), with information swirling around in an infinite number of places. Even if you've narrowed down your favorite social platforms and websites to a couple of dozen, it still takes a lot of brain space to stay updated on everything. Add to that the challenge of remembering where you saw the good stuff and forgetting about the annoying filler in between, and it's easy to get overwhelmed.
I've found a tool that gathers and organizes your preferred information in one place: MailBrew.
What's MailBrew?
MailBrew is a service that allows you to aggregate a lot of different information sources into one portal. In a way, you can think of MailBrew as similar to Pinterest, where you might Pin something to check out later, and then when you go back to your Pinterest profile, you have everything you've Pinned all in one spot.
Upon setting up your MailBrew account and determining what you want to show up, you'll be fed your Daily Digest that has everything you've chosen in one spot, without switching from platform to platform and getting bogged down by all the distractions. Since I've been shifting to a digital-primary reading practice over the past few months, MailBrew has been a part of what's made that process easier and more successful.
Why I Like Using MailBrew
MailBrew allows me to be more of a digital minimalist, only accessing the information that's most useful and important to me. I don't have to spend an hour or more every day clicking across the internet, sifting through all the content I don't want in order to find the content I do.
There's a lot to love about MailBrew. One of my favorite aspects is that I can highlight something in one place and know that it'll save to MailBrew. This way, I can remember what I read, where I read it, and then easily come back to it. That particularly has been a game changer when helping with my retention and recall during digital reading. Especially catalytic for me has been using Mailbrew together with ReadWise – a platform that pulls in highlights from ebooks and articles. I'm so much better able to remember what I read and where it came from. This is especially helpful if you need to cite something, too.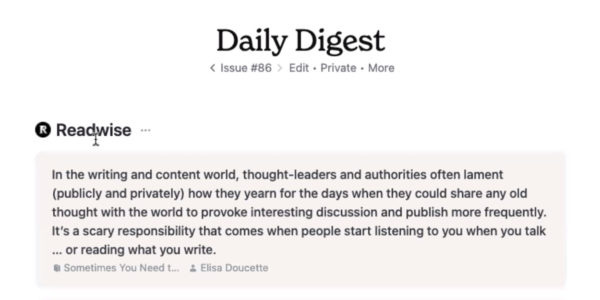 The Problem MailBrew Solves
MailBrew addresses the incoherence of our digital consumption streams, removing all of the noise from your websites and social platforms, and honing in on exactly what you want. I've found it's a much better way to get updated each morning on the things I want and need to know about — the information that will have the most impact on my ideas and my business, and the things I want to take action on right away — instead of being distracted by the latest TikTok.
There's an opportunity cost to keeping up with all the stuff you're interested in. For me, the small cost of MailBrew every month is worth the hours I save myself from being distracted, from sifting and sorting through the bombardment of information, and from having to look up (again) that one piece of information I need at the moment.
If you have any questions about MailBrew, I'm happy to answer them. And if you end up trying it yourself, I'd love to hear how it's been working for you.