Discover more from Productive Flourishing
A newsletter and community for driven possibilitarians who are seeking full-spectrum thriving, hosted by award-winning, best-selling author of Start Finishing, Charlie Gilkey.
Over 33,000 subscribers
How to Learn from Your "Failures" (and Other, Not-So-Drastic Outcomes)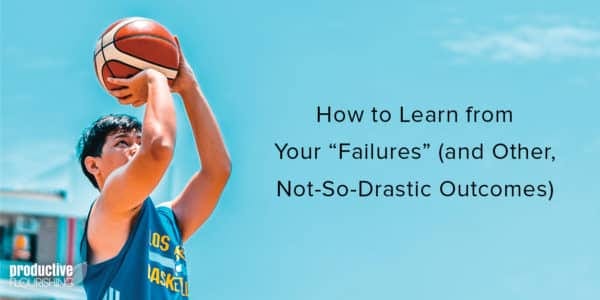 Editor's note: This is a guest post by Cory Huff.
I ran down the basketball court, looking over my shoulder. My teammate threw a perfect pass that came down just over my left shoulder, where the defender couldn't make a play for it. I took one hard dribble and gathered the ball, stepping twice and jumping for a layup. The defender jumped higher than me, and I felt him block the shot.
Even before I landed, I was silently cursing myself. I should have seen the defender coming. I know I don't jump very high, so I should have pump-faked, or I should have used my left hand instead of my right. I'm not very fast, so maybe I should have passed the ball instead of trying to force the shot.
Suddenly everyone cheered, and I heard several people shout, "Wow!"
I turned and realized that the ball had gone in the basket. One of my teammates raised his arms and flexed, a sign that I had outmuscled my defender. I smiled sheepishly and ran down the court to get back on defense.
Judging Outcomes as Failures
It's easy to judge our performance while it is happening and call it a failure. (Tweet this.)
That ball was going in the basket, but I had decided it was a failure before the play was complete. I didn't understand the physics of how the ball was going to bounce. I didn't realize how much strength I had used going to the basket.
Experienced basketball players will sometimes say you have to ignore misses and keep shooting. If you put up enough shots, the percentages even out, and you will find your real skill level over time. You worry about your elbow placement and footing during practice. During the game, you shoot because things are going too fast to worry about every element of your form.
I'm not very good at basketball, but I enjoy playing. I came to it later in life, after a very nerdy childhood. I'm not afraid to look foolish, and because of that, my play has improved quite a bit. Nobody would pick me first for a team, but I'm at least competing and can play decent defense.
I've never really been afraid of failure. My mother was always supportive of whatever crazy thing I wanted to try. I grew up poor, but I am also a healthy white man with all of the privileges inherent to that identity. The downsides to my failing were always small, and I didn't have much to lose regardless. But even so, failure still stings.
Cha-Ching Moments
When I went to college, I majored in theater. One semester we had a world-renowned teacher of Shakespearean performance guest lecturing. His class was very challenging, forcing all of us to attempt things that were well out of our comfort zones and skill levels. We failed a lot, and some of my classmates would vocally beat themselves up when they missed a line or missed an emotional nuance in the performance.
The teacher got tired of us beating ourselves up, and announced a new rule. Whenever we messed up during rehearsal and felt an impulse to beat ourselves up about it, we were instead required to shout, "Cha-ching," like a cash register, and then say, "I'm learning." The idea was that we were paying for college, and mistakes were learning moments, and we should be grateful for those learning moments.
I've kept that practice in my life. When I make mistakes that cost me money, I will sometimes say "Cha-ching" out loud, and my wife will laugh because she knows the context.
2019 has been a year full of "Cha-ching" moments:
I got angry at one of the guys at the gym. He was trying to give me constructive feedback, and I didn't take it well.

An important business deal I worked on for months fell through at nearly the very last moment.

I engaged in a paid project with someone without thoroughly vetting them and realized it was a mistake almost immediately. It took four months to get out of it.

I failed an exam that would have opened up a big opportunity for me.
The Hard Way
When I was in theater school, we were doing a guided meditation one day with our Eastern Theater professor. The meditation activity was to imagine ourselves climbing a mountain. We were supposed to envision every step along the way. Each foothold and handhold. The temperature and the wind.
With my eyes closed, I could hear my classmates breathing hard, grunting with the effort of each imaginary step. But in my mind, I realized there were no real rules. I just imagined myself floating to the top of the mountain.
I sat quietly, listening to the struggles of those around me. After a while, I felt guilty. They were struggling, and I wasn't. So I started the exercise over again and climbed the mountain in my mind, the hard way.
At the end of class, we were sitting in a circle, sharing reflections on the exercise. I shared my experience, and my professor looked at me and said, "Don't do that. Why would you make things harder on yourself than you need to?" His wise question has stayed with me.
Lessons Learned (at Least This Time)
The test that I failed happened last Friday at 6:30 in the morning. The rest of my day was scheduled to be a writing day. I needed to get at least 3,000 words written. I was so confused and frustrated by the experience that I couldn't concentrate on my writing, even at my favorite writing spot. I spent the rest of the morning metaphorically pounding my head against a keyboard and silently swearing at myself.
Then I realized I was both judging the outcome and forcing myself to climb a hard mountain. Remembering the lessons of my teachers, I recognized the cha-ching moment and the easier way.
So I took a break. I ate a great lunch at a new restaurant. I went home and baked a chocolate cake for myself and the guests who were coming over that night to play Gloomhaven. The next day I picked up my writing again, and I finished the remainder of my 3,000 words in just under two hours. (Cha-ching!)
So what about you? What kind of cha-ching moments have you had recently? Or what experiences could you reframe as cha-ching moments?