Discover more from Productive Flourishing
A newsletter and community for driven possibilitarians who are seeking full-spectrum thriving, hosted by award-winning, best-selling author of Start Finishing, Charlie Gilkey.
Over 33,000 subscribers
July 2021 Planning Tips: Organize Your Life and Prevent Burnout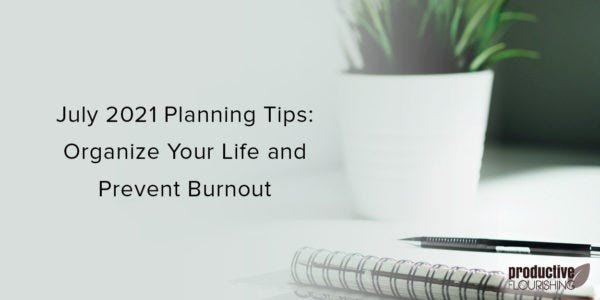 It's toasty here in the Northern Hemisphere, and we aren't just talking about the temperature. Sure, we've got record-setting heat here on the West Coast, but the sun isn't the only burn we're feeling.
Burnout has been on our minds lately because, well, we've been feeling it.
But the feeling of being burnt out can be difficult to recognize. The past 16 months have been a rollercoaster of emotional ups and downs, with the ever-present feeling of needing to keep going, going, going. As places start to re-open and restrictions lift more and more, reality might be starting to set in that you, too, are ready to collapse into a puddle.
If you're feeling similarly, see if you can talk to your teammates and set boundaries around your workload. But no matter your work situation, we can all do things to take better care of ourselves. By taking small breaks more often throughout the day, you'll feel empowered in your ability to care for yourself, so when you do get back to your projects, you'll have a renewed sense of energy.
Here are just a few suggestions on ways to take short breaks that may keep the burn down:
Make a pitcher of iced tea (and level it up with lime, mint, or cucumber) and then take a seat in front of the A/C to hydrate and re-center.

If you have pets, check in on them, too! Take a few minutes to brush them, give them a treat, or put some ice cubes in their water… we're not sure if they appreciate that, but it might make you feel better.

Take some time at the beginning and end of your day to look at your projects and your plan for the day, week, and month. Is there something you can re-prioritize for the future? Is there anything a teammate could assist with, or collaborate on? Remember: Your team wants to help.
Have questions around priorities, self-care, or what to do if you're metaphorically on fire? Join us for a very special Monthly Momentum Call (MMC) on Monday, July 12 at 2:00 p.m. PDT / 5:00 p.m. EDT. In the spirit of taking a break, Charlie and Angela are off for a week of summer vacay, so we have our COO Steve and CMO Cory stepping in to answer your questions about business, burnout, boundaries, or whatever else is on your mind. These free calls are a great way to ask a question or simply listen in on what your fellow business owners and leaders are going through. We hope you'll join us on July 12!
PLUS! Coming up on Wednesday, July 28, we're hosting a webinar centered all around burnout. Work has been forever changed by the global pandemic, and with that change we are facing unprecedented levels of burnout. Join Charlie and Angela as we help you identify signs of burnout in your work and your life, and how to not just "make it through", but actually thrive and prosper. Sign-up today!