Discover more from Productive Flourishing
A newsletter and community for driven possibilitarians who are seeking full-spectrum thriving, hosted by award-winning, best-selling author of Start Finishing, Charlie Gilkey.
Over 33,000 subscribers
#ThanksCOVID Part 6: Introducing Our New CMO, Cory Huff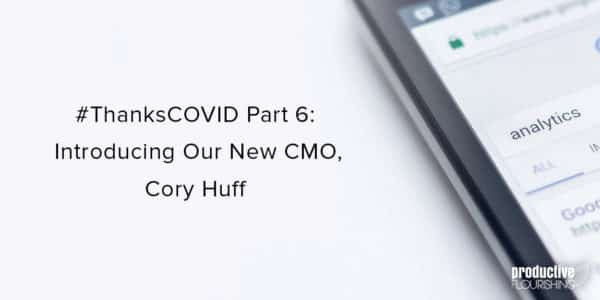 In the previous post of our #ThanksCOVID/BigNews series, I shared that the pressures of COVID-19 kept us in startup mode long enough for us to see that it was time to develop the app — and that we could do it. But for us to trade up so that we can explore our full breadth of topics, develop a new book, grow the Productive Flourishing Academy, and launch an app, I had to let go of something.
That something is a job.
It's a job that's hard for me to let go of because I'm great at seeing marketing possibilities, knowing what we need to do to get started, and developing the initial scaffolding to get them done. But pushing those possibilities to full done, day in and day out? Not so much.
I'm brilliant in a marketing sprint; in a marketing marathon, I just get by. And growing a business that is its own startup nursery is a marketing triathlon, as you have to market the mature businesses, market the new businesses, and market the brand that holds both.
Hanging on to being a sprint CMO (Chief Marketing Officer) has made me a much worse marathon CEO, creator, and catalyst for the ecosystem we've created. The latter are my actual jobs and my unique, high-value contributions. I've gotten us to here, but I'm not going to be able to take us where we really, truly could go while still hanging on to the CMO job.
So I fired myself and hired someone who's actually proven he can be a great CMO and has been talking about wanting a job very much like the one I needed to get out of. And, since I've fired myself and I've got a CMO who's very extroverted and a great writer, I'm going to turn it over to him to do the rest of the talking. :)
Take it from here, Cory.
*Charlie tags Cory, who comes flying in from the top rope*
Productive Flourishing does two things: executive/business coaching and selling products that help creative professionals do and finish work that matters. My role will be to grow those sales while also preparing to launch a productivity app for creative professionals.
In many ways, this role is the culmination of my entire career. In 2009, I founded The Abundant Artist (TAA) as a way of helping my creative friends learn how to sell their art online. TAA has been recognized by Artsy as one of the five best coaching resources for professional artists. We helped hundreds of artists turn their art sales into a full-time living.
In addition, I spent time working at several venture capital-backed tech startups. At Janrain, I designed marketing strategies for Fortune 500 brands using large data sets from social media profiles (Big Data is what we called it back then).
I've also consulted and been the fractional CMO for a number of other small businesses in a variety of industries, including scaling up an online music program for kids and growing a day spa chain with multiple locations.
Many of The Abundant Artist's students ended up coaching with Charlie or buying PF's courses. I've written for the PF blog multiple times. I've known most of PF's team members for years, including playing board games with Jo and attending conferences with Steve.
Essentially, we've been working together for years. Now we're just making it official.
Expect to see a new podcast and/or video series with me, Charlie, and/or Angela. Expect us to build in public as we work through the creation of the app through 2021. A big part of my work will be to help the team shout louder about the amazing things they're already doing.
If Charlie is the visionary CEO & catalyst, I'm the guy that cheers everyone on, and holds them accountable, to get things over the finish line. Expect to see PF turn things up to 11 in our marketing channels, with lots more content, including more cowbell Charlie.
*Charlie grabs the mic after the 3-count pin*
We're excited to have Cory join Team PF officially. He's already shaking things up in the best of ways and, just in our transition, he's picked up the 50-60% of my non-meeting work and has been able to push it forward. Just as important as what he's already taken are the great questions and insights he's putting on the table.
My #ThanksCOVID moment here is that the events of this year have finally pushed me to the point where asking for help and letting go is no longer optional. It's not serving me, it's not serving my team, and it's not serving you. We've got too much to do for my head trash and fears to continue to drive the PF bus. (hat tip Liz Gilbert)
There is a lot we don't know, but here's what we do know:
We're still just warming up.

Without you, there is no us — thanks for sticking with us on this journey and supporting us in all the ways you do. #Ubuntu

Community co-creation has always been the way we roll, and we're going to be leaning even more into that.
So, while we've used #ThanksCOVID to point to a few different things, the overarching theme is that the way we responded to COVID-19 pushed us closer to our friends, clients, packs, customers, readers, and community. We took imperfect, clumsy, and intentional action to show up, share what we have, and connect with our community and connect our community with each other. And you've shown up with more heart, support, and excitement than we could've imagined — you've gotten us through in ways we'd need yet another series to express.
#ThanksCOVID
Let's.Do.This!