Discover more from Productive Flourishing
A newsletter and community for driven possibilitarians who are seeking full-spectrum thriving, hosted by award-winning, best-selling author of Start Finishing, Charlie Gilkey.
Over 33,000 subscribers
In Times Like These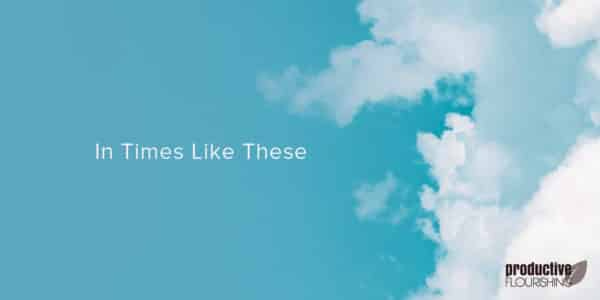 So much of the last few weeks has revolved around COVID-19, but our lives are much bigger than that. Elders are passing. Babies are being born. Lovers are meeting, breaking up, and making up. Fetch water, carry wood.
In the long view, we'll most likely remember COVID-19 the way we remember 9/11 – a scary period of time that marked a change in the way we see the world. But, at the broad life level, our lives will go on and we'll settle into a new normal.
That's not to say that we shouldn't acknowledge the hard that is now and take what's going on seriously. Or that we shouldn't feel all the feels that what we're going through is bringing up, which may be a disorienting cocktail of fear, sadness, anger, shame, gratitude, and hope.
But let's not overlook the gifts of the present or appreciation of the past in our worries about the future.
Questions to reflect on:
What are the gifts of the present or appreciations of the past that you want to cherish more today?

Have you given yourself permission to feel all the feels? (Many people have told me that they're feeling guilty or awkward about feeling grateful, hopeful, and resilient rather than anxious, afraid, and overwhelmed.)

What positive memories, experiences, or outcomes will you create today?
Our lives are much bigger than COVID-19 – let's make the fullness of our lives the main story.
PS: Today's song recommendation: Times Like These by Jack Johnson. This song has gotten me through many times like these, including a deployment and Angela's breakdown in 2011.