Discover more from Productive Flourishing
A newsletter and community for driven possibilitarians who are seeking full-spectrum thriving, hosted by award-winning, best-selling author of Start Finishing, Charlie Gilkey.
Over 33,000 subscribers
How to Write Brief Emails Without Being a Jerk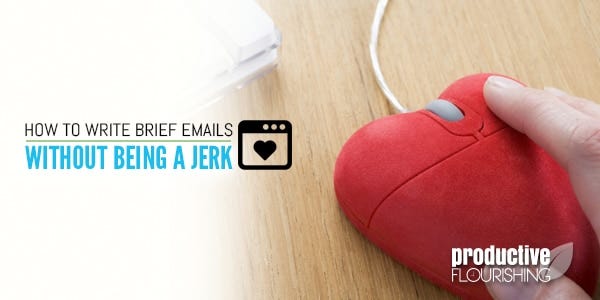 I didn't have time to write a short letter, so I wrote a long one instead." --Mark Twain
At a certain point, you won't be able to process email the way you used to. I want to be very clear that it's not a matter of choice -- you really won't be able to do it.
Just because you won't be able to do it the old way doesn't mean you won't be able to do it at all, though. Sometimes you just need to change the way you do it.
Rather than just give you an alternative technique for handling your email without being a jerk, I thought I'd do something different today and share how I actually arrived at this particular solution. You get both the fish and the process of catching them.
If you're not interested in the walk-through, here's the solution:
Create a page on your website that explains why you're writing brief email messages.

Link to that webpage in the signature of your email.

Practice what you preach, experiment, and tweak it until it's right.
The rest of this piece covers the background and innovation process. I hope you'll read it -- it might give you some ideas to chew on during this time of reflection and reset.
Too Much of a Good Thing
In June 2010, I was drowning in email. At the time, I could deal tolerably well with about 50 messages in my Inbox that I needed to respond to, but after that, I started getting overwhelmed and unfocused. That number represents both the cognitive load I can handle and the number of messages that show up on one page in Gmail. I can handle a bit more now by training and necessity, but there's still a direct relationship between how much email is waiting for me and how focused I am.
Before I move on, it's probably good for you to know what I mean by "respond to." A while ago, I wrote about the S.T.A.R. method for processing email, and you might remember that the 'R' is for respond. I no longer just check email, either - I process it in one go. Those 50 messages are the post-process messages that need my attention. (If you'd like to learn more about these techniques, take a look at Email Triage.)
One Friday evening, I found myself with something like 113 messages that required my response in one way or another. I knew that 113 messages meant that I'd have to process at least 63 messages to get to where I could see everything on one page, so I sat down and started answering emails.
Two hours into it, I had answered about 30. In the process of answering them, about 5 responses came back. I felt like that inchworm that crawls 3 inches up his hole during the day and slides back 3 inches when he sleeps at night.
There were a lot of reasons I was drowning in email, but it became painfully clear to me that night that my response habits were a large part of my problem.
Stage 1: The Innovation Process Begins
The next day, I started walking through what I call the "Little 'i' Innovation Process." I call it that because it's not a breakthrough Innovation, but just the type of small change we make that has effects we can't see.
The first thing I considered was how we use Twitter DMs. In the Twitter community, it's perfectly acceptable to answer a question in a 140-character DM. You'd be surprised how much you can answer in a couple of well-chosen sentences.
There were two insights here: 1) it's possible to answer questions briefly, yet fully, and 2) for some reason, Twitizens understand -- rather, want -- short messages.
Those two insights gave me the confidence to drop the belief that giving a complete response required a lot of writing. Only later did I fully realize exactly how wrong that belief is, but that's a piece for another day.
Stage 2: Incorporating the 5-Sentences Rule
I had long known about the 5-sentences policy and found it to be insensitive, dehumanizing, and dissonant with the way I want to interact with people. That said, I knew the end the rule was advancing - effective communication.
In case you've never seen it, here's the policy:
five.sentenc.es is a personal policy that all email responses regardless of recipient or subject will be five sentences or less. It's that simple."
The fact of the matter was that I wanted to get better about sending emails because I wanted to help people. Each message is both an implicit request to be seen and an explicit request for something. If I sit on something for two weeks, whoever sent me the request is in the dark emotionally, socially, and mentally for that long.
What I find so dehumanizing about the 5-sentences policy is that it doesn't address the fact that my interactions with people are about more than information. Furthermore, 5 sentences don't cut it for much of what I do -- sometimes that limit works, other times it doesn't.
Ironically, by constraining everything to 5 sentences, advocates of the policy are advancing structured ineffectiveness rather than the unstructured ineffectiveness of long, convoluted email messages. I find structured ineffectiveness much more frustrating than unstructured ineffectiveness, as it invokes a systems cost for no effective gain. But maybe that's just me.
The simple insight at this stage of the process was to just be up front about the fact that I'm being brief because I care. The motivation behind brief emails didn't come from an Inbox-Zero, cold-efficiency mentality, but came rather from the fact that I wanted to get people the help and attention they requested.
The simplest solution at this stage was to actually say that I care. The simplest solutions are the hardest to come up with and accept - at least, that's what my conversations with people reveal time and time again.
Stage 3: Putting the Pieces Together
The first stage of the process demonstrated the principle that brief and timely messages can be effective. The second stage of the process addressed the social component of our communications. The third step was putting it all together.
I started by stating what I was trying to do in the signature of a few emails I sent out. I did this process live -- I wanted to see how it felt to use the technique and to see how people responded to it. I also wanted to see how it altered the shape of the emails.
The first responses I sent out had a horrible shape. They had two or three sentences in the body of the email with the same amount in the signature. From the receiver's point of view, I spent as much time explaining why the message was brief as I did answering their question.
I asked Marissa to take a look at what I was doing. She has a lot of experience in audience engagement, so she suggested a few tweaks that helped me get clearer about what I wanted to say.
Even with that feedback, I didn't like how much information was in the signature of my email -- it was too crowded. I went back to the drawing board.
One of the reasons I knew about the 5-sentences policy was that someone linked to the 5-sentences rule in their signature. Rather than say everything in the signature, they linked to the explanation. Another simple and effective solution.
I copied the same technique. I created a hidden page on this website, said what I had to say, and added this to my signature: "If this email is brief, it's because I care: http://bit.ly/tinyemail" (If you click the link, you'll see what I wrote.)
I like that particular line because it applies to every email. If it's a longer response, it's because it needed to be. If it's a shorter response, it's because it didn't need to be any longer. By the way, it's harder to write a short response than it is a longer one - it requires a good bit of self-trust and confidence.
Small Changes Can Have Dramatic Results
I've heard nothing but great feedback for this technique, in terms of both the email messages themselves and the execution. To be honest, if people hated it, I would've abandoned it - effective communication has to satisfy the wants and needs of all parties involved, so, though I may have been more efficient by invoking this, I wouldn't have been as effective. (This is another reason why I rejected 5 sentences; yes, the sender is more efficient, but were they really more effective?)
A word of caution: there may be a few people who have really, really disliked it but who haven't said anything about it for a variety of reasons. One of the disadvantages of gaining influence is that people are less likely to tell you what they think if they disagree with you or to call you out, so your mileage may vary.
Not only have many recipients loved the technique, but I have loved it, too. It's allowed me to continue to engage with people and to answer my own email, so on a community scale, it's been a blessing. On the one-to-one scale, it's allowed me to help and see people faster than I was ever able to in the past.
An unexpected benefit is that it's made me a better writer, thinker, and communicator. I can figure out what matters and what needs to be said much more effectively than I could when I was using the email message itself to figure out what I needed to say.
What Challenge Can You Create a Solution For?
We often hear that small changes can have big effects - I say this often myself. This particular solution is one of those that took a little thinking, innovation, experimenting, and tweaking to get right, but it's benefited all of us. I have enough field experience with this particular solution to know that it works, so I wanted to share it with you.
Even if this isn't the right solution for you, I'd like you to take a few minutes and think about the workflow challenges you're facing. What alternative solutions can you generate that would help make you more effective? Are there are any existing solutions that you could adapt to your own purposes?
You can remain frustrated or you can get creative. Please use your creative mind for what it's built for -- changing the world.